Remodeling and construction growth for much of the industry moderated in the first quarter of 2014 after double-digit gains for most of 2013. While the harsh winter was to blame for the drop off in many residential construction projects, radiant floor heating was a notable exception.
Winter Weather Cools Remodeling Market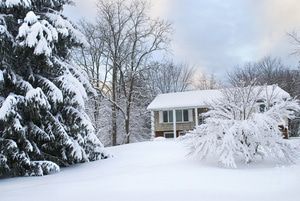 The National Association of Home Builders (NAHB) reported that the Remodeling Market Index (RMI) for the first quarter of 2014 was 53, off of 57 reported in the last two quarters of 2013. David Crowe, Chief Economist for NAHB, attributed much of that decline to the winter weather: "An uncommonly harsh winter and continued labor shortage created a drag on many parts of the housing market, including remodeling, in the first months of 2014," he said. However, he was optimistic that growth would rebound as we move forward into spring. "The two components of the RMI that declined the most in the first quarter, calls for bids and appointments for proposals, are the ones most likely to respond to weather conditions. Going forward, we expect gradual but steady growth in the market for remodeling as there is still some pent-up demand from the housing downturn waiting to be released."
Homeowners Not Deterred
A recent survey by Piper Jaffray, reported by Remodeling, revealed similar findings. A substantial number of homeowners, 29%, reported delaying home improvement projects because of the severe winter weather. An even greater impact was reported in areas hardest hit by the cold, with 39% of homeowners in the Northeast and 35% in the Midwest putting off projects. However, among respondents reporting a delay, more than two-thirds of them intended to complete those projects in the next six months.
Steady Growth for 2014
Overall, experts anticipate the growth in remodeling and construction will be tempered as compared to last year but still continue to show positive growth throughout 2014. In the most recent Leading Indicator of Remodeling Activity (LIRA) released on April 17 by the Remodeling Futures Program at the Joint Center for Housing Studies of Harvard University, a stabilization of market growth is predicted in 2014: "Home improvement spending has already recovered a significant share of its losses from the downturn," says Kermit Baker, director of the Remodeling Futures Program at the Joint Center. "As spending moves into the next phase, we expect to see recent double-digit growth tail off to its longer-term average in the mid-single-digit range."
Radiant Performance in Floor Heating Market
In contrast to the broader remodeling market, radiant floor heating is one area where cold winter weather has a positive impact on the market. WarmlyYours reports strong sales across product lines and an increase in the number of floor plans created in the first quarter. Check out the details in the "WarmlyYours Radiant Heating Q1: 2014 Industry Report", available for the first time in a vibrant, easy-to-read infographic format.
Click here to see the full report.