As Thanksgiving draws near, we reflect upon all the things for which we are thankful. At WarmlyYours, we are grateful for all that our veterans have done to protect us and the freedoms we enjoy. Our service men and women, whether currently serving or retired, have sacrificed their time, strength, well-being, and even their lives, to keep us safe and secure. Because they have given us so much, we feel that it's our duty to find ways to give back to them.
"At WarmlyYours, we believe it's important for us to support veterans who, through their sacrifices, have made it possible for us to enjoy the freedoms we have in this country. Words alone cannot express how thankful we are, so we've decided in our small way to give back to them," says Julia Billen, president and owner of WarmlyYours Radiant.
To show our appreciation in honor of Veterans Day,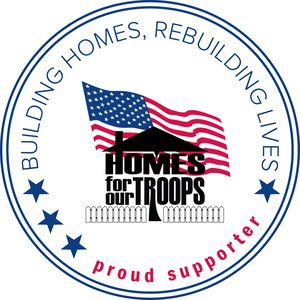 WarmlyYours is partnering with Homes For Our Troops, (HFOT), a nonprofit organization dedicated to providing homes for veterans with severe injuries or disabilities. For every U.S. sale made over the phone or on our website from November 11 through 15, WarmlyYours is donating $2 to Homes for Our Troops to help them raise funds, collect building materials and coordinate professional labor to build customized, accessible homes for veterans and their families, at no cost to them. Homes for Our Troops is currently working on a project in Joliet, Ill. for the benefit of USAF Capt. Anthony "Tony" Simone and his family.
Captain Simone's Story
On June 9, 2010, Capt. Simone, a Pararescue Captain, was on his third deployment when he was shot down in Helmand Province, Afghanistan while trying to land an HH-60 CSAR (Combat Search and Rescue) helicopter to rescue an injured service member. Five service members on the helicopter were killed; only Capt. Simone and the gunner survived. Capt. Simone sustained a traumatic brain injury and other injuries in the crash. After six weeks in a coma, followed by months of recovery in different hospitals, he received treatment and therapy at the Rehabilitation Institute of Chicago and continues to do so at the Edward Hines, Jr. VA Hospital.
Capt. Simone enjoys spending time with his wife Andrea, and their two young children. In his free time, he also enjoys archery and attends meetings of the Joliet Archery Club. Capt. Simone and wife Andrea, and their two young children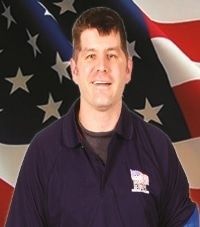 are looking forward to moving into their own fully accessible home, where he will have the freedom to move around without obstacles, and they can begin to focus on their future. They are thankful for the opportunity provided by Homes for Our Troops.
"Semper Gumby…always be flexible!" says Capt. Simone, who strives to make the most of life. "No matter what you want in life…make the most of what you get…maximize your results! Thank you for helping me to maximize mine!"
Homes For Our Troops is always looking for volunteers to help with local projects or fundraising. To learn how you can help out, visit their website or email Chris Mitchell, Community Fundraising Coordinator, at cmitchell@hfotusa.org.
Helping Our Wounded Warriors
Like Capt. Simone, many returning servicemen and women have a long road ahead of them in recovering from their injuries and adapting to the challenges of living with disabilities. When soldiers are wounded on the battlefield and flown to a military hospital in Germany to recuperate, their clothing and personal belongings may take weeks to catch up with them. Tee Shirts 4 Troops is an organization that helps provide clothing and other resources for wounded soldiers, as they recuperate. When WarmlyYours heard about the great work this organization does, we donated two Infinity Towel Warmers to them. Jim Peters, founder of Tee Shirts 4 Troops, also helps run a rehabilitation center for wounded warriors. At the Indianapolis center, moving around on the chilly floors of the basement rooms can be a real inconvenience for troops who have lost their legs. WarmlyYours donated a radiant floor heating system to keep them warm and comfortable as they recuperate. Read more about this project at the WarmlyYours blog.
Ongoing Support
On Monday, the country honors our veterans for their service with ceremonies, parades, and observances across the country. We do well to give our veterans the respect and thanks they deserve this time of year. At Warmly Yours, we strive to show our support for veterans all throughout the year. Every day, all year round, we offer veterans a 15% discount on purchases from WarmlyYours through our Military and Hometown Heroes Discount program.
Support on the Home Front
The active service men and women are not the only ones who have to make sacrifices; their families back home face challenges of their own in supporting their loved ones in the service. The holidays can be especially difficult for military families with their loved ones stationed far from home. For the second year, WarmlyYours is joining Smokin' T's Bar-B-Que in Long Grove, Ill. in their efforts to support local military families by providing them with Thanksgiving dinners with all the trimmings. If you'd like to join us and become a Thanksgiving Meal Deal sponsor, call Smokin' T's at (847) 726-0726.
Our veterans have done their part, now let's do ours. Join us in thanking them on Veterans Day and throughout the year. Call us at (800) 875-5285 or visit WarmlyYours.com to place your order and increase our contribution to Homes For Our Troops or to learn more about our Military and Hometown Heroes Discount program , and reach out to our partners or the organization of your choice with a donation of time or money to help them continue their efforts to support our troops.
Thank you to all the men and women who have served our country!