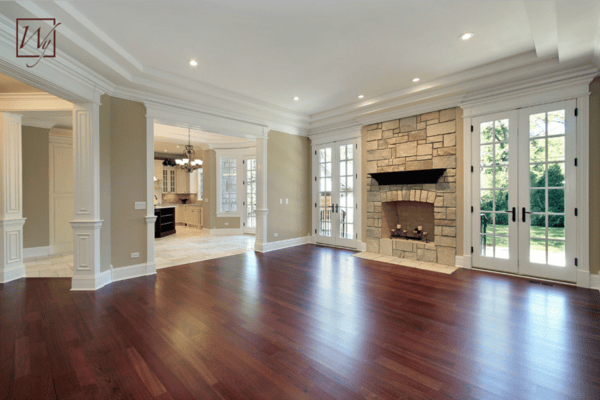 It's easiest to tackle remodeling projects room by room so as not to overwhelm yourself — or your wallet. In the living room, a remodeling project can consist of refacing the fireplace, painting the walls or updating light fixtures, but the most dramatic change occurs when homeowners replace the flooring.

Solid hardwood floors are universally recognized as a quality, premium flooring choice, but they're also known for being expensive. A less expensive alternative to solid hardwood is engineered hardwood. Engineered wood floors feature a top veneer of real hardwood, but they're enhanced with several layers of plywood underneath for stability, explains Armstrong World Industries Inc., a designer and manufacturer of flooring and ceiling systems, on its website. The top layer of real hardwood offers the same luxurious look as solid hardwood, but the supporting layers make the flooring more resistant to changes in temperature and humidity. As a result, engineered hardwood is often the preferred choice for kitchens, bathrooms, basements and such, according to a Realtor.com article.
Engineered hardwood can also be installed in a floating wood format, which means that no glue, nails or staples are necessary because the flooring simply "floats" above the subfloor unattached. This is a great option for do-it-yourselfers, because the floating wood floors feature a tongue-and-groove format, which makes them fast and easy to install.
This "floating" format along with the floors' resistance to temperature and humidity make them particularly well-suited for installation over in-floor heating systems, notes the Realtor.com article.
Engineered Hardwood in a Living Room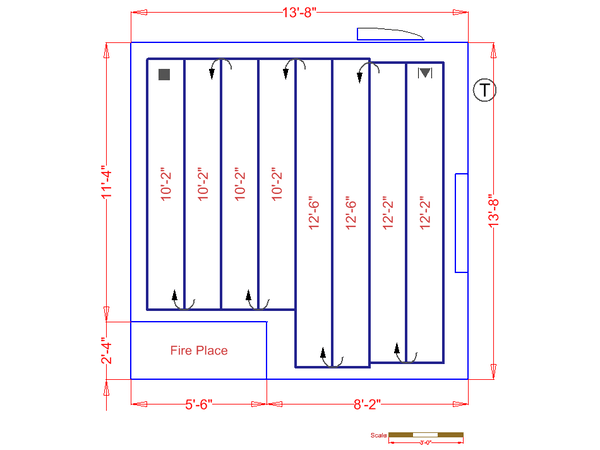 In this instance, the homeowners decided to replace their outdated flooring with new engineered hardwood floors. And since they were removing the flooring anyway, it was the perfect time to add electric heated floors to the room.
The engineered floating wood floors called for WarmlyYours' Environ™ floor-heating system, which consists of a reinforced, laminated aluminum foil roll with cable embedded 2 inches apart. To install the floor-heating system, the roll is simply laid out between the subfloor and the floating wood floors. It's as easy as installing the click-and-lock flooring!
In this particular floor plan, only one 1.5- by 90-foot Environ™ Flex Roll was needed to fill 135 square feet of floor space. The roll was cut and turned to fill the entire room, and it radiates 12 watts per square foot to provide warmth whenever it's needed.
The Cost of Floor Heating
In total, the floor-heating system cost just more than $1,000. The 240-volt Environ™ Flex Roll cost $1,080, and a SmartStat™ programmable thermostat cost $169, bringing the total to $1,249. That's less than the cost of most leather sectional sofas!
In terms of square footage, the cost equates to just $8 per square foot (not including the price of the thermostat).
To operate the system, it costs 54 cents a day, on average, according to WarmlyYours' Energy Use Calculator.
By combining the affordability of engineered hardwood floors with the affordability of electric floor heating, this living room was transformed into a functional, luxurious space that can be enjoyed year round for many years to come.
Get a Quote
To get an idea of how much it would cost to install electric floor heating in your home, check out the WarmlyYours Instant Quote tool. This tool walks you through the process to determine which product is right for you and how much it will cost.
You can also submit a floor plan of your room in order to receive a custom installation plan from a WarmlyYours account representative. This installation plan shows how your floor heating system should be installed for optimal functionality.
Once you're ready to start the installation, don't forget that WarmlyYours technical support experts are available 24/7 to answer any of your questions. Feel free to call them at 800-875-5285 at any time.
For more information, please visit www.warmlyyours.com.
Sources:
www.armstrong.com/flooring/floating-hardwood-floor.html
www.realtor.com/advice/choose-your-flooring-solid-wood-vs-engineered-wood/
Links:
Instant Quote: www.warmlyyours.com/my_projects/new
Energy Use Calculator: www.warmlyyours.com/tools/cost-calculators
Heat Loss Calculator: www.warmlyyours.com/tools/heatloss-calculator

Related Articles:
Comfortable, Affordable Floor Heating in the City of Comfort Food
www.warmlyyours.com/posts/bathroom-remodeling--Comfortable-Affordable-Floor-Heating-in-the-City-of-Comfort-Food-1160
Heat Takes on a New Meaning in an Average-Size Kitchen
www.warmlyyours.com/posts/countertop-heating--Heat-Takes-on-a-New-Meaning-in-an-Average-Size-Kitchen-1156
Warming up a Cold Toronto Bedroom
www.warmlyyours.com/posts/bedroom-remodeling--Warming-up-a-Cold-Toronto-Bedroom-1153
The Most Affordable Electric Radiant Heating Option for a Bathroom
www.warmlyyours.com/posts/bathroom-remodeling--The-Most-Affordable-Electric-Radiant-Heating-Option-for-a-Bathroom-1152
A Radiant Living Room Retreat in the Twin Cities
www.warmlyyours.com/posts/environ--A-Radiant-Living-Room-Retreat-in-the-Twin-Cities-1148
Like this post? Subscribe for regular updates
Make sure you don't miss out on the latest news in radiant heating by subscribing to our blog. We'll send you an email with links to the newest posts from WarmlyYours.
We won't share your information and you can unsubscribe at any time with a single click.
---
Did you find this post helpful?
Let us know by giving it some applause.
---
---