According to a new survey, the majority of United States households use either natural gas furnaces, electric furnaces or electric heat pumps as their main heating source during the winter. The 2015 Residential Energy Consumption Survey (RECS) specified that 47 percent of households use natural gas as their primary heating fuel and 36 percent use electricity. Electricity is primarily used in the hottest region of the country (the Southeast) where heating needs are lower and electricity is generally less expensive. Natural gas is most popular in every other climate.
However, more than a third of the country (36 percent) also uses a supplementary heating source, such as space heaters and fireplaces. Radiant heating is another option that many homes employ. And, as solar energy gains traction, electric heating sources like radiant heating may gain in popularity.

According to a recent ABC News article, the state of California set a power supply record in March when it used large-scale solar power plants to provide 40 percent of the electricity flowing across the grid. If you add the electricity that residences and businesses produced with solar panels, about half of the state's electricity demand was met by solar power in the middle of the day. The state plans to get half of its electricity from renewable sources like solar by 2030.  
For regions with high electricity costs, solar power could eventually open up the door for electrical heating systems.  
Radiant Heating Options
No matter where your electricity is coming from, electric radiant heat is a great option for rooms that could use an extra boost of heat. Electric floor heat is the most well-known form, but it's also available in panel form.
Floor Heat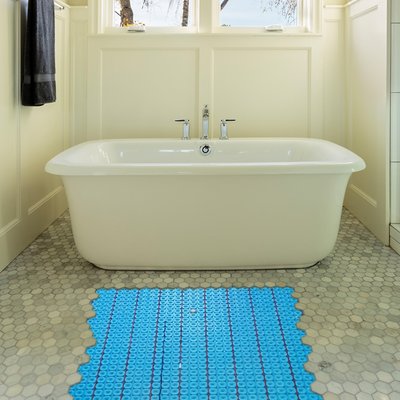 Electric floor-heating systems harness the same type of heat that the sun produces (infrared heat) to heat the people and objects around it. So when you're standing on a heated floor, you'll feel warmer — even though the air is cooler — just because you're in direct contact with the source.
The national electricity cost is $0.12 per kilowatt hour on average, which makes electric floor heating a very affordable option for supplementary heat. To give customers an idea of exactly how much it will cost to heat their particular space, WarmlyYours Radiant Heating has an Operating Cost Calculator. It provides the daily, monthly and annual costs for operating a radiant floor heating system based on the type of system, size of the room, local electricity rate and daily usage.
WarmlyYours offers three different types of floor-heating systems to suit various flooring substrates. TempZone™ Flex Rolls, Easy Mats, Custom Mats and Cable were designed for tile and stone; Environ™ Flex Rolls and Easy Mats were designed for carpet (in the U.S.), laminate and floating hardwood; and Slab Heat Mats and Cable were designed for use within a concrete slab. More information about electric floor-heating options can be found here.
Radiant Panels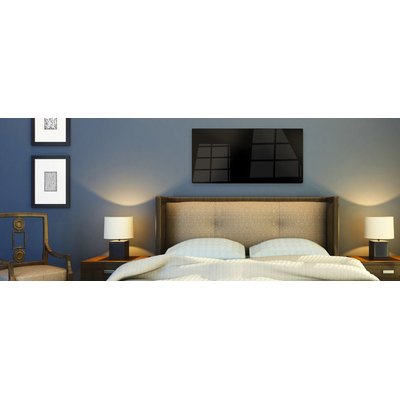 Radiant panels work the same way as radiant floor heat. They use infrared heat to directly heat the people and objects in the room. However, they're much easier to install. Radiant panels simply mount to the wall. They can be plugged into a standard outlet or hardwired to a circuit, depending on the type you purchase.
WarmlyYours offers Ember and LAVA panels, which are each available in various sizes and colors to complement any home décor. For more information about radiant panels, click here.
Whether homeowners use natural gas furnaces, electric furnaces or electric heat pumps as their primary heating sources, radiant heat is a great supplementary option to consider as well. 
---
Tell us About your Project
Our team of Radiant Experts is ready to help! Just tell us a little about yourself and your project to get started.
---
Did you find this post helpful?
Let us know by giving it some applause.
---
---