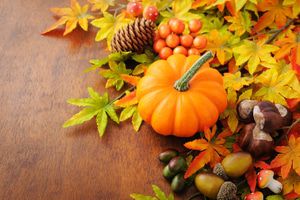 Giving thanks was, and is, the primary reason for celebrations and ceremonies.
And Thanksgiving is the perfect example of a celebration where you can give thanks and share your gratitude with and for others.
The fourth Thursday in November is more than just a day where you can feast on turkey and apple pie (although who doesn't love that?). Thanksgiving is a day where you can be thankful for everything you appreciate in life while in the company of family and friends.
This stomach filling holiday dates all the way back to 1621 where the Plymouth colonists and Wampanoag Indians shared a three-day autumn feast to celebrate the bountiful harvest that followed a devastating winter.
The celebration of thanks would flutter from year to year, depending on annual harvest. It wasn't until two centuries later that President Abraham Lincoln proclaimed Thanksgiving a National Holiday.
Here at WarmlyYours, we have much to be grateful for and we thought that we'd list the Top Five things that we are thankful for this year:
Our customers: We absolutely love and appreciate our customers. You are the heart and soul of this company!
Our family and friends: We're not only thankful for our WarmlyYours family, but for our immediate and extended family and dear friends whose support gives us motivation and inspiration.
A home: We are thankful for a place that is comfortable and warm. Wherever you may call "home," there is nothing better than having a place you can call home.
Food on the table: Isn't it fantastic to come home from a long day to find a delicious meal waiting for you? This holiday we are thankful that we have been blessed enough to have food on the table to enjoy and share with others.
The warmth that all of these things bring us: Our goal and commitment is to provide comfort and warmth to our customers. Who would've known that we would receive the same warmth back?! For this, we express our deepest gratitude.
With the "turkey coma" in full effect, there is no better way to end Thanksgiving than with a day full of shopping and amazing sales! Yes, Black Friday and Cyber Monday are here again! And the sales are better than ever!
To show our thanks to you, WarmlyYours is slashing our prices this year! We are offering 25% off (29% off in Canada) our sleek Infinity Towel Warmer for Black Friday and 20% off of our stylish Under Desk Heater for Cyber Monday! Don't let these deals slip by! Keeping you warm this winter is our way of saying thanks.
We hope you have a warm and very happy Thanksgiving!
Like this post? Subscribe for regular updates
Make sure you don't miss out on the latest news in radiant heating by subscribing to our blog. We'll send you an email with links to the newest posts from WarmlyYours.
We won't share your information and you can unsubscribe at any time with a single click.
---
Did you find this post helpful?
Let us know by giving it some applause.
---
---