It's the time of year to say thanks and to show our appreciation towards others. Nothing says more about Thanksgiving than thankful words and great food!
The WarmlyYours office is filled with even more gifts and gratitude this year as we celebrate this Thanksgiving with donations, raffles, and gift baskets.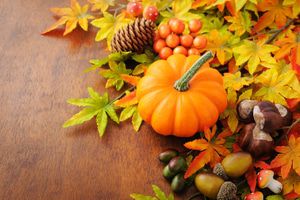 And who else better to thank than the local troop's families!
A local restaurant called Smokin' T's has sponsored an event to help support local military families by providing each family with a Turkey Meal Package. Smokin' T's goal is to extend warm heartfelt thanks to those children and spouses whose fathers or mothers bravely protect our country. The Thanksgiving Family Meal Packages can feed 10-14 people and contain delectable foods such as whole smoked turkey, green beans with mushrooms, mixed green salad with ranch dressing, cranberry sauce, mashed potatoes, sage stuffing and giblet gravy, mac and cheese, petite corn muffins, pumpkin pie, and cookies.
To help Smokin' T's show gratitude and thanks to local troop's families, WarmlyYours donated $270 which allows us to feed two families.
Yet, donating to local troops is not the only way WarmlyYours chose to celebrate Thanksgiving! We also shared our thanks around the office!
A Thanksgiving raffle was hosted in the WarmlyYours office with the prize being a Grand Gathering Gift Basket! In order to win the raffle, WarmlyYours staff had to submit emails that expressed what they were thankful for this thanksgiving. The emails were then printed out and placed in a bowl to be drawn at random.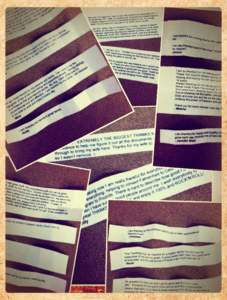 Many of the staff members expressed thanks for their families, friends, and health, as well as thanks for their career, the military, and their co-workers.
On Monday, November 19th, an email was drawn at random and the winner was announced. The winner of the raffle was our Director of Information Technology, Christian Billen. His emailed stated,
"I am thankful for the constant opportunity to learn and evolve at WarmlyYours."
Along with Christian's thankful email about WarmlyYours, others shared their thanks for their family. Jennifer West, our sales representative shared,
"I am thankful for happy and healthy children. Watching them learn and grow each day reminds me of how blessed I truly am."
And some exclaim their gratitude for future events. Our Marketing Assistant, Jessica Farrier, wrote,
"I am thankful for a loving family who cares for me and wants the best for me. I am also thankful that in less than 7 months I will be marrying the man of my dreams!"
Thanksgiving is one of our most favorite times of year because it affords us the opportunity to exuberantly express our blessings and appreciation towards those around us, whether it is through a local charity or emails from co-workers. WarmlyYours is grateful for our amazing customers and colleagues who keep this company radiating warmth.
Like this post? Subscribe for regular updates
Make sure you don't miss out on the latest news in radiant heating by subscribing to our blog. We'll send you an email with links to the newest posts from WarmlyYours.
We won't share your information and you can unsubscribe at any time with a single click.
---
Did you find this post helpful?
Let us know by giving it some applause.
---
---