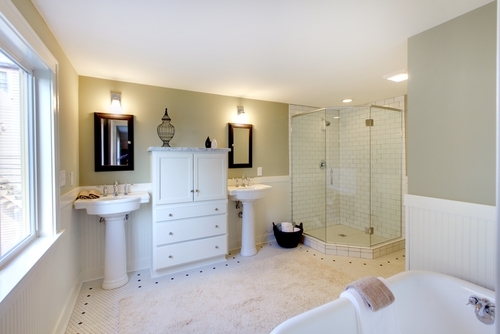 According to the U.S. Green Building Council, the bathroom is not only one of the most used rooms of the home, it is also one of the most resource-intensive rooms in the entire house, using more water than any other space as well as a fair amount of electricity. 
The good news for any environmentally-conscious homeowner is that there are many ways to make your bathroom more efficient, regardless of your personal taste and budget.
Reduce water use
The U.S. Environmental Protection Agency (EPA) reports that toilets are the main source of water use in the home, accounting for nearly 30 percent of an average home's indoor water consumption. Replacing an old, inefficient toilet with a newer, WaterSense-labeled model can reduce the amount of water used by as much as 60 percent. That translates into about 13,000 gallons of water saved each year or an extra $110 in your wallet. 
Installing more efficient faucets and shower heads can also reduce water usage. Experts say if your bathroom was last updated before 1994 you're likely to realize a large difference in your water bill by purchasing newer products. 
"Consumers can easily incorporate a lot of items that don't look or perform any differently than traditional materials, for about the same price," Sean Ruck, spokesperson for the National Kitchen & Bath Association, told HGTV.
Choose sustainable materials
If you're replacing your vanity, flooring or other tiles, choose recycled or sustainable products. For instance, vanities made out of bamboo are attractive, durable and "green." Tiles and countertops constructed of recycled materials, such as glass, also look great and help the environment. Remember to speak with a bathroom expert when choosing materials, as you want to make sure that they can hold up to the wet, humid environment of the bathroom.
If you're replacing your bathroom floor, it's a good time to also upgrade the room's heat. Radiant floor heating is ideal for a bathroom for the comfort it provides as well as the fact that it is more efficient than other heating systems. Experts say the average homeowner can save as much as 30 percent each year on heating costs by opting for warm floors over traditional duct-based heating systems.
Replace the water heater
While more efficient water heaters may cost more, they will save you in the long term. The U.S. Green Building Council reports that tankless water heaters are more than 30 percent more efficient than traditional storage-tank water heaters.
Those who don't want to invest a lot in their current bathroom to make it more environmentally-friendly should remember that small changes can also make a big impact. Reduce the amount of water you waste by turning it off while brushing teeth and washing hands, for example.
---