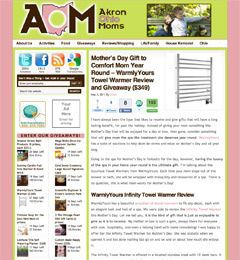 Mother's Day is right around the corner, and I think we'd all agree that all moms deserve some special pampering and honoring for all they do and for who they are to us. Maybe you're thinking you'd like to treat her to a spa day filled with relaxation or maybe a nice dinner at her favorite restaurant. But, why not give her the spa treatment all year-round?
Sound intriguing? Then, you're in luck because Akron Ohio Moms Blog is running a giveaway for our Infinity Plug-in Towel Warmer! Head over to their site for all the details and to win mom that year-round spa treatment! It may just catapult you to "favorite child" status.
While you're there, check out Akron Ohio Moms' writer, Cindy's take on our Infinity Towel Warmer and its easy installation.