Located in Southern Ontario on the northwestern shore of Lake Ontario, Toronto is situated on a broad sloping plateau intersected by an extensive network of rivers, deep ravines, and urban forest. The city is mostly flat with some gradual hills and the land gently slopes upward away from the lake creating a very picturesque vista. But during the cold Toronto winter season that vista is frequently covered with snow. 
According to currentresults.com, snowstorms, sometimes mixed with ice and rain, can disrupt work and travel schedules, while accumulating snow can fall anytime from November until mid-April. The average snowfall is over 14 inches in January alone. A snow melting system from WarmlyYours can lessen the burden of winter by saving you from dealing with the snow removal and any expensive de-icing chemicals, while you are free to enjoy the beauty of the season without the added pressure. Designed to install directly in concrete, asphalt, or in mortar beneath pavers, WarmlyYours snow melting systems ensure that the driveway, patio, walkway or stairs stays both ice and snow free, allowing for safe passage.  
No More Plows or Snow Shoveling with a Snow Melting System
When resurfacing your driveway, it's a perfect time to add a snow melting system. These Toronto homeowners had seen their share of snowstorms and wanted to get away from shoveling or plowing the driveway. It was also important to them to keep their property clear of ice and snow for family and visitors. To achieve this goal, they chose a WarmlyYours snow melting mat system as detailed in the installation plan below.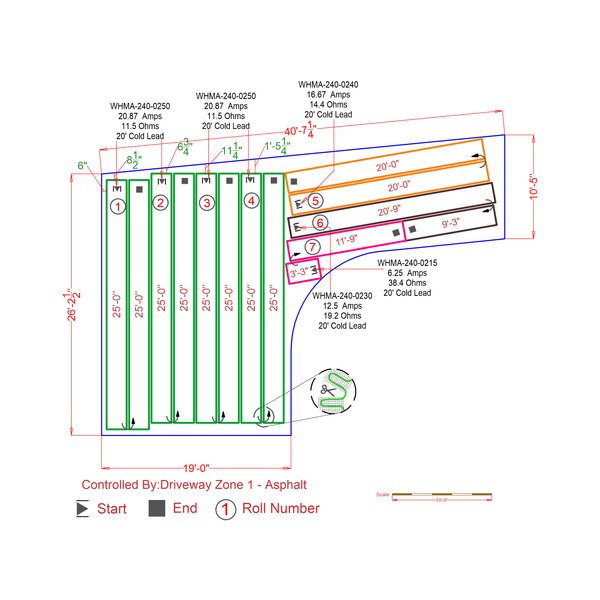 Heating 570 sq. feet (approx. 19' x 26' x 41') of asphalt driveway cost just $11.05 per square foot. To make sure the system runs based on your lifestyle there are a variety of snow melting controls available to suit your needs. 
See Which Control Suits Your Style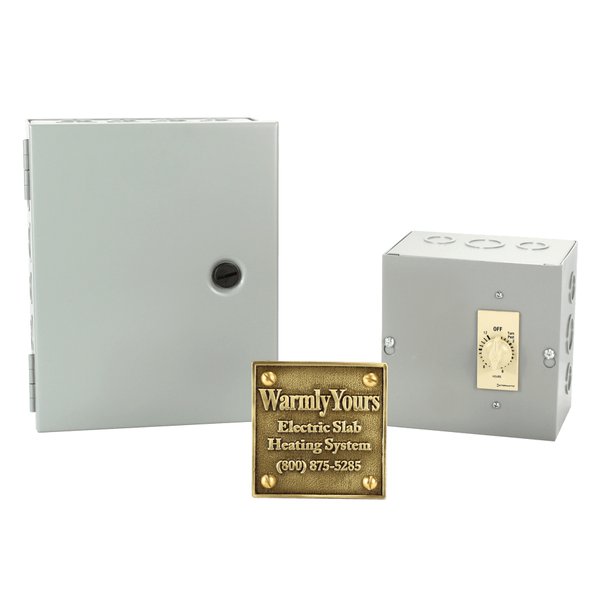 From manual and economy to advanced and premium, there are a variety of snow melting controls to suit any budget and lifestyle. The WarmlyYours Manual Snow Melt Control is a simple, affordable option featuring a 12-hour, adjustable timer and a NEMA 1 enclosure with hinged cover. At 120 VAC operational voltage, the manual control is UL Listed and suitable for use with relay panels.

Another option is the Premium Snow Melt Control that provides for easy installation and operation. These Toronto homeowners selected it because it minimizes energy consumption. The Premium control is also CSA Certified for use in both Canada and the U.S. To see all the snow melting control options click here. 

It's Easy to Get Started with a Free Quote and Installation Plan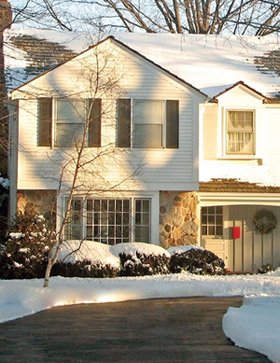 Interested in how much it would cost to install snow melting in your driveway, walkway, or patio? Simply check out the WarmlyYours Instant Quote tool. After entering some basic project information, the tool will provide a quote that shows the recommended products along with their corresponding costs.
Once you have your quote, we recommend that you get a free custom installation plan to insure a worry-free snow melting installation. Each WarmlyYours SmartPlan™ includes an itemized product quote including pricing for your project, an electrical plan that explains what you need to ensure optimal functionality of your system, and an installation plan with detailed information to make installing easier. It's easy to get your plan; you can submit a floor plan online with a rough sketch of your project, or contact a WarmlyYours sales representative at sales@warmlyyours.com, or simply call 800-875-5285.
Best of all, you have 24/7 access to our installation specialists. Once you begin to install your snow melting system, you can call upon our technical support experts at 800-875-5285 to help you with any installation questions you may have whenever you need assistance. And once installation is complete, WarmlyYours snow melting systems are backed by our unbeatable 10-year warranty.
Don't let winter stress you out. This spring or summer you can take advantage of the best time to install a snow melting system. For more information on driveway heating or any of our radiant heating solutions, visit us at www.WarmlyYours.com. We're dedicated to providing radiant products designed to improve your quality of life.
---
Tell us About your Project
Our team of Radiant Experts is ready to help! Just tell us a little about yourself and your project to get started.
---
Did you find this post helpful?
Let us know by giving it some applause.
---
---