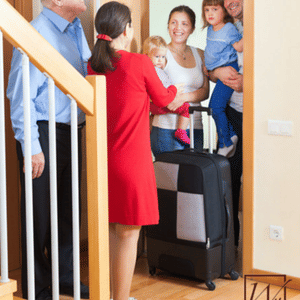 Whether you traveled over the weekend, fought the crowds on Black Friday, or played chauffer for one or more family members to and from the airport, the holidays can – despite all the "happy togetherness" – wear you down at times. 
So, pamper yourself with little comforts that can help you recover faster and continue to enjoy the season. Just in time for the holidays, WarmlyYours Radiant Heating introduced new "smart" towel warmer bundles that pair our portfolio of plug-in towel warmers with Belkin's Wi-Fi-enabled WeMo Switch. With this new value-added option, you can use your smartphone or tablet to control your towel warmers from any location. 
Think about the possibilities! 
Headed home from the airport after dropping guests off? Prep for a relaxing shower or bath and have warm towels waiting. Will Christmas guests arrive while you are still out of the house? Have warm towels waiting for them and make them feel extra welcome.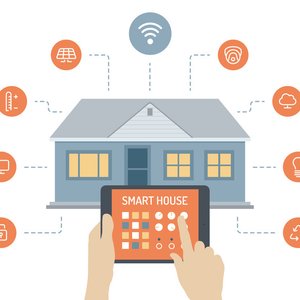 These new "smart" towel warmers fit right into your increasingly mobile lifestyle. In fact, according to information technology research and advisory company Gartner Inc., a typical family home in a mature, affluent market could contain several hundred "smart" objects by 2022. This is the kind of "smart" object that will get you hooked. 
"The number of people who turn to mobile devices for their daily needs continues to increase," said WarmlyYours President and Owner Julia Billen. "Nowadays, people want to be able to use their mobile devices for a wide variety of tasks. Our new towel warmer/WeMo Switch packages allow us to speak to that growing audience by taking our line of luxurious, stylish towel warmers to the next level of convenience." 
The WeMo app, which can be downloaded for free from the Google Play Store or the Apple App store, can be utilized once a towel warmer has been plugged into the WeMo Switch and the switch is plugged into an outlet. Then, the WeMo app allows you to turn your towel warmers on and off right from your mobile devices, or even set schedules for the towel warmers. 
Note: In order to be compatible with the app, Android devices must be running Android 4.0 or higher, and Apple devices must be running iOS 5 or higher. 
Additionally, the WeMo Switch integrates with the IFTTT (if this then that) service, which allows users to turn their towel warmers on or off when prompted by another event or activity. For instance, the WeMo Switch can be programmed to turn the towel warmer on when the sun rises or turn the towel warmer off when people leave the house, when used in conjunction with other WeMo products.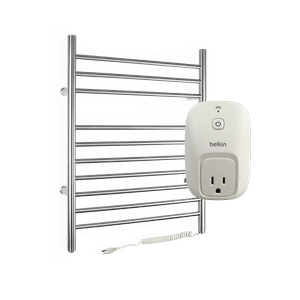 The WeMo Switch is currently available for purchase with WarmlyYours' Infinity, Barcelona and Elements plug-in towel warmers, which each feature a unique design and finish based on consumer preferences. 
"Homes are getting 'smarter,' and this collaboration allows us to help boost a home's IQ in a convenient, affordable way," Billen said.
This simple upgrade expands the functionality of your towel warmers. The possibilities for enhancing your personal comfort and the comfort of your guests are exciting. We're fairly sure Santa would even use one after a long Christmas Eve of delivering presents. 
For more information about WarmlyYours towel warmers with WeMo Switch bundles, visit www.WarmlyYours.com.
---
Tell us About your Project
Our team of Radiant Experts is ready to help! Just tell us a little about yourself and your project to get started.
---
Did you find this post helpful?
Let us know by giving it some applause.
---
---