October is breast cancer awareness month, and WarmlyYours is going pink. Every Friday throughout October, the employees of WarmlyYours (and even our logo) will be wearing pink to help raise awareness—and funds—in the fight against cancer.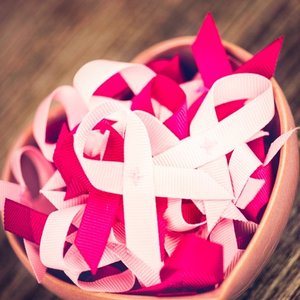 According to the National Breast Cancer Foundation (NBCF), breast cancer is the most commonly diagnosed cancer in women: one in eight women will be diagnosed with breast cancer in their lifetime. It is the second leading cause of death among women. Though less common, breast cancer can strike men too. The NBCF estimates that 2,150 men are diagnosed with breast cancer, and approximately 410 will die, each year. With numbers like that, it is likely that we all know someone who has been or will be diagnosed with breast cancer.
Think Pink
Eric Mumbower, Database Analyst and Developer at WarmlyYours, came up with the idea to get our company more involved. He and his wife Jennifer frequently volunteer to raise funds and educate people about the disease. "Through volunteering for the Relay for Life events, we have met a few breast cancer survivors and fighters, and their stories really left a lasting impression on me," he said.
Early detection and treatment is critical to improving cancer survival rates, so awareness and education are key. "During a recent fundraiser for breast cancer awareness I thought WarmlyYours could become another vehicle to help spread awareness. I decided to throw this idea out there to mimic the same press that the NFL does during the month of October. Think pink!"
Give Back
The staff at WarmlyYours was excited to do our part in spreading the word, but wearing pink was just the start. "Breast cancer affects so many people, as women are the fabric that weaves a family together. Women are usually the caregivers, the storytellers, the sustenance, and the lifeblood of the home. For this reason, and for all the women who touch our hearts and make our world a better place, we want to support and give to this cause," said Julia Billen, owner and president of WarmlyYours.
WarmlyYours is challenging its employees to step up and contribute to their favorite organization to support cancer patients and research , by offering to match donations they make in the month of October. "Here at WarmlyYours our job is our life work, and our life work includes doing our part in giving back," explained Billen.
We won't just be wearing pink in October, but we'll be shopping pink as well. Many manufacturers and merchants sell special pink-themed versions of their products to raise awareness of the disease or make purchase-driven contributions toward research or other support organizations.
"There are a ton of products being sold which will end up giving back to cancer research and other charities. If it is something you need anyway, this can be your donation too," said Eric. The Breast Cancer Research Foundation website offers some suggestions about where to shop pink. However, you can also find items available from many locally or nationally owned companies.
Get Involved
Donating money is just one way to contribute to the cause. Local fundraising events abound, and every one of them needs help. Volunteering a small amount of your time can make a big difference. Whether it's helping out at a Relay For Life event or organizing a Pink Out at a sporting event at your local high school, there are plenty of opportunities to make a difference in your community.
Sharing your special skills or talents with a charitable organization is another way to give. Jennifer Mumbower, photographer and owner of Jenni Marie Photography in Spring Grove, Ill., puts her talents to work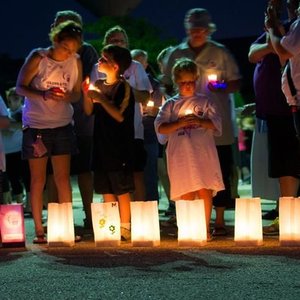 for a good cause. Not only do she and Eric raise funds with their Relay for Life teams, but at the Relay For Life of Richmond/McHenry Township last June, they set up a photo booth as a fun activity for participants and donated half of the proceeds to the American Cancer Society.
Eric and Jennifer have made raising awareness and funds their mission. They will be helping the McHenry Township Fire Protection District with their Heroes For Hope campaign by selling t-shirts and sweatshirts on Sunday, October 13 at Stade's Farm and Market Shades of Autumn Fall Festival in McHenry, Ill.
Make a Difference
Eric and Jennifer's enthusiasm is contagious, and WarmlyYours is glad to join them in their efforts. "I challenge every person to speak with at least a few people in their lives. I bet they will learn that it is affecting them already in some shape or form. We are closer now than we were last year to finding a cure. I would rather say that we did all we could this year and prevented more tragedy rather than waiting for someone else to do the work for us," said Eric.
We at WarmlyYours, are proud to do what we can to spread the word and give of our time and money to support breast cancer research and survivors. Won't you join us and go pink!
Photo credit: Photo of participants and luminarias at Relay For Life Richmond/McHenry Township, June 22, 2013 provided by Jenni Marie Photography.
---
Tell us About your Project
Our team of Radiant Experts is ready to help! Just tell us a little about yourself and your project to get started.
---
Did you find this post helpful?
Let us know by giving it some applause.
---
---