Radiant heating is a great luxury to add to any bathroom in your home. A radiant heated bathroom feels like a spa oasis with the radiant warmth creating feelings of tranquility and well-being. Installing in-floor radiant heating or even just adding towel warmers are great options, but there is still more you can do. 
Now you can enhance your everyday shower experience with WarmlyYours New Shower Floor and Bench Mats. This is a novel luxury for shower and bathroom floor heating. 
WarmlyYours Radiant Heating, makers of energy-efficient radiant electric heating solutions for any flooring surface including bathroom spas, has announced a new product, TempZone™ Shower Floor & Bench Mats. "These newly designed mats help expand the warmth of radiant floor heating throughout the entire spa bathroom, banishing the cold completely." They are a perfect formula for a shower oasis.
Safe for use in wet locations, this system is designed to warm shower floors, benches, steam showers and saunas. Ideal for spa bathrooms, the shower floor and bench mat system works well for larger, luxurious showers with a European design. However, it is offered in several sizes to accommodate any shower application.
The Shower Bench Mats are available in 2 sizes, 2.6 and 3.6 square feet. The Shower Floor mats are available in 3 different sizes, ranging from 7.1 to 16.0 square feet with a hole in the mat to accommodate the shower floor drain. For larger bathrooms, multiple mats may be required.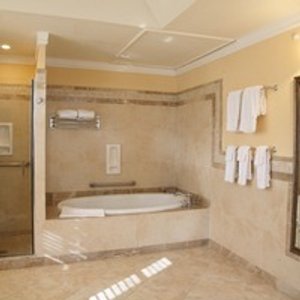 WarmlyYours offers a custom installation plan, by providing the homeowner's bathroom floor plan with dimensions, including the shower location. WarmlyYours will design your shower system for you, including product recommendations, for a warming roll and programmable thermostat.
TempZone™ floor warming systems are engineered with an insulated copper alloy resistance warming cable taped to a fiberglass mesh backing. The warming cable is evenly spaced in 3-inch serpentine loops, providing 25 percent more heating capacity than other competitive products. 
TempZone™ is backed by WarmlyYours 25-year, No Nonsense™ Warranty.
Here at WarmlyYours, we are always looking for bigger and better advancements in technology, service and developments. We strive to take our company and products to the next level. We offer the widest selection of radiant heating products and we are confident that we can find a radiant heating solution tailored just for you. 
---
Tell us About your Project
Our team of Radiant Experts is ready to help! Just tell us a little about yourself and your project to get started.
---
Did you find this post helpful?
Let us know by giving it some applause.
---
---