Gone are the days of having one large, frameless mirror that spans the length of your bathroom vanity. If you want a bathroom to look updated and stylish, you should choose a mirror that looks more like a piece of art than it does a simple reflective surface.
In any room, mirrors offer the opportunity to add depth, light and personality. But this is especially true in a bathroom because the mirror naturally becomes a focal point for the room. You can't get ready for the day without looking at one. Therefore, choosing the right mirror is an important decision. To help, WarmlyYours Radiant Heating compiled a list of the four most popular options, depending on your style.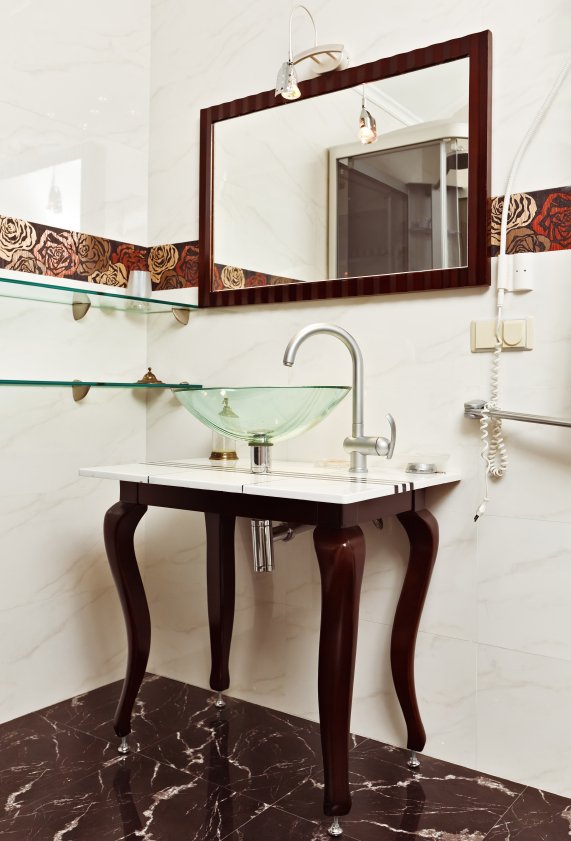 1. Rectangular Mirror
The most classic way to update a bathroom mirror is to swap it out for a rectangular one that fits the size of the vanity. For instance, if you have a double vanity, choose two vertical rectangular mirrors — one for each sink. If you have a wide single vanity, choose a horizontal rectangular mirror with a frame to add some interest. The frame allows you to insert some personality into the space, and it also helps you build on the design of the rest of the room. If you're going for a modern look, a dark, sleek frame will help complete your design. If you're going for an earthy, more natural feel, selecting a wooden frame will add a unique focal point to the design. Or, if you want your bathroom to show some historic charm, choose a vintage frame that will reflect the style and history of the home.
2. Oval Mirror
To add both interest and height to a bathroom, hang an oval-shaped mirror above the vanity. Whether placed in a powder room or master bathroom, an oval mirror brings style and shape to an ordinary space. Plus, the shape helps to soften the edges of a typical vanity, adding versatility to the
room.
3. Round Mirror
For a contemporary, more unique look, choose a round mirror. This shape offers maximum impact as a focal point of the room. It can be custom tailored to suit the style of the rest of the room with the right frame. For instance, a colorful frame can help it complement the other colors in the room, or an intricate metal frame can make it stand out even more.
4. Lighted Mirror
A mirror with built-in LED lighting brings a modern touch to a bathroom while also adding functionality to the room. 
LED mirrors can still be accompanied by sconces or other vanity lighting, if desired, but they were designed to offer ideal lighting on their own as well.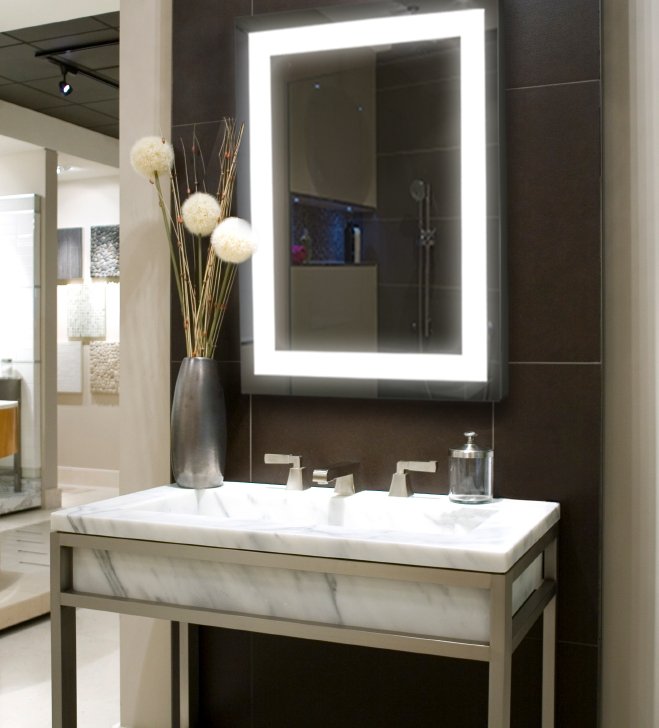 In fact, WarmlyYours Radiant Heating's LED mirrors earned a perfect score (100 out of 100) on the Color Rendering Index, which measures how accurately a light source makes the color of an object appear to the human eye. The LED lighting also has a color temperature the same as daylight, which means you'll get the truest, most natural light possible. WarmlyYours offers LED mirrors in rectangle and round shapes with various lighting options to suit the homeowner's particular style. For example, the rectangular mirrors can be entirely framed with LED lighting or have just two bars of lighting. The circle mirror option features an interior frame of LED light. To match the size of your vanity, custom LED mirror sizes are also available. Contact your WarmlyYours account manager, or call 1-800-875-5285, to learn more about custom options for the Marquee Series of LED Mirrors.
By purchasing mirrors specially suited for your bathroom instead of a standard builder's grade mirror, no part of your bathroom will feel like an afterthought. Instead, your mirror will look like a piece of art that elevates the rest of the space.
Have you recently upgraded your bathroom mirrors? If so, send us a photo and show off your work! Share your photo with us on Facebook, Instagram or Twitter. 
---
Tell us About your Project
Our team of Radiant Experts is ready to help! Just tell us a little about yourself and your project to get started.
---
Did you find this post helpful?
Let us know by giving it some applause.
---
---