Whether you're repainting a bathroom or completely remodeling it, you want to make sure the design choices you make don't have a negative impact on the room. Homeowners are typically concerned with the trendiness of the options they choose. You'd hate to install new tile only to have it go out of style a few months later. However, the best way to start the remodeling process is by considering the size of the bathroom.
Most bathrooms are typically small without any natural lighting, which makes them susceptible to some design pitfalls that will make the room feel even smaller. To avoid these mistakes, WarmlyYours offers these three design tips that will help you maximize the space you're working with.
1. Use light colors.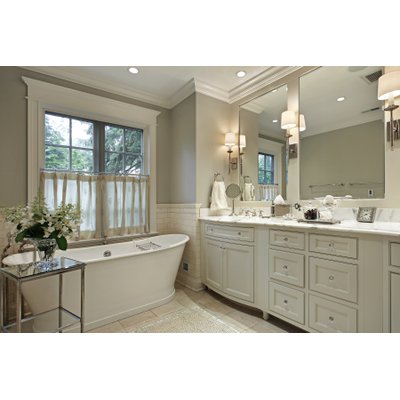 If you want to make any room feel smaller, paint the walls a dark color. Likewise, to make a room feel bigger, lighten them up. You can choose light neutrals, like beige and gray, or even light shades of blue or green. Just know that the lighter the color, the larger the room will feel. This concept also applies to the color of your vanity and tile. A white bathroom vanity and white tile will enlarge the look of the bathroom, so keep that in mind during a remodel.
2. Pick the right vanity.
If you're working with a small bathroom or powder room, a full-size vanity will make the space feel much more cramped than it has to be. By choosing a pedestal sink, you can create a significant amount of "negative space" that will make the room feel more spacious. If you need under-the-sink storage, however, you should consider a floating vanity. This will offer the illusion of extra space without taking away from your storage needs.
You should also consider minimizing the décor, accessories and amount of artwork you hang in a bathroom. Too many items on the countertop or walls will make the bathroom feel cluttered. Items like above-the-toilet storage shelves and magazine racks should also be eliminated if possible to declutter the space. After all, in small rooms, less is more.
3. Utilize lighting and mirrors.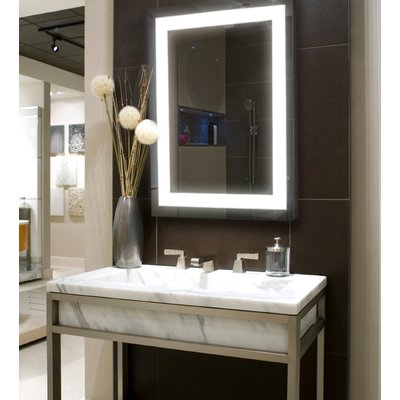 Perhaps the best way to create the illusion of more space is to use plenty of lighting and mirrors. Especially when natural light is not available, maximizing the amount of light you bring in over your bathroom vanity is essential. The goal is to get your lighting to be as close to daylight as possible to exude that bright, natural feeling. Therefore, LED lighting is the way to go. LED lightbulbs are available in a range of hues, including ones that mimic pure daylight. Plus, they last 20-plus years, so you won't have to worry about replacing the bulbs in your bathroom for quite some time.
WarmlyYours recently introduced a line of Marquee mirrors featuring LED lighting. The lighting has a color temperature of 5,000 Kelvin, which is equivalent to daylight. It also earned a perfect score on the Color Rendering Index, which means it produces the most accurate depiction of the color of an object to the human eye. This is ideal for bathrooms because you want the best lighting possible when you're applying makeup or shaving your face. But it's also a great way to bring natural-looking light into a small space to make it feel bigger.
Likewise, hanging mirrors in any room offers the illusion of depth. In the bathroom especially, they reflect the light in the room to make it feel brighter and larger. With LED lighting built in to the mirror, you get the best of both worlds.
For more information about WarmlyYours Radiant Heating's range of LED mirrors, click here.  
---
Tell us About your Project
Our team of Radiant Experts is ready to help! Just tell us a little about yourself and your project to get started.
---
Did you find this post helpful?
Let us know by giving it some applause.
---
---