Located in the northwestern part of Arizona, Reno sits in the high desert at the foothills of the Sierra Nevada mountains. Best known as "The Biggest Little City in the World", Reno is famous for its hotels, casinos and as the birthplace of Harrah's Entertainment (now known as Caesars Entertainment Corporation). In addition, Reno is an outdoor recreation destination, due to its proximity to the Sierra Nevada, Lake Tahoe, and numerous ski resorts in the region.
Outdoor recreation is one thing, but Reno can sometimes see as much as 21 inches of annual snowfall. For homeowners, the aftermath can be a challenge. Based on currentresults.com Reno sees most of its snowfall between December and February with an average of 5.6 and 5.0 inches in January and February respectively. And it's not just snow, the desert gets cold at night so that translates to cold outdoor surfaces that can quickly freeze creating a slippery surface to maneuver through. A driveway heating system can save you from shoveling or plowing and give you a sense of security providing you, your family and friends with safe passage.
A Cost-Effective Solution with Tire Tracks Driveway Heating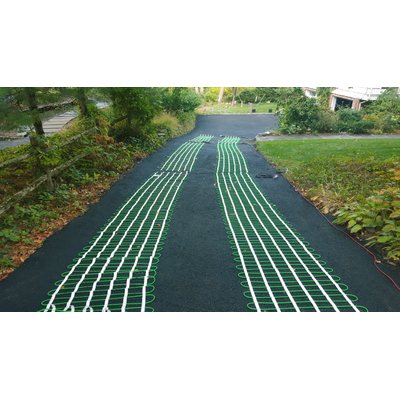 You can choose to have your entire driveway project covered with snow melting, but one popular alternative to full coverage is to simply heat tire tracks. This economical option helps users cut down on both installation and operating costs, while still providing great functionality. This coverage system works by installing two heating elements, typically 2 feet wide and the length of the driveway, which will keep the driveway passable, even in the heaviest of snow falls. These Reno homeowners chose to install two sets of tire tracks (4 total). See below.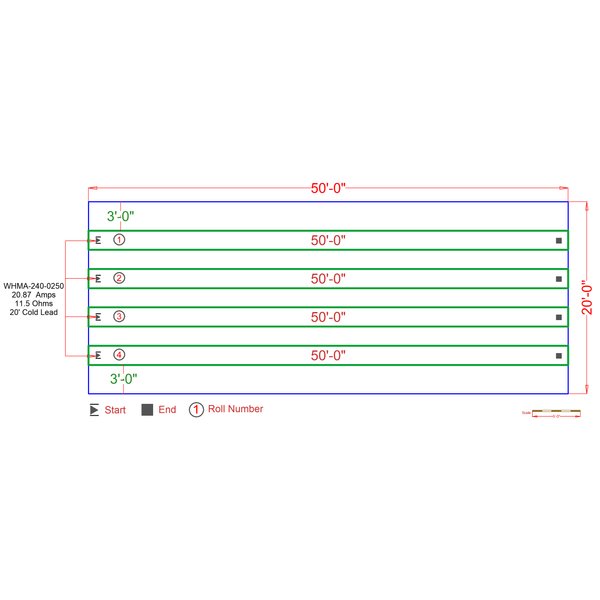 The snow melting system used in the 20' X 50' driveway featured in this project was only $3,560.00, or the equivalent of $8.90 per square foot, for their 400 square foot driveway. In addition, the operating cost for this project is only $2.38 per hour based on the 11.89 cent kWh cost in Reno. When calculating the operating expense for a typical snowfall duration of 6 hours, the cost amounts to only $14.28.

Suit Your Project and Budget with Snow Melting Controls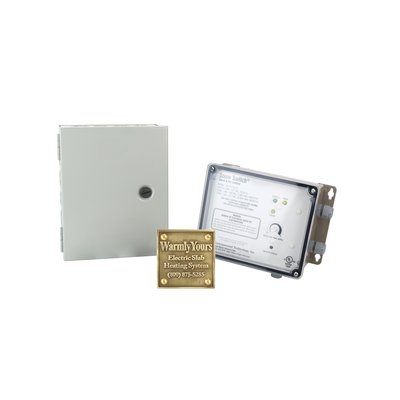 From manual and economy to advanced and premium, there are a wide array of snow melting controls to suit any budget and lifestyle. One simple, affordable option is the WarmlyYours manual snow and ice melting control. UL Listed at 120 VAC operational voltage, this unit features a 12-hour, adjustable timer and a NEMA 1 enclosure with hinged cover that is suitable for use with relay panels. 
The option chosen by these Reno homeowners was the advanced snow melting control with automatic and manual override operator controls to minimize operating costs. This advanced control includes an adjustable hold-on timer to continue heater operation up to 8 hours after snow and ice accumulation stop to ensure complete melting. You can compare all the snow melting control options here.

Free Smart Plan = Easy Installation
It's a good idea to start off right with an installation plan for your snow melting system. WarmlyYours provides a free, no-obligation SmartPlan that includes an installation plan, an electrical plan, and an itemized quote, all of which are prepared by a highly skilled team of engineers.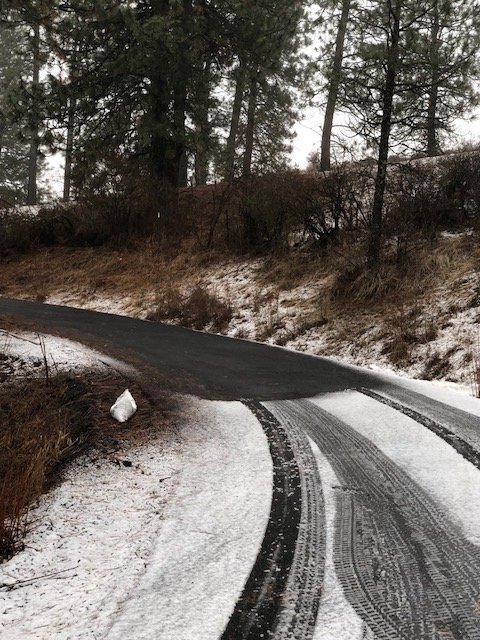 It's simple to get your plan. Just provide a rough sketch of the project that includes dimensions and other relevant information, like where power will be most readily accessible. Typically, within one day of providing this information, you'll receive your free SmartPlan. Or you can get started now with an Instant Quote here. The itemized quote included in your SmartPlan will also include MSRP pricing so that you can easily budget for your project.
All WarmlyYours snow melting systems are backed by our unbeatable 10-year warranty. In addition, you have 24/7 access to our installation specialists so that whenever you need assistance you know you can call upon our knowledgeable technical support experts at 800-875-5285 for the answers to your installation questions. Call us or visit us at www.WarmlyYours.com.  We have both indoor and outdoor radiant heating solutions designed to simplify your life by adding comfort and convenience.
Skyline photo by Kc0616 - Own work, CC BY 3.0, https://commons.wikimedia.org/w/index.php?curid=5913037
---
Tell us About your Project
Our team of Radiant Experts is ready to help! Just tell us a little about yourself and your project to get started.
---
Did you find this post helpful?
Let us know by giving it some applause.
---
---