Positioned along Lake Michigan, Chicago is an international hub for finance, commerce, industry, technology, telecommunications, and transportation: O'Hare International Airport is the second-busiest airport in the world when measured by aircraft traffic; the region also has the largest number of U.S. highways. The city can boast being one of the world's largest and most diversified economies with no single industry employing more than 14% of the workforce. These are just a few of the many reasons people are drawn to Chicago.
However, Chicagoland winters are not much of an attraction for most. Cold weather and snowy conditions are common during the winter season and can test the best of us. Unless you're a snow sports enthusiast, the stress of winter can take a heavy toll. But there is relief from all that stress and back breaking snow removal. Installing a driveway heating system can free you from the laborious shoveling of deep snow and keep your driveway clear and accessible during the winter season.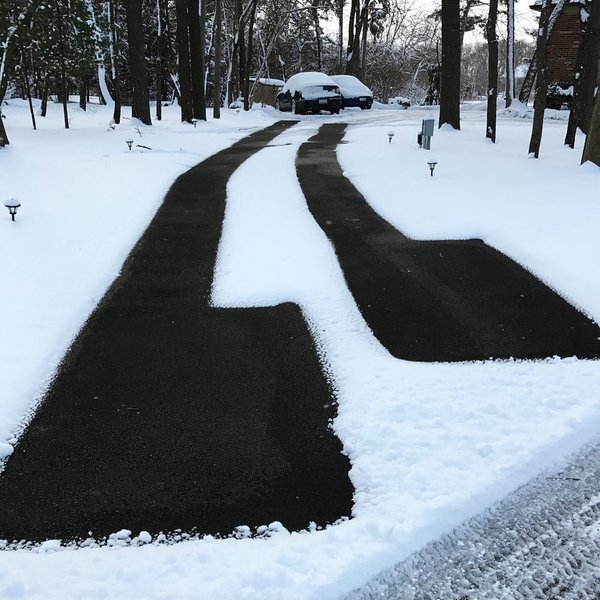 Snow Melting Effortlessly Clears a Chicago Driveway of Snow and Ice
In this case, these Chicago homeowners were replacing their driveway and wanted to add a snow melting system to make their lives easier during the winter. They had struggled through one too many winter removing snow and/or ice from their driveway. After researching their options, they chose the snow melting cable system from WarmlyYours for the installation flexibility and lower cost. In addition, WarmlyYours supplies a free no-obligation installation plan with each quote as detailed in the example below.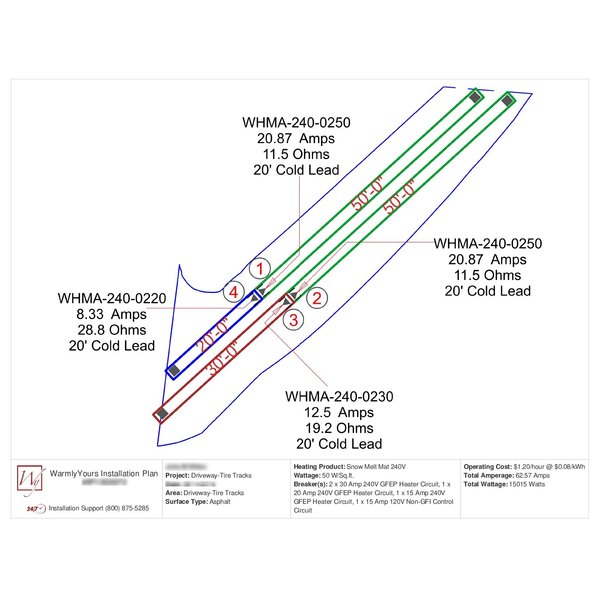 The cost was $4695.00, or the equivalent of $7.66 per square foot, where this snow melting system was installed to heat 613 square feet of driveway. A bonus is that it cost only $3.26 per hour to run the system, or less than $20 overall based on a typical 6-hour snow event. Now they just had to select a control from the wide array of available snow melting control options to operate the system. 
Snow Melting Controls from Basic to Advanced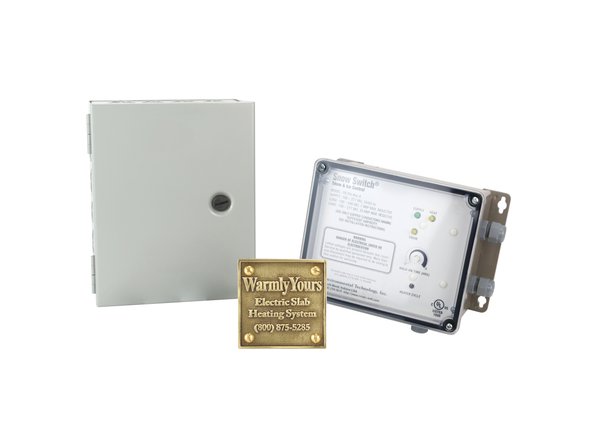 WarmlyYours snow melting control assortment ranges from manual and economy to advanced and premium. One affordable model is the snow and ice melting economy control that provides for economical, automatic operation of snow melting. Easy to program, it includes a digital interface and maximum 2 sensor capability that enables detection of temperature and moisture. It also features a UL Listed, wall-mounted metal enclosure.
The control chosen for this project was the snow melt value control system that includes automatic operation and comes complete with moisture and air temperature sensors. This configurable aerial snow melting controller makes automatic snow melting cost-effective in even the smallest applications. In addition, the adjustable hold-on period (3 hours default) continues heater operation after snow stops to ensure complete melting. You can view the complete range of controls here.
How Does the Snow Melting System Work?
Snow-melting systems heating element must be embedded in a material such as concrete, asphalt or mortar beneath pavers. Once the material has cured, the system can be powered on, radiating heat upward through the material. For a driveway, homeowners can choose from controls that allow them to set the system to turn on when snow is anticipated to keep it from accumulating. The goal of a snow-melting system is to melt snow and ice, keeping a driveway safe without the need to shovel or plow.
WarmlyYours created the following video to give you a better idea of how a snow-melting system works. It takes you step by step through how a snow-melting system is installed — from start to finish.
Whenever you are replacing a driveway, patio, or walkway, keep in mind that summer is an ideal time to install snow melting. For more information on our outdoor heating or any of our radiant product line, visit us at www.WarmlyYours.com. We're sure to have a radiant heating solution designed to both simplify and enhance your life.
Skyline image: Fotolia
---
Tell us About your Project
Our team of Radiant Experts is ready to help! Just tell us a little about yourself and your project to get started.
---
Did you find this post helpful?
Let us know by giving it some applause.
---
---