Grand Rapids is a Michigan city on the Grand River, east of Lake Michigan. On the outskirts, the Frederik Meijer Gardens & Sculpture Park has a tropical conservatory and multiple gardens. Its art collection includes works by Auguste Rodin, Henry Moore and Ai Weiwei. Downtown, the Grand Rapids Art Museum spotlights Michigan artists in its rotating shows. Although it's located in the middle of the continent, Michigan is subject to cold and snowy winters. In addition, the city experiences some maritime effects due to its location east of Lake Michigan in the form of lake effect snow. With its rich history of art, some Michigan residents might view a snowstorm as a work of art by mother nature. On the other hand, the aftermath can be quite a challenge. Coping with snow removal by labor intensive shoveling, expensive/corrosive deicing chemicals or snow plowing can easily be solved by installing a snow melting system. 
WarmlyYours Driveway Heating Works Well in Mortar Beneath Pavers
When replacing your driveway, it's a perfect time to add a driveway heating system. The systems work well under asphalt, concrete and in mortar beneath pavers. These Grand Rapids homeowners had  weathered some severe snowstorms and wanted to get away from shoveling, deicing and plowing their driveway. Since their driveway had been very slippery during the winter months, even with frost, it was also important to ensure that their property was clear of ice and snow for family and visitors. They chose a WarmlyYours snow melting cable system to meet their goal. See installation plan below.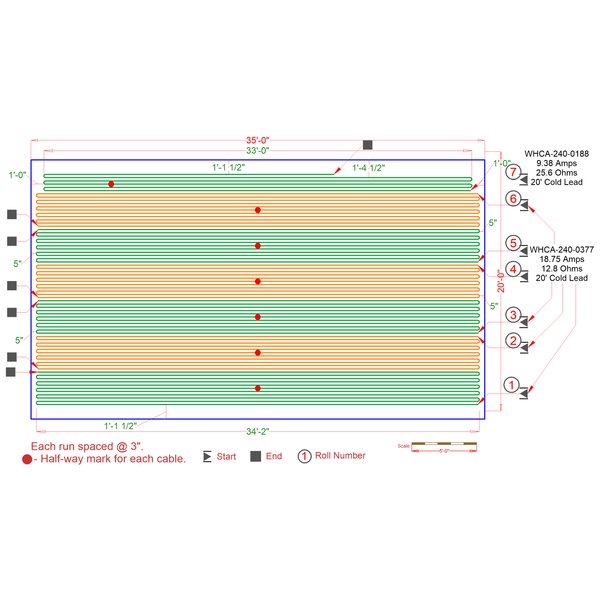 For their project, the cost was $4695.00 for WarmlyYours snow melting cables to heat 613 square feet of driveway equivalent to $7.66 per square foot. Then they needed to choose a control from the wide array of snow melting controls to operate the system. 
Minimize Operating Costs with Select Controls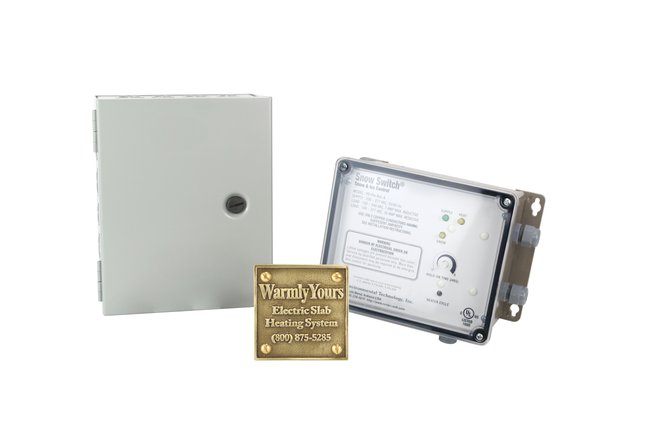 You can select a control from an expansive collection to perfectly meet your needs. The assortment ranges from manual and economy to advanced and premium. One option is the snow and ice melting economy control that provides for economical, automatic operation of snow melting. Featuring a UL Listed, wall-mounted metal enclosure, it enables detection of temperature and moisture. This affordable control option is easy to program and includes a digital interface and maximum 2 sensor capability. 
These Grand Rapids homeowners chose the advanced snow melt control because they wanted to minimize operating costs. With automatic and manual override operator controls, this advanced control includes an adjustable hold-on timer to continue heater operation up to 8 hours after snow and ice accumulation stop to ensure complete melting. You can compare all the snow melting control options on our products page.
Smooth Installation Assured with a Free Instant Quote and Smart Plan
Summer is an optimal time to install snow melting so next winter your system can do the work for you. If you'd like to see what's available and/or get a quote, just visit us at www.warmlyyours.com and check out our Instant Quote Tool. By entering some basic project details the tool will quickly provide your quote. We also suggest you get a free installation plan to ensure your snow melting project goes smoothly from start to finish. It's easy and convenient to get a custom installation plan for your project, 1) you can submit a floor plan online, 2) contact a WarmlyYours sales representative at sales@warmlyyours.com or 3) simply call 800-875-5285. 
The snow melting systems are backed by our unbeatable 10-year warranty. If you have any questions during installation, it's not a problem. You have 24/7 access to our installation experts so that you can call them with any questions at 800-875-5285. Since summer is an ideal time to install a snow melting system, why wait? Next winter you'll be ready for whatever comes your way.
Skyline Photo by http://websites.milonic.com/news.nuggetry.com
---
Tell us About your Project
Our team of Radiant Experts is ready to help! Just tell us a little about yourself and your project to get started.
---
Did you find this post helpful?
Let us know by giving it some applause.
---
---