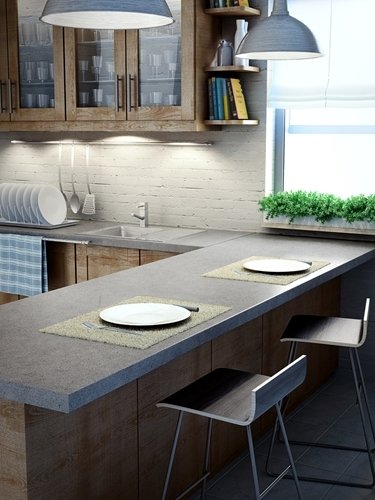 The kitchen is and traditionally has been a space in the home where people spend a great deal of time. This is often the case whether they live in an apartment or a house, with a spouse or a family. As such, it's natural that you'll want to spice it up with various improvements from time to time, so as not to grow tired of it. Some will be for the sake of functionality, like expanding the amount of cabinet space you have. Others will be more along the line of aesthetic improvements, such as upgrading to granite countertops.
To get a sense of what you want to do with the cooking, eating and socializing space that is your kitchen, take a look at some of the renovations or additions that have been popular among homeowners of late.
LED lighting
Light-emitting diode (LED) lighting has become a notably popular lighting method in a variety of settings, and the kitchen is certainly one of them. John Petrie, president-elect of the National Kitchen & Bath Association, told Zillow about their rising prevalence.
"From recessed to accent and under-cabinet lighting, LEDs are hot," Petrie said. "At our industry trade show, one of our kitchen manufacturer members had integrated LED lighting into the cabinet that turned on and off as the cabinet was accessed. It was a show stopper and very popular."
Unlike incandescent or halogen lighting, LEDs don't produce heat. This makes them ideal for the kitchen because they won't in any way affect the food you're cooking, preparing and storing, according to Yale Appliance. Additionally, while they may be more expensive than their traditional lighting counterparts, LEDs are much more energy efficient - the U.S. Department of Energy states that they use 75 percent less energy than incandescents.
Countertop options
The most popular choices for kitchen countertops largely vary by price point. On the higher end of the spectrum are options such as travertine and granite, which are both notably tough. Granite is more stain-resistant when properly sealed, however, which may make it more ideal for the kitchen.
Those looking for something more affordable can consider laminate. According to the Toronto Star, this surface is resistant to stains and quite durable, and can often be found in many different colors and designs. Its primary drawbacks are visible seams, which may come off as tacky to some, as well as the fact that you can't cut directly on it.
Radiant floors
In a kitchen, the heating provided by radiant floors offers comfort as well as energy efficiency. The former stems from the simple fact that given how often you spend time there, it'll be ideal for it to be consistently warm. The latter, as clarified by the Department of Energy, is because it is more efficient than either baseboard or forced-air heating under most circumstances.
---
Tell us About your Project
Our team of Radiant Experts is ready to help! Just tell us a little about yourself and your project to get started.
---
Did you find this post helpful?
Let us know by giving it some applause.
---
---