Report Overview
Despite a relatively volatile housing market, 2016 saw WarmlyYours' consolidated sales grow concurrently with national remodeling benchmarks. Several factors, including key expansions in the WarmlyYours product portfolio and seismic shifts in distribution avenues, contributed to this increase. These factors were made particularly evident by the emergence of surprising growth vectors in Q4 2016.  
Of particular note in 2016, was the clear establishment of technology's importance to not only the consumer, but also to WarmlyYours. Digital efforts have brought our goods and services to a wider audience and our products have taken a strong foothold in several e-tailer markets. The growth in both our online traffic and e-tailer sales has been exponential, not linear, and all indicators seem to point to sustained growth in the next several quarters of 2017.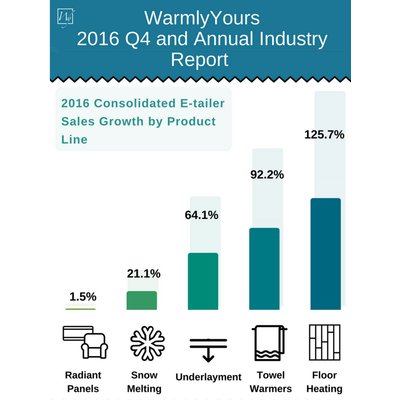 In addition to growth in the digital sectors, all projections for the remodeling and housing markets indicate modest increases that will be sustained throughout most of 2017. This report will look at the 2016 housing and remodeling industries, WarmlyYours' performance in 2016, and analyze projections for 2017.
Industry Analysis for 2016
As anyone watching the housing market can tell you, 2016 was a year of contradictions and unexpected outcomes. However, a pervading sense of uncertainty was not just limited to the housing market. Questions abounded about who would assume the presidency and how much the Federal Reserve would increase interest rates.
In 2016, the national housing market saw home prices far outpace both the existing inventory and new construction projects. According to Lawrence Yun, the chief economist for the National Association of Realtors (NAR), this was due to a combination of factors, including a reluctance on the part of both buyers and builders to engage in new construction projects and an influx of new homebuyers competing for a limited inventory.
"Young adults are settling down and deciding to buy a home after what was likely a turbulent beginning to their adult life and career following the Great Recession," Yun said. "Demand increased over the past year because of a robust job market for those with a college degree and renter fatigue at a time when homeowners continue to see their equity rise."
This shift and expansion of the homebuyer profile, coupled with a hobbled rate of growth in new construction, has unsurprisingly led to higher home prices. According to Zillow.com, the annual change in U.S. home values in 2016 was plus 6.8%. According to the U.S. Census Bureau, the median sales prices for new homes peaked in December 2016 at $322,500, which is nearly 3% higher than the highest median price posted in 2015. The average of median Q4 2016 prices for a new home was $311,167, which was 3.1% higher than prior-year-period.
Despite this increase in pricing, it seems that home-buying demand has remained relatively undamped. According to the "Economist's Outlook" blog from NAR, the Realtors® Seller Traffic Index registered at 63 in 2016, which is up from 60 in 2015. This metric measures consumer desire to buy a home and is often used to contextualize home-selling activity, which has remained weak due to limited supply.
According to a joint press release from the U.S. Census Bureau and the U.S. Department of Housing and Urban Development, the seasonally adjusted estimate of new houses for sale in December was 259,000, which represents a supply of 5.8 months at current sales rate.
With consumer demand still going strong, wages increasing nationally, and interest rate increases from the Federal Reserve expected to be modest, it is only a matter of time before the market corrects itself by incentivizing more residential construction projects. According to a press release from Dodge Data & Analytics, residential building in December climbed 9% to $306.9 Billion, with significant growth in single family home project starts.
The remodeling market in 2016 saw modest growth. This is largely due to homeowners with increased discretionary cash choosing to stay put while upgrade-property prices remain high. However, this growth was below initial projections posited by the Leading Indicator of Remodeling Activity (LIRA), which is released quarterly by the Joint Center for Housing Studies of Harvard. This disconnect has been addressed in a press release by Abbe Will, a research analyst at the Joint Center.
"Although above-average growth is expected this year, we've lowered our projection for market size somewhat with the recent release of new benchmark data from the American Housing Survey," said Will. "Spending in 2014 and 2015 was not quite as robust as our LIRA model estimated, growing 11.3 percent over these two years compared to 14.3 percent as estimated."
Despite a slightly moderated outlook concerning remodeling activity, the confidence level for trade professionals engaged in remodeling activity remains positive. The Remodeling Market Index (RMI) is a quarterly assessment of confidence levels among remodelers that is released by the National Association of Home Builders (NAHB). While the RMI reading for the fourth quarter of 2016 (53) dropped three points from the preceding quarter, it remains positive. In fact, Q4 2016 marked the fifteenth consecutive quarter of positive sentiment among remodelers.
WarmlyYours' Q4 2016 Performance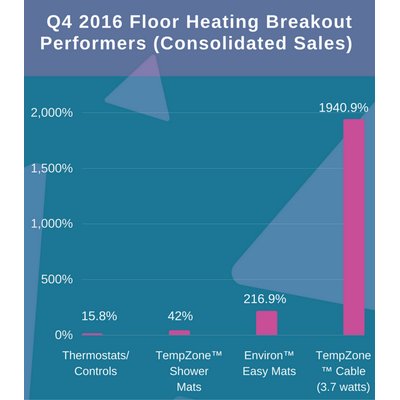 The fourth quarter of 2016 saw growth for WarmlyYours from unexpected sources. This shuffling of key performers, coupled with an integral product launch, led to a very strong close to the year for WarmlyYours.
Thermostats and controls grew 15.8% in consolidated sales for Q4 2016. This significant uptick was due, in no small part, to the mid-October launch of the nSpiration Series of Radiant Heating Controls. This new line of thermostats greatly expanded the available options for floor heating customers. The reception for this new line of thermostats was very positive. This can be seen in the increase in unique page views for the WarmlyYours thermostat product webpages, which grew 273% in Q4 2016, when compared to prior-year-period.
The lion's share of sales for the nSpiration Series has been devoted to both the nSpire Touch and the nSpire Touch WiFi. These models offer a bevy of consumer-centric features like a touchscreen interface, a child-lock function, and an energy log for tracking power consumption.
Another area of growth in the fourth quarter was in towel warmers. As a product line, towel warmers grew 26.8% in consolidated sales in Q4. Due to this bump, towel warmers made up 15% of all Q4 product sales for WarmlyYours and 13% of all product sales for 2016.
The Metropolitan model towel warmer was launched in mid-2015. However, it was in Q4 2016 that its contribution to overall towel warmer sales was felt. In Q4, the Metropolitan grew 154.5% in consolidated sales, which made up 19% of Q4 towel warmer sales and 13% of all towel warmer sales in 2016.
Finally, Q4 saw a sizable uptick in TempZone™ 3.7-watt heating cable consolidated sales, which grew 1940%. This growth coincides with the late 2015 introduction of the Prodeso Cable Installation Membrane. Throughout 2016, the Prodeso Membrane has been a highly sought after item for busy trade professionals looking to cut down on installation times for electric floor heating.
By pairing the Prodeso Membrane with the TempZone™ 3.7-watt heating cable, installers can eliminate having to wait for the thinset that the heating element is embedded in to cure before installing the flooring itself. The installer can work from the membrane while installing the floor covering, which often turns a multi-day project into a one-day install. Due to this time-saving feature, the Prdoeso Membrane grew 4083% in Q4 2016.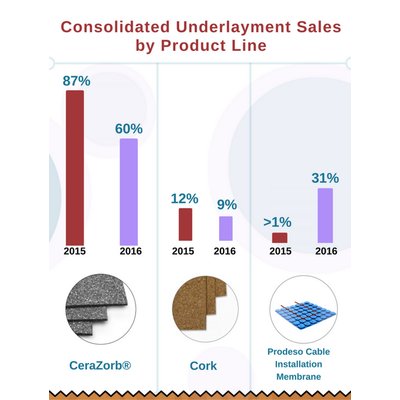 WarmlyYours 2016: A Year in Review
Yearly growth for WarmlyYours came from some interesting and unexpected growth vectors, which was led by strong consolidated sales in Q1 and Q3, which posted 15% and 20.6% respectively. The floor heating product line grew 2.1% in 2016, while snow melting system sales remained relatively flat, due in large part to a mild winter. The towel warmers and underlayment product lines showed the greatest level of growth at 21.6% and 72.8% respectively.
One area of growth that was made clear in 2016 was the sale of WarmlyYours products through third party e-tailers, like Amazon or Wayfair. Throughout the year, WarmlyYours saw significant growth in every single product category in consolidated e-tailer sales, which led to a 93.1% growth rate.
The introduction, and curation, of self-contained floor heating mat kits allowed floor heating to grow 125.7% in consolidated e-tailer sales in 2016. Towel warmers, a very popular product line with e-tailers, grew an additional 92.2% in 2016 and 39.1 % in Q4 2016.
2016 also showed marked improvements in nearly every component of WarmlyYours' digital efforts. The combined efforts of the IT and Marketing departments led to crucial developments in Search Engine Optimization, which has resulted in an 8% increase in organic traffic to www.WarmlyYours.com. This year also saw a 7% increase in the amount of time a user spent on our pages, which indicates that not only has the volume of traffic increased, but so has the quality. In 2016, there was also a 3% increase in unique page views and a 12% increase in entrances.
More and more people are turning to the internet for not only ecommerce but also for inspiration and ideas when it comes to their home improvement projects. Implementing, and continuously improving upon, these kinds of digital efforts is paramount for positioning relevant products in front of qualified and motivated consumers. Due to these improvements, WarmlyYours saw a 6% increase in online orders between 2015 and 2016.
Due to the launch of several products throughout 2016, WarmlyYours placed a considerable emphasis on making sure that appropriate training materials were accessible to not only existing customers, but also to potential ones. WarmlyYours doubled our efforts on YouTube by focusing on three key components: creating compelling content, properly curating said content, and vigilantly monitoring the outcomes. This has led to noticeable improvements between YouTube analytics from 2015 and 2016, including a 344% increase in views, a 419% increase in shares, and a 274% increase in subscribers.
Future Outlook and Industry Projections for 2017
Due to a combination of factors, 2017 is shaping up to be another year of growth for WarmlyYours. One of these components is the introduction of new products and the expansion of existing product lines.
In 2017, WarmlyYours will be launching two new product lines: pipe-tracing systems and LED mirrors. Pipe-tracing is a self-regulating heating cable product, like our roof and gutter deicing cable, that functions as freeze-protection for external or poorly insulated pipes. We expect this product to be popular for both commercial and residential applications. LED mirrors, which are mirrors with integrated lighting, are a decorative and functional addition to any room. The light from the LEDs adds to both the functionality and the ambience provided by a mirror. WarmlyYours plans on carrying several models and shapes of LED mirrors. Additionally, we plan on expanding the towel warmer product line with new models and finishes.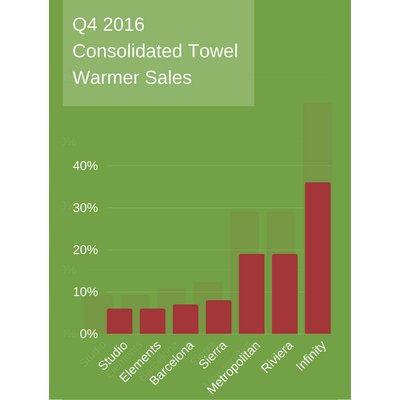 These changes to the product portfolio are accompanied by the industry-wide projections for the 2017 housing and remodeling markets. Redfin predicts that new construction will slow in 2017 and that more people will have access to home loans, which could help offset the increased prices of existing inventory.
"Starting in 2017, the government-sponsored mortgage giants Fannie and Freddie will back bigger mortgages for the first time since 2006. The loan limits insured by these companies will increase to $424,100 from $417,000 in most regions of the U.S. In expensive housing markets, the allowable loan size increases from $636,150 from $625,500. This change makes it easier for more homebuyers to qualify for a mortgage in high-priced markets."
The remodeling industry is modestly optimistic about 2017 revenues, according to a study conducted by the Farnsworth Group. The study found that 62% of those surveyed expected their revenue level to grow by at least 5% in 2017.
This optimism is further emboldened by the most recent LIRA, which predicts that annual growth in home improvements and repair expenditures will end 2017 up 6.7%, at $317 Billion.
"Growth in home prices is continuing at a healthy pace and encouraging homeowners to make remodeling investments," says Chris Herbert, managing director of the Joint Center. "Home sales are remaining on an upward trajectory, as well, and this coupled with continued growth in remodeling permit activity suggests another strong year for home improvements."
Despite these positive indicators of projected growth, Julia Billen, owner and president of WarmlyYours, refuses to rest on her laurels. She has placed emphasis and priority on maintaining and improving the WarmlyYours business model in the digital age.
"The modern company can't afford to ignore consumer patterns. Now, more than ever, you have to be there for a consumer when they need you most," Billen said. "And while our digital efforts have brought us to a wider audience, it has always been our people, our living brand, that makes a new customer choose us for their radiant needs."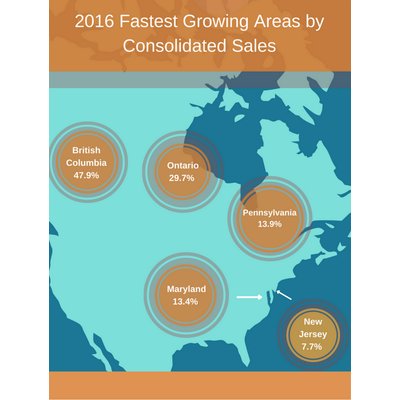 Sources:
1.     Google Analytics
2.     YouTube Analytics
3.     Relevant internal WarmlyYours documentation.
4.     http://www.jchs.harvard.edu/strong-and-stable-growth-predicted-home-improvement-and-repair-market-2017
5.     http://housingperspectives.blogspot.com/2017/01/new-benchmark-data-modestly-lowers.html
6.     http://housingperspectives.blogspot.com/2017/01/projection-us-will-add-25-million.html
7.     https://www.nar.realtor/news-releases/2016/12/home-sales-expected-to-expand-modestly-in-2017-as-affordability-pressures-temper-buyer-enthusiasm
8.     https://www.nar.realtor/news-releases/2016/10/first-time-buyers-single-women-gain-traction-in-nar-s-2016-buyer-and-seller-survey
9.     http://economistsoutlook.blogs.realtor.org/2017/01/26/december-2016-existing-home-sales/
10.  http://economistsoutlook.blogs.realtor.org/2017/01/24/realtors-reported-stronger-housing-demand-amid-tight-supply-in-2016/
11.  http://www.census.gov/construction/nrs/pdf/newressales.pdf
12.  https://www.census.gov/construction/nrs/pdf/uspricemon.pdf
13.  http://www.zillow.com/research/
14.  https://www.washingtonpost.com/news/wonk/wp/2016/12/14/federal-reserve-expected-to-announce-higher-interest-rates-today/
15.  http://construction.com/about-us/press/New-Construction-Starts-in-December-Slide-5-Percent.asp
16.  https://www.nahb.org/en/news-and-publications/press-releases/2017/01/remodeling-market-optimism-remains-positive-in-fourth-quarter.aspx
17.  https://www.redfin.com/blog/2016/12/redfins-seven-housing-predictions-for-2017.html
18.  http://www.remodeling.hw.net/benchmarks/economic-outlook-rri/remodelers-modestly-optimistic-about-2017-revenues-survey-finds_o
19.  http://fortune.com/2016/12/29/real-estate-trends-2017-2/
20.  http://www.investors.com/news/real-estate/trending-home-improvement-projects-for-2017s-housing-market/
---
Tell us About your Project
Our team of Radiant Experts is ready to help! Just tell us a little about yourself and your project to get started.
---
Did you find this post helpful?
Let us know by giving it some applause.
---
---