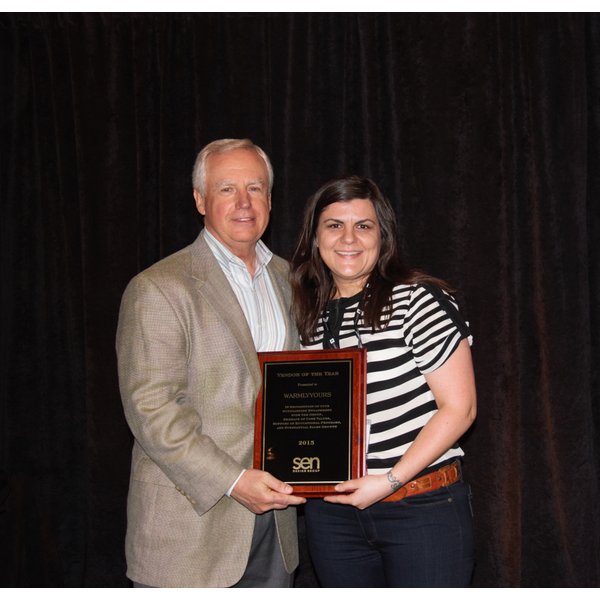 WarmlyYours Radiant Heating's office got a little toastier than usual last month as employees' hearts were collectively warmed by the company's acceptance of the Vendor Partner of the Year Award for 2015 from the SEN Design Group (SEN). The award emphasizes and honors WarmlyYours's continual improvement and participation in developing community within the industry.
"We are so honored to receive this award," said Elodie Pasek, WarmlyYours's director of business development in North America. "SEN is an amazing opportunity for us as a company to be a part of a community where the partners actively work together. In the end, it makes us all stronger."
Showcasing its own particular "strength," WarmlyYours was up against more than 80 vendor partners for the award. It won based on its quality engagement with the group; embrace of the group's core values; support of educational programs in business management, marketing and professional sales training; and solid sales growth, according to SEN's Executive Vice President Leah Peterson.
"WarmlyYours has been an active and engaged vendor partner of SEN for more than 15 years," Peterson said. "In the past few years, WarmlyYours has really stepped up its game in terms of education and involvement with SEN. This year, we felt there was a very clear winner because of the company's relentless discipline and dedication within the group."
WarmlyYours proudly accepted the award at SEN's spring conference in Jacksonville, Fla. This marks the company's fourth award from SEN, which is one of the largest kitchen and bath buying groups in North America. WarmlyYours received a Silver Performance Award in 2013 for achieving solid sales growth and offering outstanding support of educational programs for SEN; a Vendor of the Year Silver Award in 2006 in recognition of sales growth and marketing support; and a Vendor of the Year Award in 2004 for sales growth and marketing support.
To boost its support for SEN and all of its customers, WarmlyYours recently boosted its education platform by offering a series of webinars on a wide range of topics. Buying groups, trade professionals and homeowners have the opportunity to view these webinars live or on-demand on www.warmlyyours.com to gain expertise on buying, selling and installing radiant heating systems.
Offering these learning platforms allows WarmlyYours to accomplish many of the same tasks that it was just recognized for by SEN — but digitally. For a radiant heating company that's focused on delivering customer service 24/7 (literally), having learning tools accessible via the Internet anytime is part of what keeps the company and its customers connected.
Below are a few of WarmlyYours' most-viewed webinars. To watch more, be sure to check out the "Video" page on www.warmlyyours.com.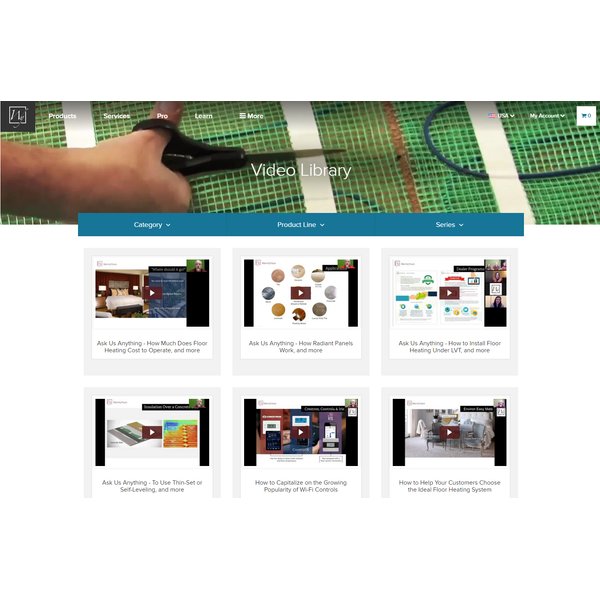 How to Help Your Customers Choose the Ideal Floor Heating System
How to Sell Towel Warmers According to Your Customers' Needs
How to Target Different Rooms of the Home with Radiant Heating
Why and How to Install Floor Heating under Tile and Stone
How to Quote Your Floor Heating Project
Ask Us Anything – How Much Does Floor Heating Cost to Operate and More
---
Tell us About your Project
Our team of Radiant Experts is ready to help! Just tell us a little about yourself and your project to get started.
---
Did you find this post helpful?
Let us know by giving it some applause.
---
---