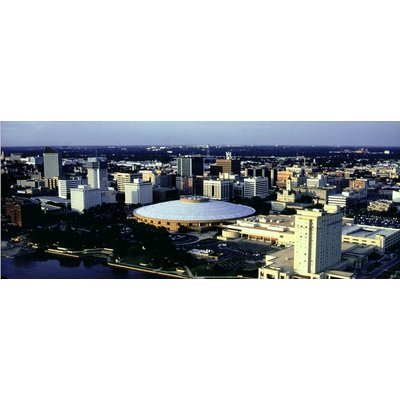 The largest city in the state of Kansas, Wichita is located on the Arkansas river in south-central Kansas. As an industrial hub, Wichita is an area center of culture, media, and trade. It hosts several large museums, theatres, parks, and entertainment venues. Currently the Wichita park system is composed of 144 parks, including several public open spaces that total over 5,007 acres of park land. 
Although Wichita parks make the city a welcome retreat in the good weather, winters can be inhospitable. One way to make your home more inviting is by installing an outdoor heating system to keep your walkways, driveway, and landings clear of ice or snow. It also saves you the labor and expense of clearing the snow while creating a safe entry into your home for visiting family and friends.
Create a Safe Landing with a Snow Melting System from WarmlyYours
When these Wichita homeowners were adding a stairway and landing to their home they also wanted to ensure a snow and ice free entry to their house during the winter. Having heard about electric radiant heating systems for outdoor applications from a family friend, they decided to investigate for themselves by getting a quote. Plus, every WarmlyYours quote includes a free installation plan so they could get a better understanding of how the system would be laid out. See below.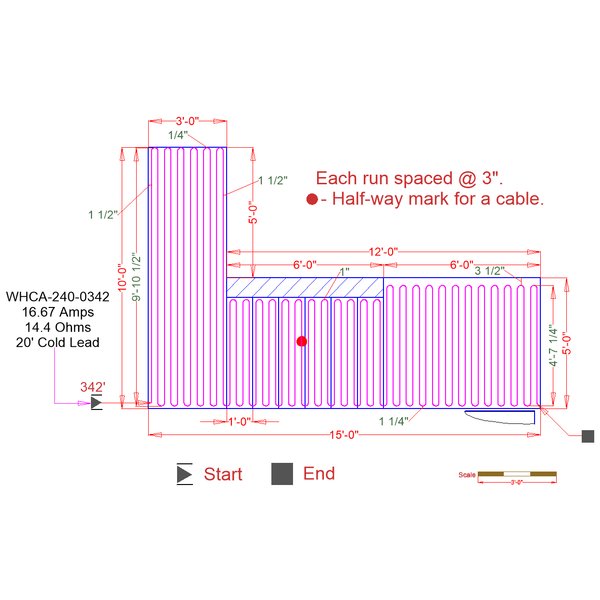 They chose a WarmlyYours cable snow melting system for their project. To heat 86 square feet of stairway and landing, the cost was $655.00, or the equivalent of $7.62 per square foot. They preferred the snow melting cable option as it was cost-effective and allowed more installation flexibility. Another bonus was the low operating cost for the system. Based on the KWh cost of 11.64 cents in Wichita, the hourly operating cost was only 50 cents. During a common snow fall event of 6 hours, it would cost just $3.00 to operate the system. Now that the system has been determined, it's time to add the control. There are numerous control options to pair with any snow melting system as noted below. 
Many Control Options to Choose From
To minimize operating costs, this homeowner chose the WarmlyYours advanced snow melt control. With automatic and manual override operator controls, the Advanced Snow Melt Control includes an adjustable hold-on timer to continue heater operation up to 8 hours after snow and ice accumulation stop to ensure complete melting. 
From manual and economy to advanced and premium, there are a variety of snow melting controls to suit any budget and lifestyle. The manual snow melt control is a simple, affordable option. This unit features a 12-hour, adjustable timer and a NEMA 1 enclosure with hinged cover. 
UL Listed, at 120 VAC operational voltage, the Manual Snow Melt Control is appropriate for use with relay panels. You can compare all the snow melting control options on our products page.
Ensure a Smooth Installation with a Free Quote + Install Plan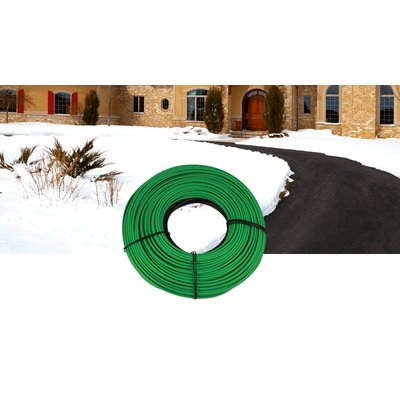 There's no need to wonder exactly how much it would cost to add a heated walkway (or driveway, patio) to your home. Find out quickly with the WarmlyYours Instant Quote tool. After entering some basic project information, the tool will give you a free quote that shows the recommended products and their respective costs. Once you have your quote, we encourage you to get a free custom installation plan to insure a worry-free snow melting installation. Every WarmlyYours SmartPlan™ includes an itemized product quote with the exact pricing for your project, an electrical plan that explains what you need to ensure optimal functionality of your system, and an installation plan with detailed information to make installing even easier.

If you are replacing a driveway, patio, landing or sidewalk, then you might want to consider installing snow melting. For more information on our outdoor heating or any of our radiant heating products, visit us at www.WarmlyYours.com. You can be sure we have a radiant heating solution designed to make your life a whole lot easier.

Skyline photo: By Nnez4321 at English Wikipedia - Transferred from en.wikipedia to Commons., Public Domain, https://commons.wikimedia.org/
---
Tell us About your Project
Our team of Radiant Experts is ready to help! Just tell us a little about yourself and your project to get started.
---
Did you find this post helpful?
Let us know by giving it some applause.
---
---