Throughout 2020, sales of radiant heating products were strengthened in a tumultuous market by an emerging trend of many people working from home during the COVID-19 pandemic. It appears that the increased amount of time spent at home has driven an increased demand for radiant heating in home renovation projects, including in both traditional floor heating room types like the bathroom and kitchen along with newer trends like home offices.
Growth for electric floor heating sales appears to be following a stable rate of growth despite general economic concerns about the long term impacts of the coronavirus shutdowns. We have already seen evidence of this trend continuing well into Q4 2020 and we expect it to continue well into next year as well.
In this report, we'll take a closer look at the causes of these developments along with analyzing the performance of radiant heating product sales within the larger context of the remodeling and housing markets.
Third Quarter Product Performance and Drivers of Sales Growth
Of particular note in Q3 2020 were some pretty sizable shifts in towel warmer sales which saw new collections take up a larger portion of total sales. For the last couple of years, WarmlyYours has delineated its towel warmer product line into several collections which are available to different customer channels.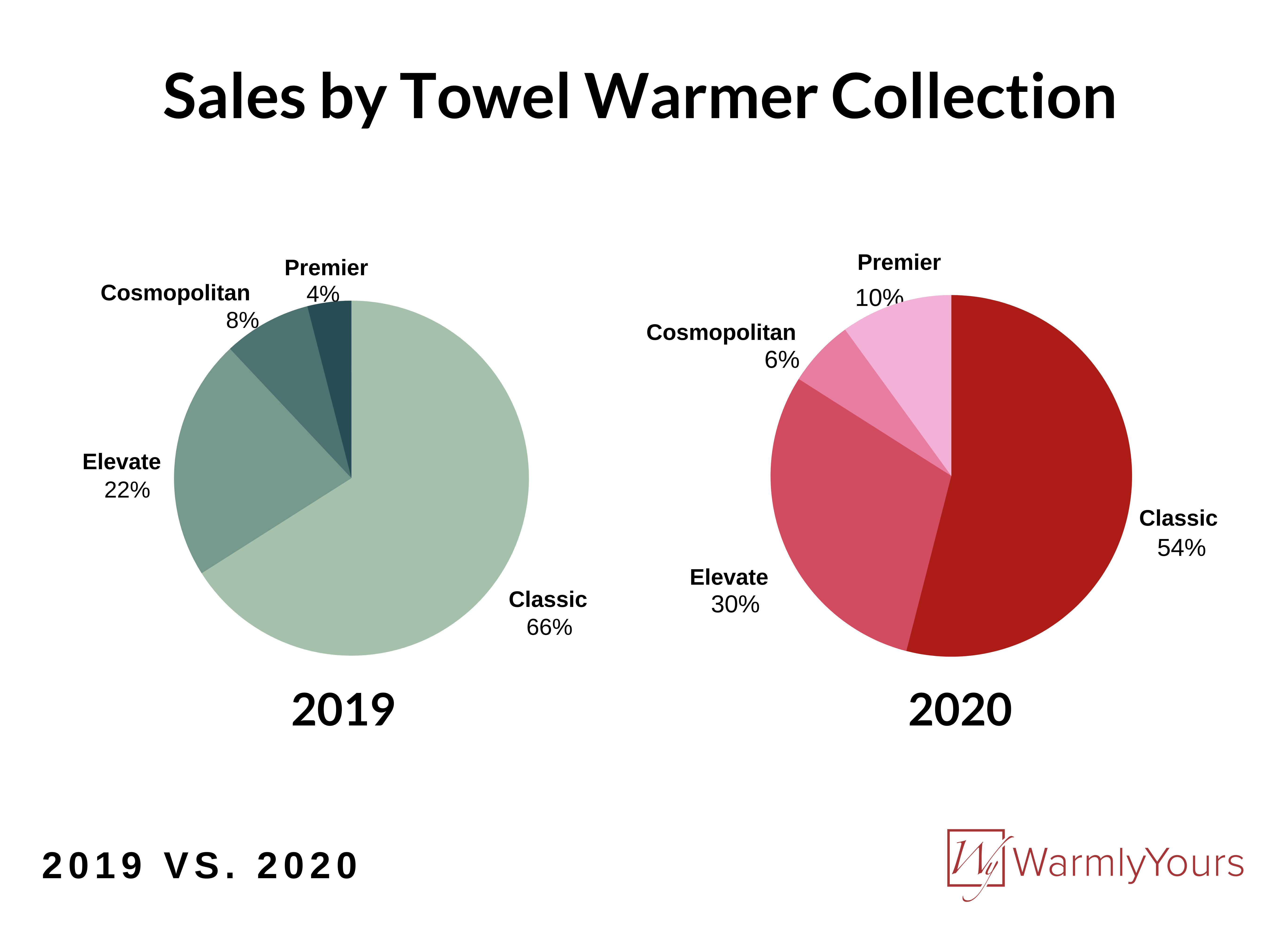 Classic Collection: WarmlyYours's first towel warmer collection and one that is available for purchase directly from WarmlyYours along with being available on various etailers and dealers.
Cosmopolitan Collection: This collection is only available to end-users from authorized WarmlyYours dealers and it features many luxurious models with a variety of features and finishes.
Elevate Collection: This collection is only available through online retail partners of WarmlyYours. The models are largely focused on combining high-end performance and attractive design.
Premier Collection: Available from both WarmlyYours via Amazon and from our various online retail partners. This collection features several unique variants including a freestanding model.
When comparing year-to-date sales of towel warmer collections between 2019 and 2020, we noticed some interesting shifts. Perhaps most notable was the growth of the Elevate Collection which went from 22% of all towel warmer sales in 2019 to 30% in 2020. Unsurprisingly, this collection also provided the largest volume increase in sales for a collection. The Premier collection also saw a sizable increase from 4% in 2019 to 10% in 2020. The Cosmopolitan Collection did see a slight decrease as it moved from 8% in 2019 to 6% in 2020.
The Classic Collection still accounts for the majority of towel warmer sales but it's down to just 54% of all towel warmer sales in 2020 compared to 66% in 2019. We do expect the Classic Collection to see a return to its former position in the coming year because this year we saw a new towel warmer added to the collection (the Tahoe line which features 4 variants including a gold model that has proven to be very popular) and in the next few quarters new, updated versions of existing models will hit the market. These updated models will feature TempSmart overheat protection, dual-electric connections, and a brand new "InvisaConnect" feature which means the power source will be hidden from view when installed for a much more streamlined appearance.
Snow melting sales have been solid so far this year (up 4.4%). The biggest growth-drivers have been snow melting cables with 240V cables up 8.9%, 208V cables up 70.3%, and 277V cables up 14.3%. Part of this increase in cable sales is certainly related to an 88% increase in projects involving outdoor stairs (which can typically only be warmed by cable products). Roof and gutter deicing systems also saw a 1.7% increase in year-over-year sales by the end of Q3.
It's worth noting that a lot of outdoor heating sales are being compared to an extremely strong 2019 so positive rate of change will be difficult to achieve unless the severity of the 2020-2021 winter is higher than the previous period.
Another interesting product development has been a shift in floor heating underlayment sales as insulating underlayments have retaken a significant portion of total underlayment sales. They've moved from just 38% of all sales year-to-date in Q3 2019 to 44% in Q3 2020. This does seem to imply that more basements and bottom floor rooms are being targeted for floor heating as insulating underlayments are highly recommended for systems being installed over a concrete subfloor. These insulating underlayments create a thermal break between the heating system itself and the cold subfloor to help improve energy efficiency.
"Working from Home" Drives Third Quarter Floor Heating Sales Growth
One small positive that has emerged from the chaos and uncertainty of the COVID-19 pandemic has been a return to remodeling projects for many homeowners. This can be evidenced by the customer channels for WarmlyYours that have seen the greatest level of growth in Q3 2020 such as Home Depot (up 71.8%), homeowners (up 45.1%), Costco (up 15.3%), and dealers (up 4.6%). Growth in these channels is typically a good bellwether for remodeling driven electric floor heating projects as they represent some of the common channels that are used for purchasing by homeowners.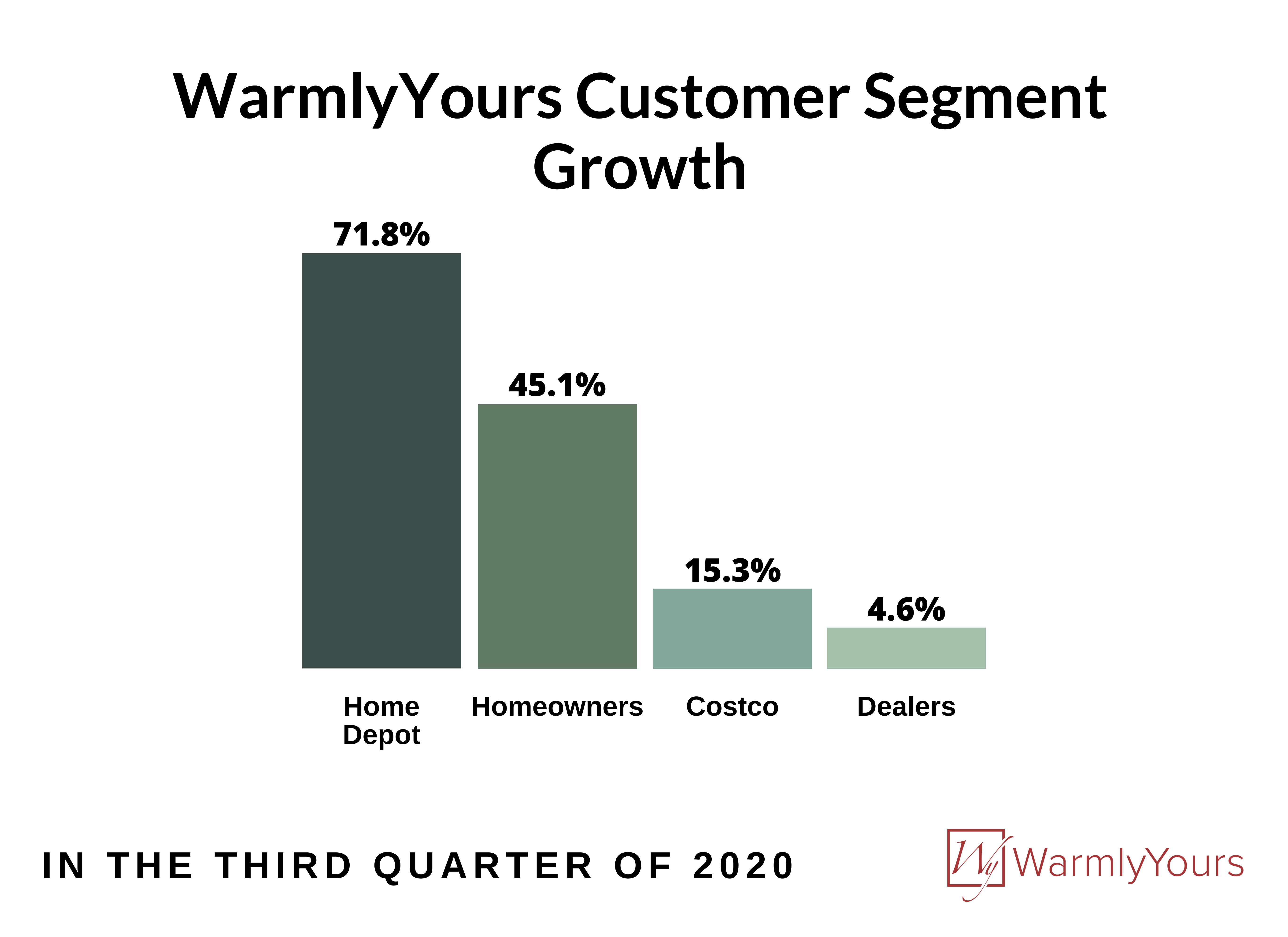 There are a number of factors that are playing into this growth including a relatively hot housing market and of course the increased time that people have spent in their homes this year. According to a Gallup poll in September 2020, approximately 33% of those surveyed said they "always" were working from home. And while that number is down from the high of 45% in April, it still represents a significant proportion of the population. According to that same study, about 25% of respondents were working from home "sometimes" while approximately 41% "never" worked from home.
And this trend towards greater levels of remote working doesn't appear to be going anywhere soon. According to Kate Lister, president of Global Workplace Analytics, it's expected that approximately 25-30% of the workforce will still be working from home multiple-days-per-week at the end of 2021.
'The demand for flexibility in where and how people work has been building for decades. Before the crisis, surveys repeatedly showed 80% of employees want to work from home at least some of the time. Over a third would take a pay cut in exchange for the option. While the experience of working at home during the crisis may not have been ideal as whole families sheltered in place, it will give people a taste of what could be. The genie is out of the bottle and it's not likely to go back in," said Lister.
WarmlyYours has certainly seen a sizable uptick in floor heating sales for the types of rooms that would make working from home more comfortable. For example, floor heating projects for home offices were up an impressive 221.4% over last year. We saw gains in other room types like kitchens (up 57.5%), laundry rooms (up 89.5%), recreation rooms (up 49.4%), and sunrooms (up 28.1%).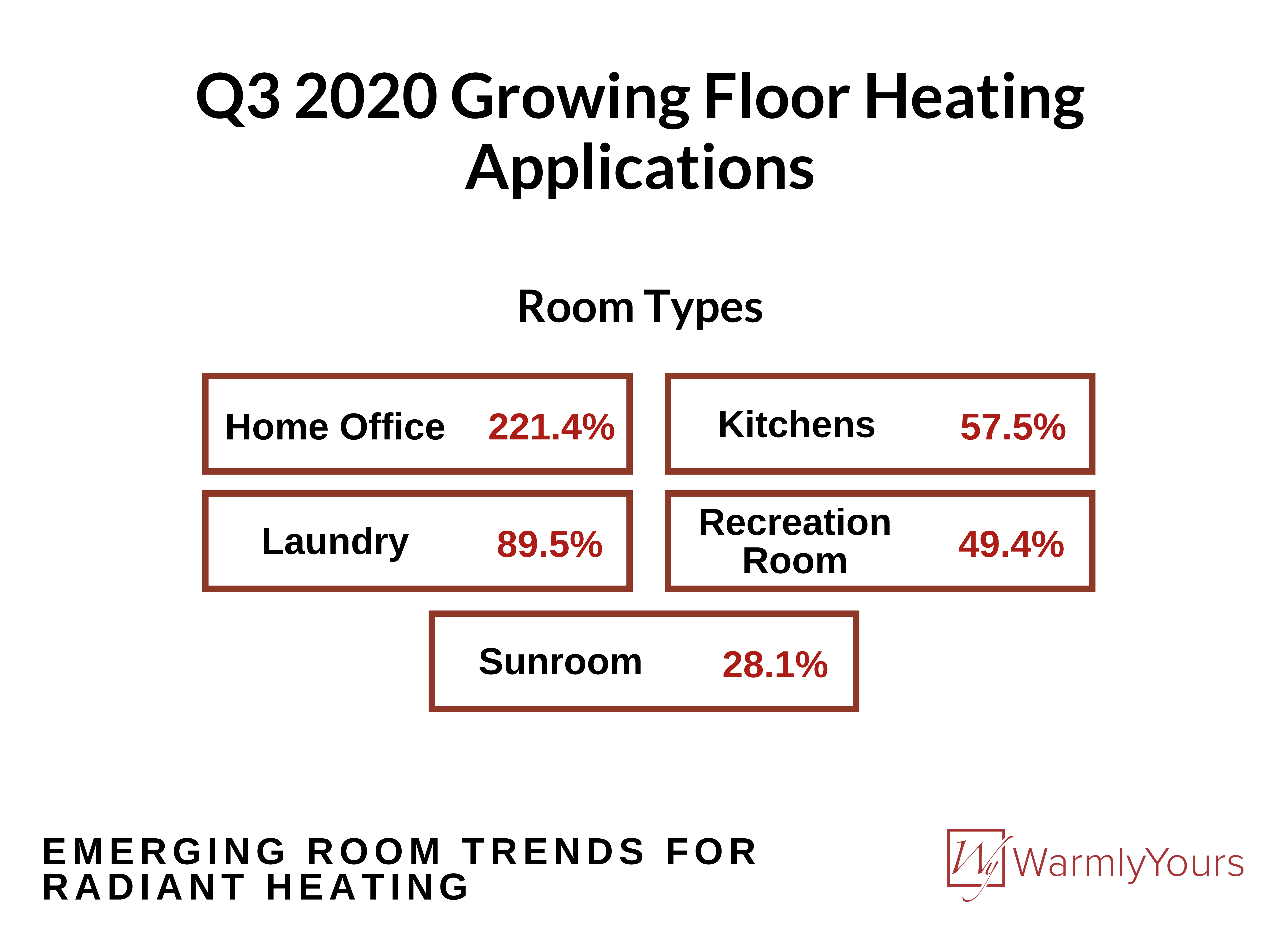 Julia Billen, owner and president of WarmlyYours, said that while it is unlikely that the growth rate for home offices will maintain such a fantastic trajectory, we do expect to see at least some continued growth over prior years as more and more American's seek to improve their remote working situations.
"The modern 'workplace' has been changed forever by COVID-19. Remote work was always an attractive concept for many employees and now that it has been implemented on such a huge scale, it is unlikely that this particular genie will ever go back into the bottle even after we've contained the virus," said Billen. "Obviously there's a number of logistical challenges that companies will face but there are even more possibilities that are now available. This kind of seismic change is rare and it's certainly daunting but I'd be lying if I didn't say it was also very exciting."
Back in mid-March of 2020, WarmlyYours placed a significant amount of time and effort into transitioning as much of the staff as possible to remote work. Billen said the company was uniquely positioned for the transition based on the years of investment that WarmlyYours has put into developing its IT team.
"We have always placed a lot of value on making sure that WarmlyYours was staying at the forefront of technology. It's why we were the first radiant heating company to sell our products via ecommerce and why we were also the first to develop an online quoting tool specifically for floor heating," said Billen. "When it was clear that COVID-19 was going to be here for the foreseeable future, we knew what we had to do and more importantly, we had the team to do it."
WarmlyYours worked quickly to make sure that nearly every employee was set up with the appropriate infrastructure requirements (such as internet and phone connections) to allow operations to continue uninterrupted.
"I can't stress enough how impressed I've been with our staff. From the ingenuity of our IT team to the adaptability and tenacity of our sales staff, we've all worked together during this trying time to ensure that we're always there for our customers," said Billen.
National Housing and Remodeling Markets Expected to Remain Strong in 2021
Despite uncertainty regarding the COVID-19 pandemic, 2020 has been a relatively strong year for both the housing and remodeling markets.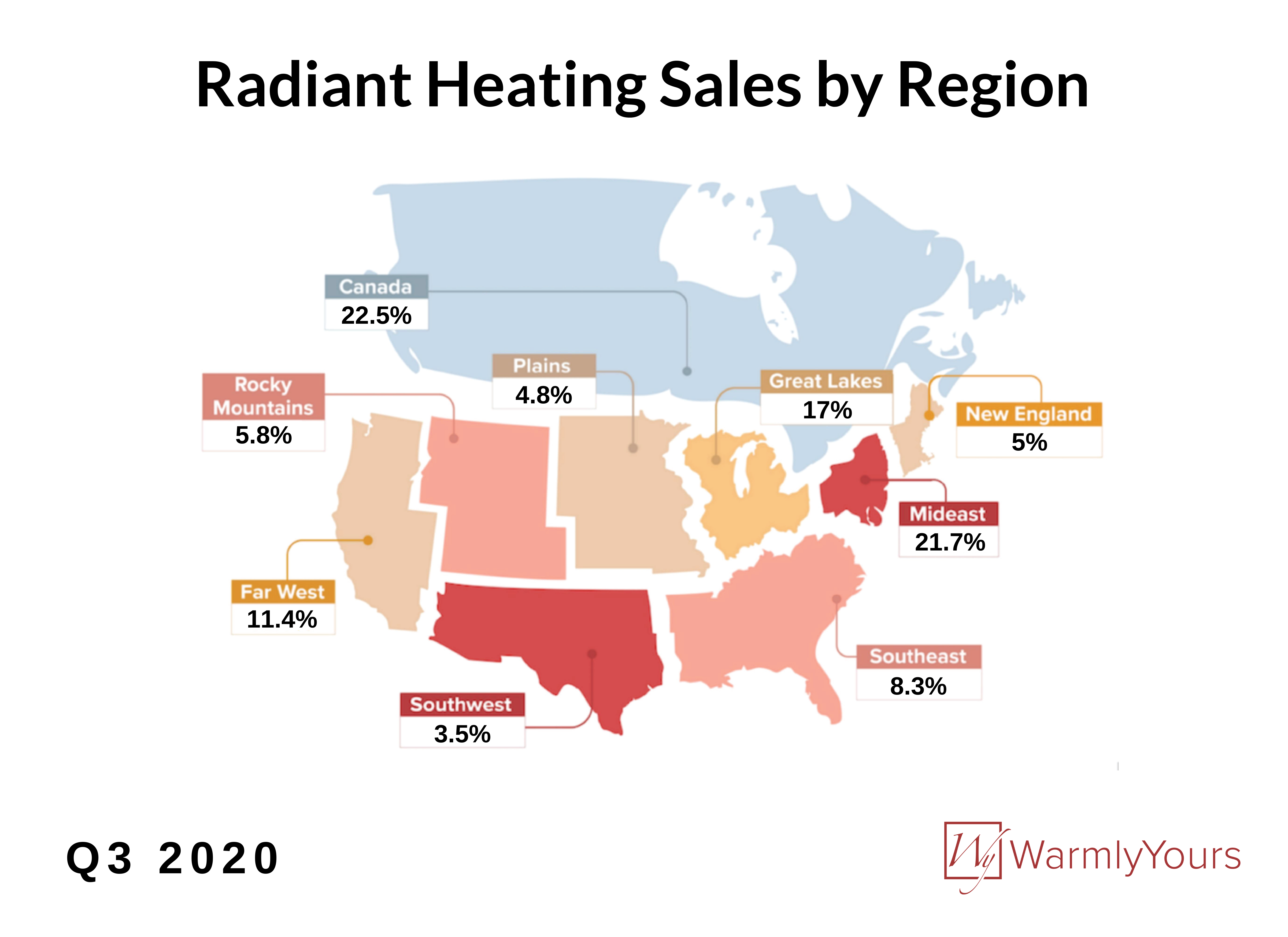 In the third quarter of 2020, housing prices increased rapidly, particularly in metropolitan areas. According to the National Association of Realtors (NAR), 65% of metropolitan areas saw double digit price growth over just a year ago. Additionally, the nation's median single family home price climbed 12% year-over-year. Lawrence Yun, chief economist for NAR, said that these increases are due to a combination of factors including low supply levels and low interest rates, which will continue to exacerbate the pricing issue.
"Favorable mortgage rates will continue to bring fresh buyers to the market," said Yun. "However, the affordability situation will not improve even with low interest rates because housing prices are increasing much too fast."
Yun attributed the rise in home prices, particularly in metropolitan areas, to an increased desire for home buyers to be able to accommodate working from home.
"In light of the pandemic, prices jumped in a number of metros that contain larger properties and open space – where families could find extra rooms, including areas for an at-home office," said Yun.
In addition to the increased number of floor heating projects requested for home offices, WarmlyYours saw an increase in floor heating projects for flooring types that could be used in a home office such as engineered wood (up 88.7%), laminate flooring (up 72.6%), luxury vinyl plank/tile (up 40.5%), and nailed hardwood (up 35.2%). These changes indicate that renovations to incorporate home offices may be driving at a least part of the growth in total remodeling expenditures.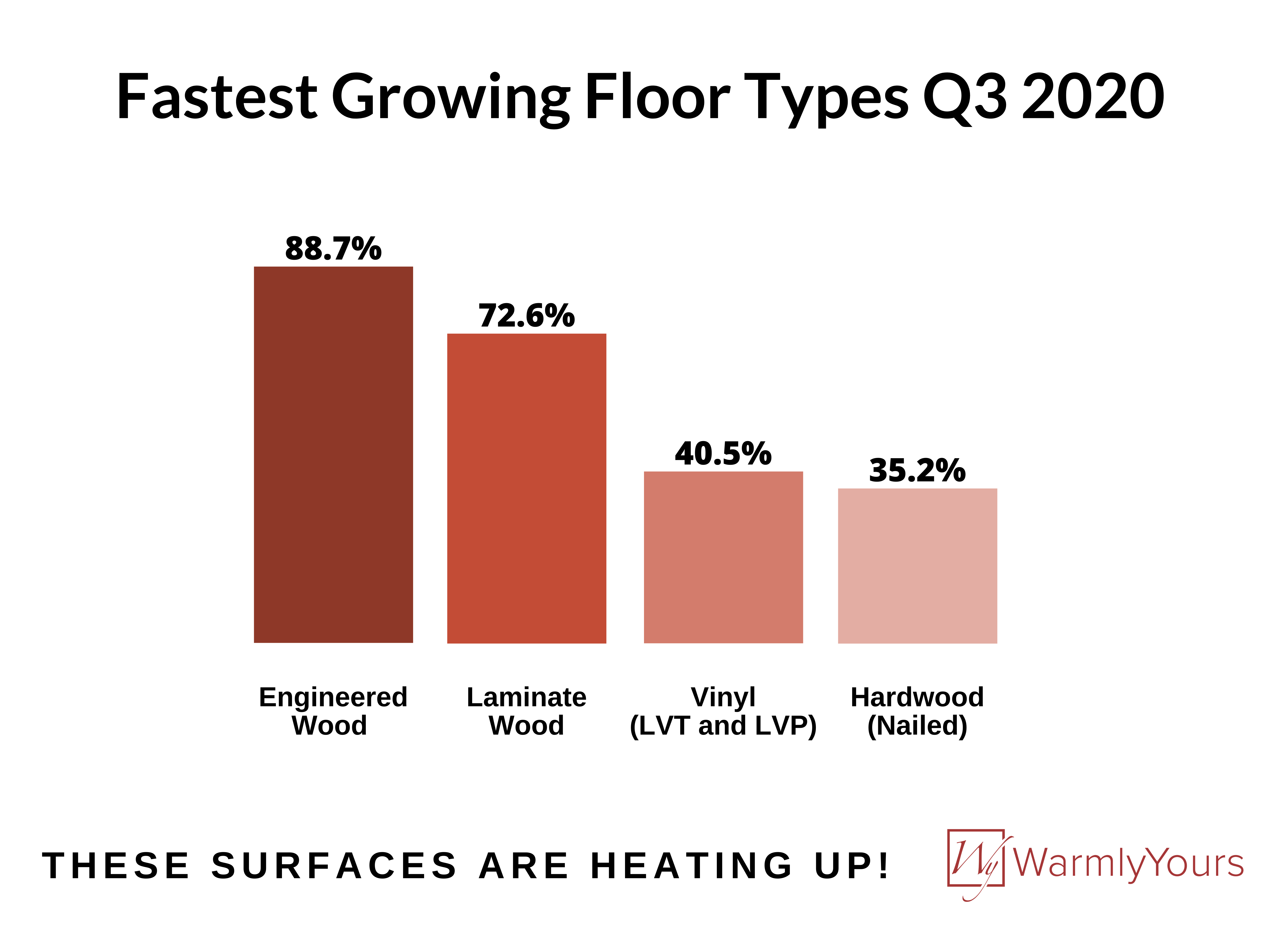 The remodeling market as a whole has also seen some positive movement with many national indicators pointing towards this trend continuing well into 2021. According to the Leading Indicator of Remodeling Activity (LIRA), a quarterly assessment from the Joint Center for Housing Studies of Harvard University, there is a projected growth rate of annual homeowner renovation spending of 4.1% in the first quarter of 2021.
"The remodeling market is bouncing back from the initial shocks caused by the pandemic, as homeowners continue to spend significant time in their home and are adapting it for work, school, and leisure," said Chris Herbert, Managing Director of the Joint Center for Housing Studies. "The surge in DIY and small project activity is lifting the remodeling market, but it remains to be seen if the strong sales market this summer translates into larger improvements that would drive even stronger growth in the coming quarters."
Sources:
https://www.nar.realtor/newsroom/metro-home-prices-increase-in-all-areas-in-third-quarter-of-2020
Relevant internal sales data
---
Tell us About your Project
Our team of Radiant Experts is ready to help! Just tell us a little about yourself and your project to get started.
---
Did you find this post helpful?
Let us know by giving it some applause.
---
---