Lake Zurich, Ill., September, 2023 - According to a recent industry report, radiant heating sales were driven so far in 2023 due in large part to bigger snow melting projects.
WarmlyYours, a radiant heating manufacturer that specializes in radiant heating products like electric floor heating and snow melting systems, released their "Q2 2023 Industry Report" earlier this week. This report analyzes the sales of radiant heating products (by using WarmlyYours sales data as a proxy for the industry as a whole) within the wider context of the national housing and remodeling markets. One of the most surprising findings in the report was that in the second quarter of 2023, large snow melting projects were the most prominent drivers of sales growth.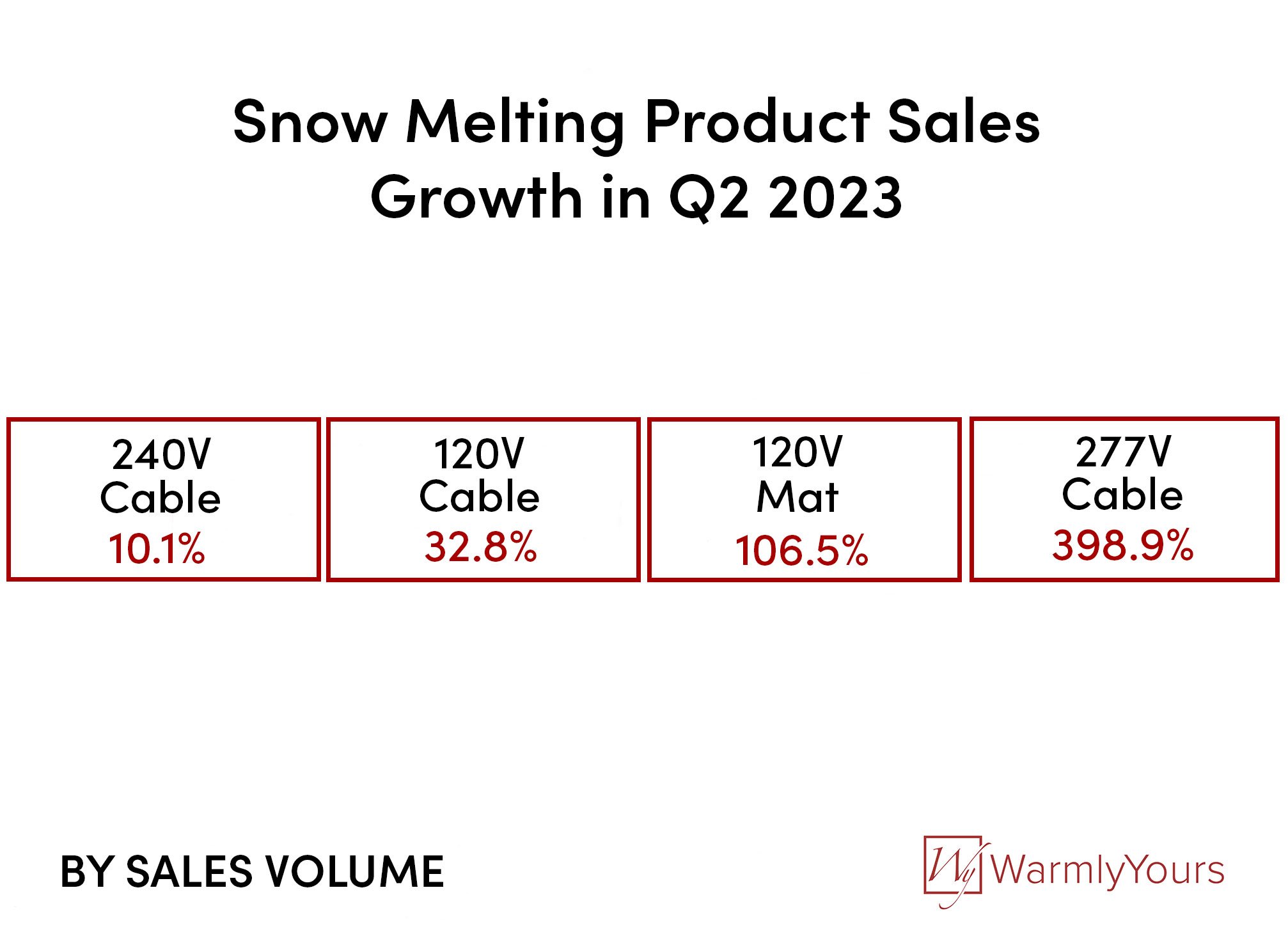 According to the report, second quarter consolidated sales of snow melting were up 8.8% from last year. The biggest sales volume growth driver was the 240V snow melting cable, which is often used in larger projects because 240V heating elements allow for more heating coverage to be controlled with a single control when compared to 120V heating elements. The 240V snow melting cable was up 10.1% and accounted for nearly a fifth of all snow melting sales for WarmlyYours in Q2 2023.
WarmlyYours did see an uptick in both heated driveways and walkways, which are among the larger project types for electric snow melting. Walkways were up 13.3% and went from 26% of all second quarter snow melting projects in 2022 to 30.6% in Q2 2023. Heated driveways, the most significant driver of sales growth for snow melting, were up nearly 2%. This translated to heated driveways going from 39% of all second quarter snow melting projects in 2022 to 43.5% in Q2 2023.
The increase in larger snow melting projects has been building over the last couple of years as many new trade professionals have become familiar with the products, said Julia Billen, owner and president of WarmlyYours.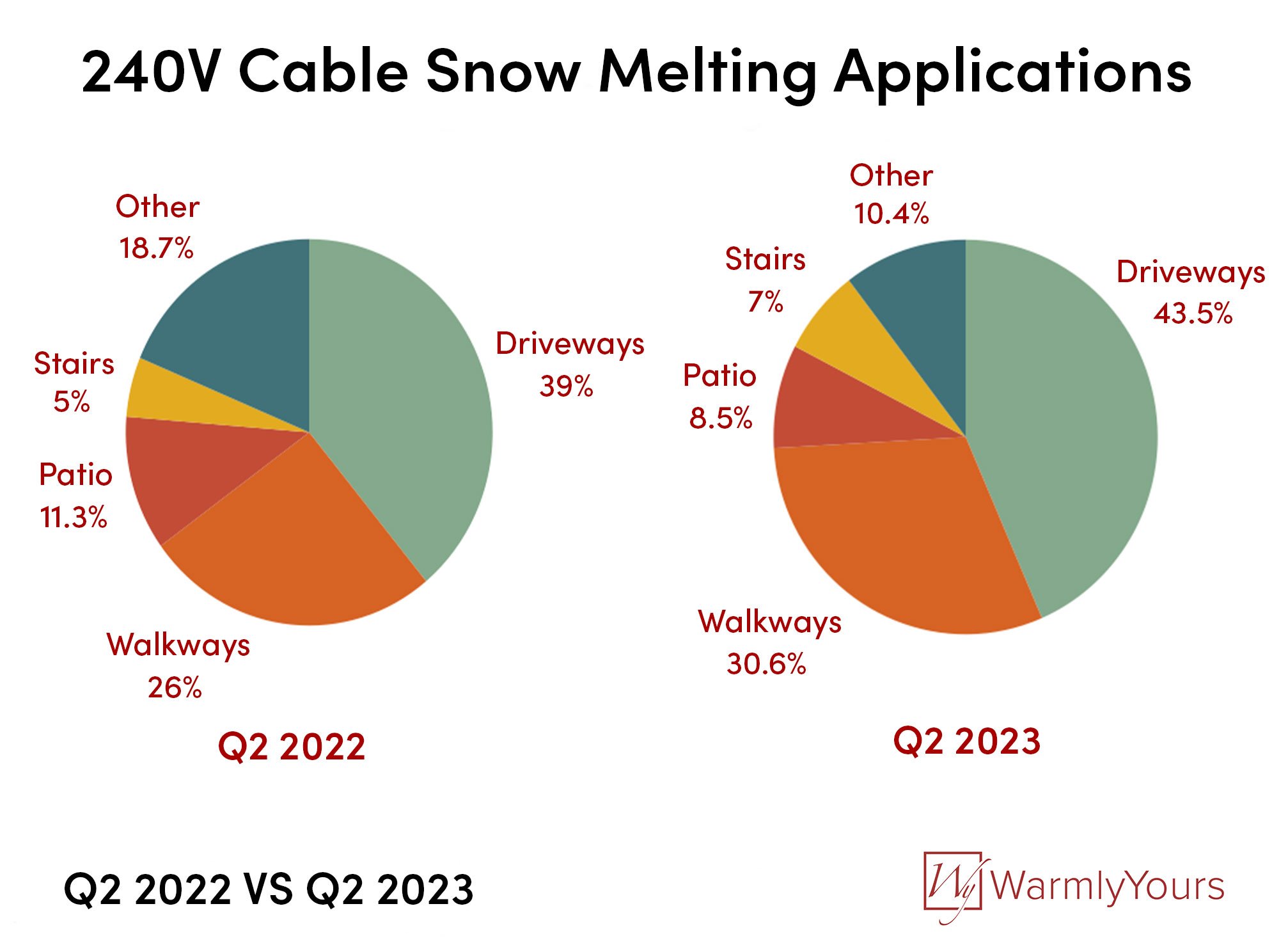 "The hardest part is getting the professionals to give our products a shot in the first place. Their jobs are complicated enough as it is so they're not always looking to try something new. But after they install the systems, and realize how much help we can provide along the way, it's not long until they're placing another order for another project," said Billen. "It doesn't hurt that our installer certification program helps to connect qualified installers with potential homeowner customers in their areas."
WarmlyYours did see a significant improvement in sales for both the trade professional and the homeowner customer segments between the second quarters of 2022 and 2023. The fastest rate of change was for homeowners (up 42.1%). But the biggest volume increase came from the trade professional segment (up 6.1%).
Read the full report.
###
Hi-res images are available upon request.
For over 20 years, WarmlyYours Radiant Heating has offered the industry's most innovative solutions in radiant heating technology, from our flagship floor heating systems and radiant wall panels to snow melting systems, as well as comfort products, including towel warmers, mirror defoggers, shower floor and bench heating, and countertop heaters. With locations in the United States and Canada, WarmlyYours provides unrivaled personalized customer support from start to finish, featuring measuring and design services, 24/7 technical support, and our No Nonsense™ Warranty.
For more information, visit www.WarmlyYours.com.
Media Contact:
Cameron Witbeck
Marketing Communications Manager
WarmlyYours Radiant Heating
590 Telser Rd, Suite B
Lake Zurich, IL 60047
cwitbeck@warmlyyours.com
P: (800) 875-5285 ext. 878
---
Tell us About your Project
Our team of Radiant Experts is ready to help! Just tell us a little about yourself and your project to get started.
---
Did you find this post helpful?
Let us know by giving it some applause.
---
---