2020 was a year unlike any other for many reasons. Chief among those reasons of course was the emergence of COVID-19 in North America and the subsequent lockdown orders in much of the world.
Understandably, it was a challenge for companies across the globe to adapt to the new landscape. However, one of the few bright spots from 2020 for many in the remodeling and building industry is that the lockdowns appear to be correlated with an increase in both remodeling activity and renovation expenditures.
All of this was set against the backdrop of a national housing market that continues to experience a significant supply crunch, which has significantly increased prices in many markets.
Despite these challenging market influences, WarmlyYours was able to post positive sales growth numbers due in no small part to the exceptional performance of floor heating products (nearly across the board).
In this report, we'll take a closer look at the performance of radiant heating product sales and analyze the impact that the national housing and remodeling markets are expected to have on future sales.
Floor Heating Sales Growth During 2020
Perhaps one of the most surprising developments in the face of the COVID-19 outbreak and subsequent lockdowns was the sharp uptick in home remodeling and home renovation spending. In fact, notable home improvement retailer, Home Depot, revealed that in the fourth quarter of 2020, there was a 25.1% increase in sales volume compared to prior-year-period. This is up from the impressive Q3 2020 increase of 23.2% from Q3 2019. Lowe's, another major player in the home improvement retail space, saw their Q4 2020 sales up 28.1% over the previous year. Big box stores like these are not a perfect bellwether for total home improvement sales volume but they do represent a good cross section of smaller-scale professionals and DIY-inclined homeowners.
With the benefit of hindsight, the increase in home remodeling expenditures seems unsurprising—after all, with more people stuck at home with little to do, things that were previously minor issues, like an outdated bathroom or a den that could use a new floor, became higher priorities for many homeowners. However, the reality was much more complicated and much more uncertain.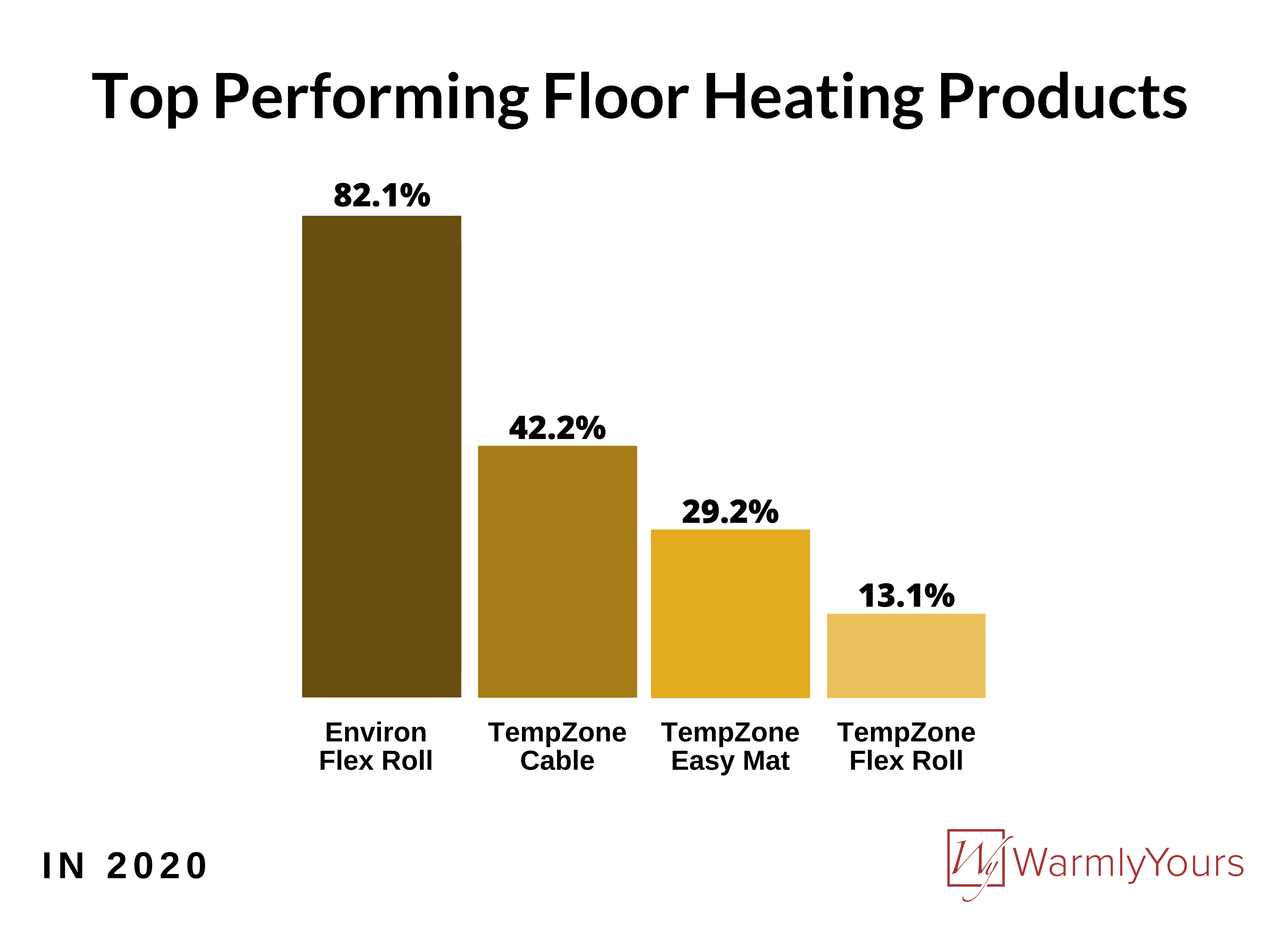 When many states issued lockdown restrictions at the end of March 2021, distributors and suppliers didn't know whether their own companies would be deemed "essential businesses" and therefore be allowed to continue operations. There were also a lot of concerns about whether or not supply chains would be able to handle the seismic shifts they were forced to undergo as a huge increase in demands for personal protective equipment (PPE) took hold. Additionally, Amazon, a huge vendor for many small businesses, announced a shift to prioritize PPE and other necessities during the early parts of the pandemic, cutting off a crucial portion of distribution for many. 
Despite these myriad challenges, WarmlyYours was fortunate to see impressive growth for floor heating sales in 2020 that only accelerated throughout the year. While floor heating sales grew an impressive 8% over the year, the fourth quarter boasted the biggest rate of change with 37%. This helped push floor heating products from 45% of all WarmlyYours sales in Q4 2019 to 53% of all Q4 2020 sales.
The products leading this growth were our Environ Flex Roll (up 82.1%), TempZone Cable (up 42.2%), TempZone Easy Mat (up 29.2%), and TempZone Flex Roll (up 13.1%). The biggest sales volume variation was from TempZone Cable, which was followed by the TempZone Easy Mat product line. However, TempZone Flex Roll continued to lead the way as the flagship floor heating product for WarmlyYours at 33% of all floor heating sales (down from 36% in 2019).
While perennially leading products continued to post strong sales growth, some products like the Environ Flex Roll were experiencing unprecedented growth. This is due to two primary factors:
1.) Growth in "nontraditional" room types for floor heating
As we identified in our Q3 2020 report, some room types that are not typically associated with floor heating have shown significant growth during the lockdown period. For example, home offices in 2020 have shown a significant uptick in floor heating projects (up 98% in Q4 2020, compared to Q4 2019). Other nontraditional room types where floor heating has seen growth include sunrooms (up 145%), family rooms (up 89%), and powder rooms (up 99.9%). These are all rooms that typically pair well with the types of floor coverings that Environ is used to heat (like floating hardwood, engineered wood, and laminate).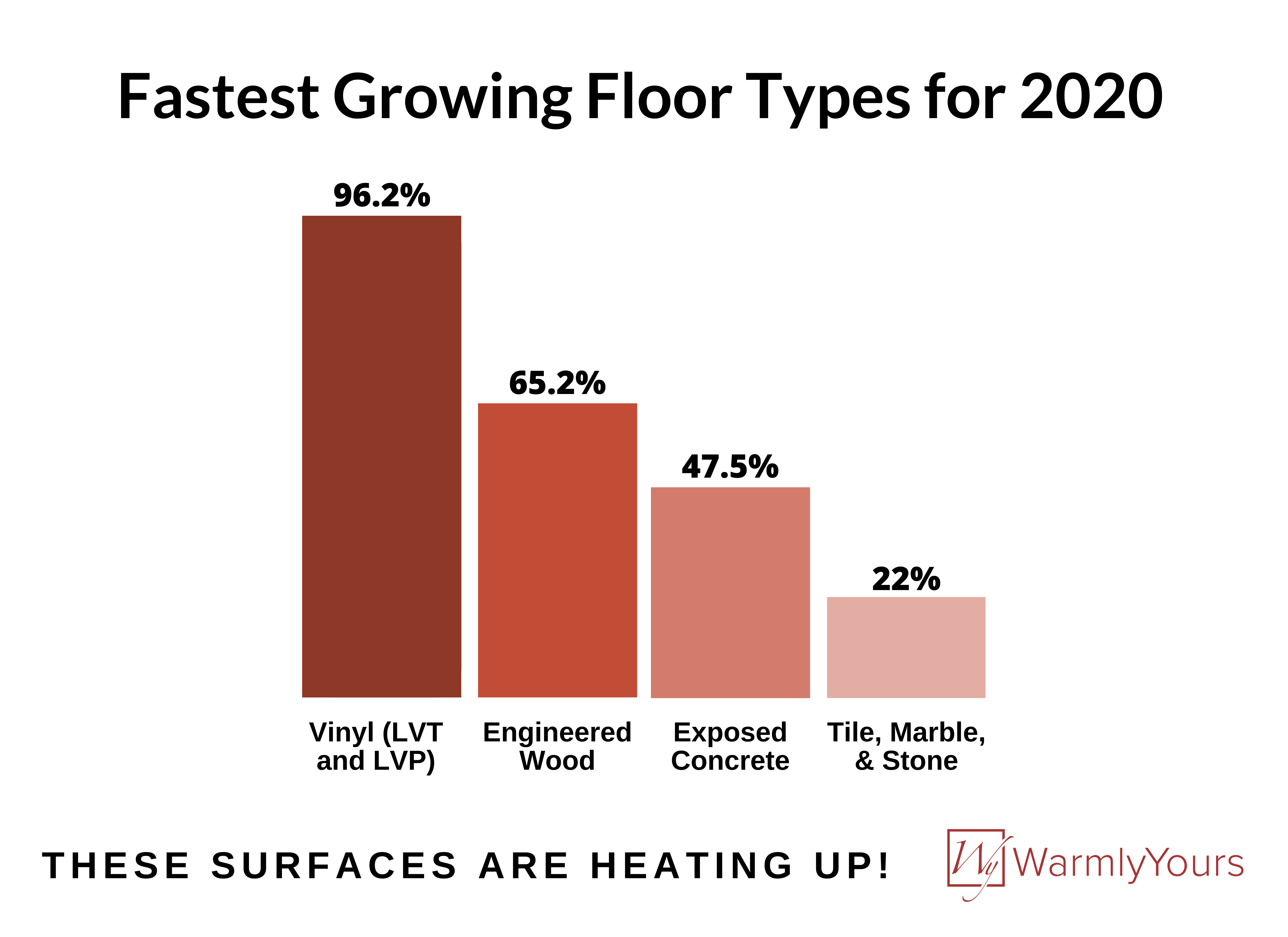 This is of particular interest because sales growth in these other room types could lead to homeowners who have a good experience seeking floor heating for their kitchens and bathrooms (the most commonly heated room types).
2.) Advances in floor types that work with an adhesiveless heating product like Environ.
The flooring industry has always placed a degree of importance on innovation and experimentation. This has led to some pretty substantial improvements on the look and feel of engineered wood flooring without sacrificing the affordability and functionality that made it a mainstain in the industry.
And while vinyl flooring was the fastest growing floor type for 2020 WarmlyYours floor heating sales (up 96.2%), engineered wood still posted an impressive 65.2% increase over last year. Other floor types that showed exceptional growth last year were exposed concrete (up 47.5%) and tile, marble, and stone floors (up 22%).
Another interesting trend in floor heating product sales has been related to insulating underlayments vs. uncoupling membranes. WarmlyYours currently offers one uncoupling membrane (the Prodeso Cable Installation Membrane) and two insulating underlayments (cork and CeraZorb which is a synthetic cork). In recent years, the uncoupling membrane has been the frontrunner in floor heating underlayment sales, largely due to the popularity of combining the membrane with our TempZone Cable. However, in 2020, we saw a pretty sizable increase in uses of insulating underlayments. When comparing 2019 to 2020, insulating underlayments went from 40% of all underlayment sales to 44%.
The most likely reason for sales increasing for insulating underlayments, in relation to uncoupling membranes, is the growth in floor heating projects for rooms that are typically over concrete subfloors, such as basements (up nearly 33% from last year). The use of an insulating underlayment is recommended when installing on top of a concrete slab as the underlayment will create a thermal break that keeps the floor heating system from losing too much heat to the slab, which improves efficiency and keeps operation costs down.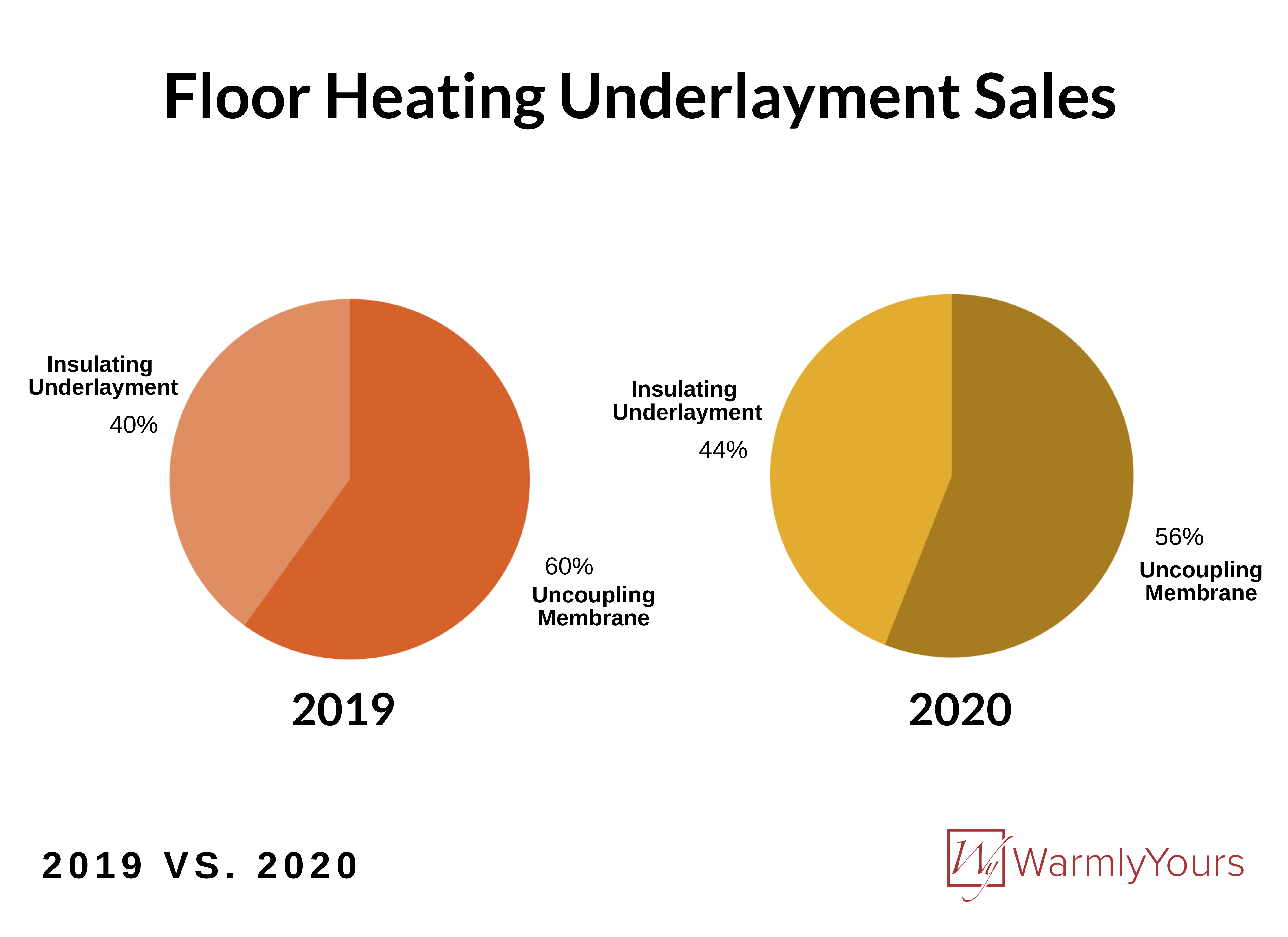 Julia Billen, owner and president of WarmlyYours, said that the reason floor heating sales as a whole grew so much during 2020 is pretty simple.
"I really think it has to do with comfort—it's just human nature," said Billen. "When we've faced what we have in the last year, it's totally understandable that people have tried to find every little bit of comfort they could. Does a heated floor solve the world's problems? Of course not! But it does make it easier to get out of bed in the morning when you don't have to face both a pandemic and a cold floor."
From WarmlyYours sales data, it does appear that homeowners have been a crucial driving force, in terms of customer segments, for growth in floor heating. In 2020, we saw homeowner sales grow by 42.6% over the prior year. During that same time, we saw sales via Home Depot increase by 56.4%. As discussed earlier, Home Depot sales (both generally and specifically for WarmlyYours) are indicative of increases for both trade professionals and homeowners, though you can generally attribute a larger portion of Home Depot sales to homeowners. Costco sales were up an impressive 32.6%, however, those sales are almost exclusively homeowner related.
Homeowners, Home Depot, and Costo led customer segment growth by sales volume fluctuations as well as rate of change. They were closely followed by sales volume growth in dealers (up 3.7%) and trade professionals (up 2.7%).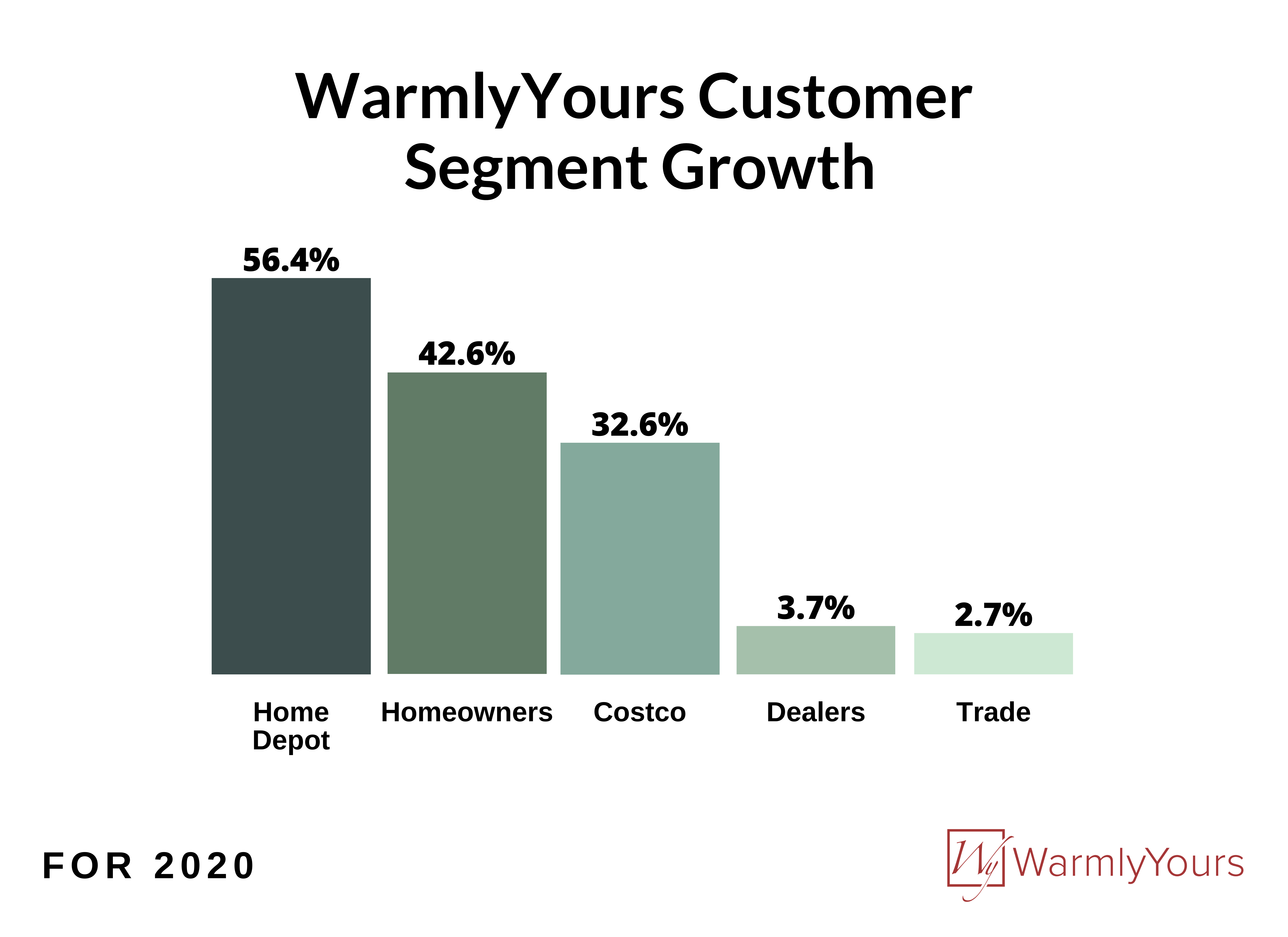 The question now is how sustainable the increase in homeowner sales will be moving forward. Billen said that while it will be hard to match 2020 homeowner sales in 2021, the decrease will be minimal.
"Historically, it's not uncommon for homeowners to be "one and done" customers for floor heating, but ultimately a lot of the homeowners last year were working on home offices or family rooms that are not traditionally the most common floor heating rooms like bathrooms," said Billen. "There is no greater advocate for radiant heating than actually experiencing it. Our expectation is that for these homeowners that have installed floor heating in their office, a lot of them are either going to want to incorporate it into their next bathroom remodel or they're going to inspire their friends and family to do so themselves."
The National Housing and Remodeling Markets
For the housing market, the last year was a surprise as many realtors discovered that COVID-19 did little to depress home sales in many parts of the country. In fact, according to the National Association of Realtors (NAR), December 2020 marked the highest level of existing home sales since 2006. According to NAR, in December 2020, sales of existing homes had increased 0.7% from November 2020 and 22.2% from December 2019.
Lawrence Yun, the chief economist for NAR, said that he expects this trend to continue well into 2021.
"Home sales rose in December, and for 2020 as a whole, we saw sales perform at their highest levels since 2006, despite the pandemic. What's even better is that this momentum is likely to carry into the new year, with more buyers expected to enter the market," said Yun. "Although mortgage rates are projected to increase, they will continue to hover near record lows at around 3%. Moreover, expect economic conditions to improve with additional stimulus forthcoming and vaccine distribution already underway."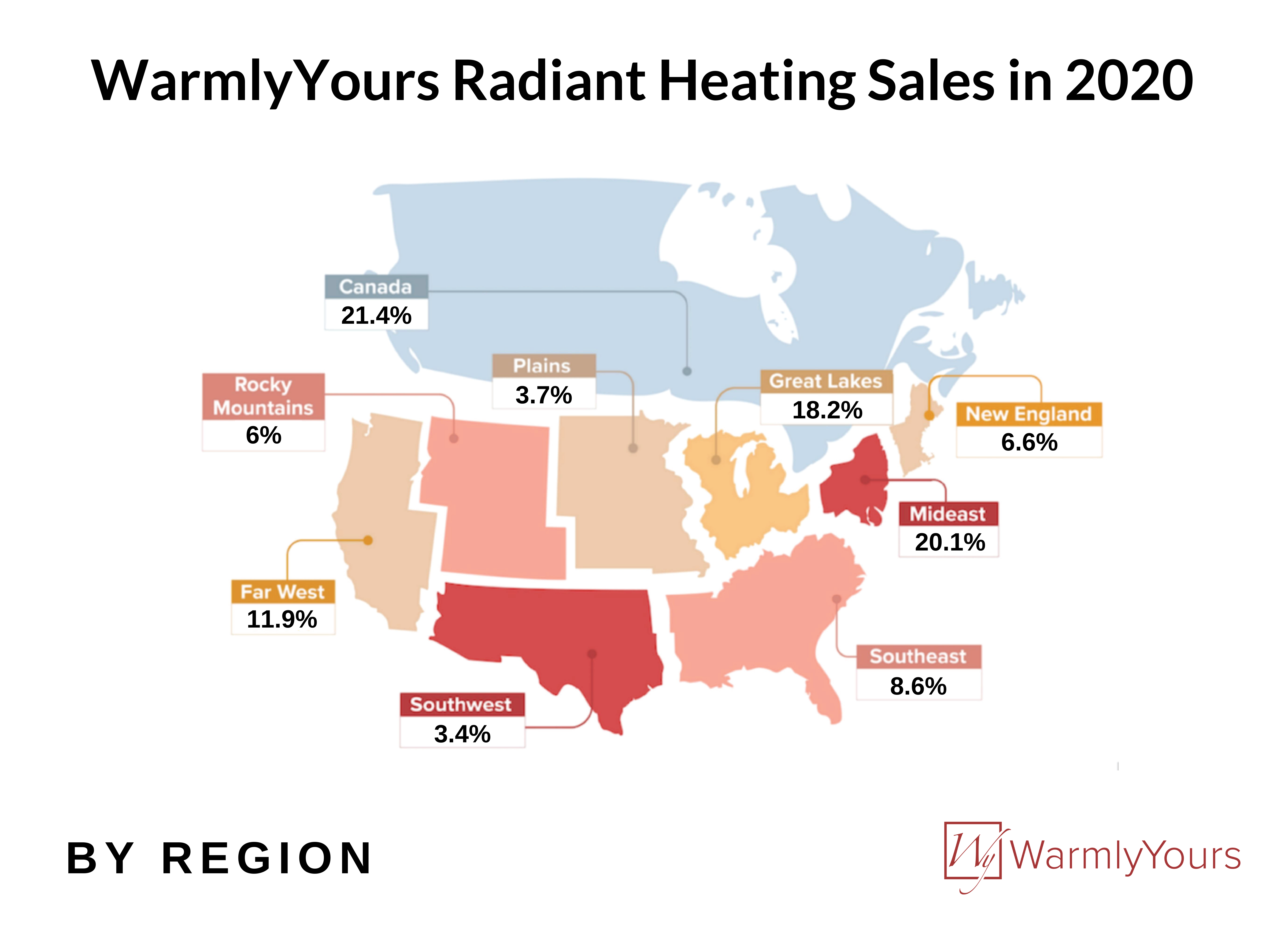 While home buying activity may continue to grow, so to will home prices as inventory levels continue to be crunched. According to NAR, the total supply of available housing units was down 23% in December 2020 from the previous year. Unsurprisingly, the median home price increased during that time period as well (up 12.9%). As long as interest rates remain low, it is likely that we'll continue to see housing prices increase.
The remodeling market is closely tied to the housing market so it is likely that we'll see continued growth there. According to the Leading Indicator of Remodeling Activity (LIRA), a quarterly assessment from the Joint Center for Housing Studies of Harvard University, there is a expected increase in the four-quarter moving rate of change in remodeling expenditures from 3.5% in December 2020 to 3.8% by the end of 2021. There are several reasons for this, according to Chris Herbert, the managing director of the Joint Center for Housing Studies.
"The remodeling market continues to benefit from a strong housing market—including accelerating growth in homebuilding, sales, and home equity," said Herbert. "In addition to routine replacement and repair projects, homeowners are likely to pursue more and larger discretionary home improvements this year as the broader economy recovers."
All in all, both factors (the housing and remodeling markets) appear to be primed for continued growth of radiant heating product sales.
Looking Forward to 2021
WarmlyYours is looking forward to the future with great expectations due to advances in both our services and products divisions. In 2021, WarmlyYours expects to fully launch our certification program to help train more trade professionals in radiant heating installation. The core principle is to ensure that end-users have a reliable heating system and that we're able to support our professional customers by coordinating their efforts with homeowners that approach us directly.
In addition to innovating with our new certification system, WarmlyYours wants to make sure that 2021 is a year in which radiant heating product developments take center stage. There will be several products that will be onboarded in 2021 but some of the most exciting will be our new line of dual connection towel warmers that can be installed "as is" with a plug-in electrical connection or they can be modified by a licensed electrician and become hardwired to a standard 120V power input. These towel warmer models will be replacing many of the items in our Classic Collection. This collection has been our flagship collection for many years, making up 72% and 64% of all towel warmer sales in 2019 and 2020, respectively, and we expect these new models to help grow that line.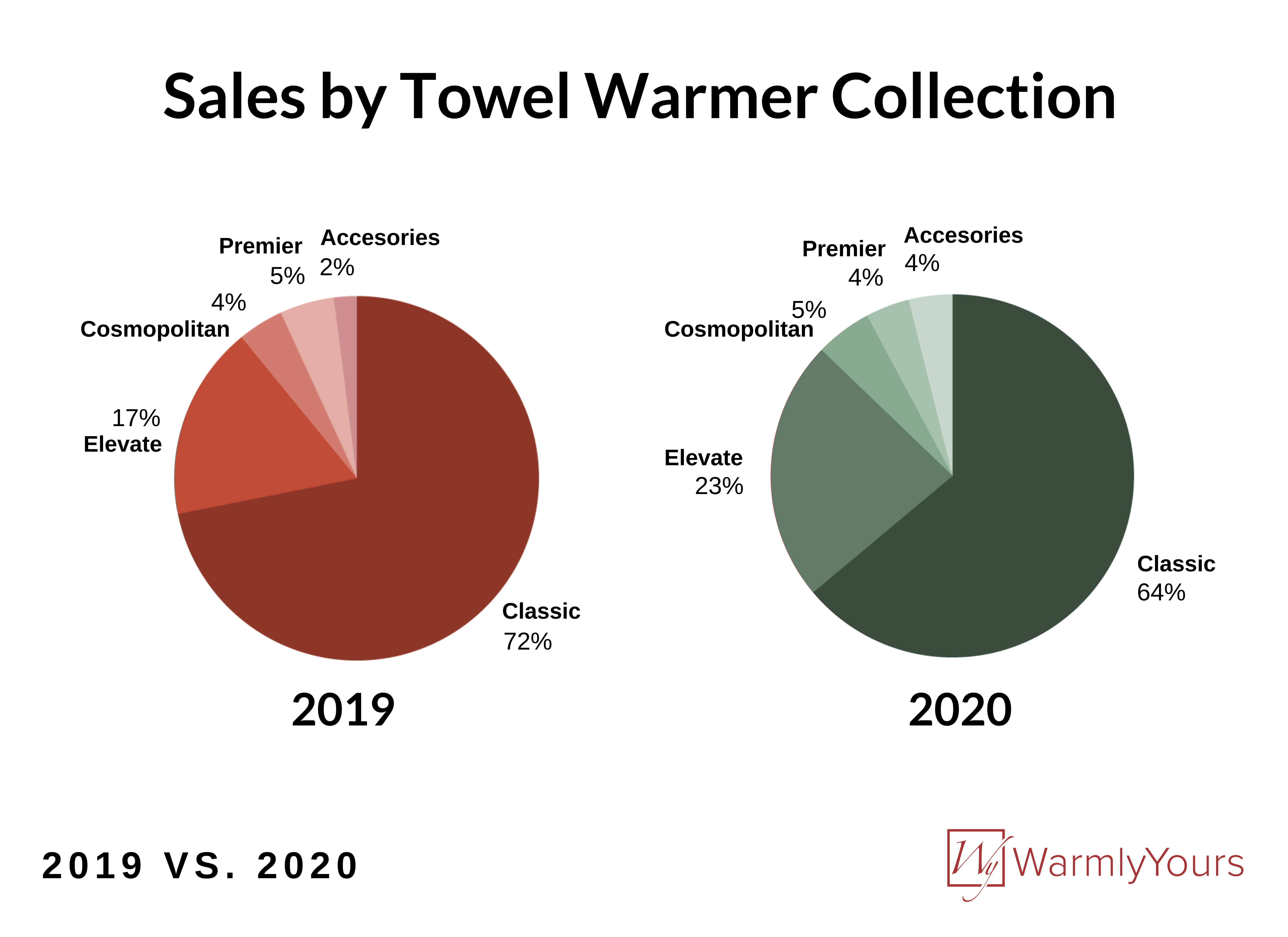 In addition to the dual connection feature, these new models will also feature our TempSmart overheat protection (which prevents the unit from overheating) and an LED power switch. Additionally, due to the nature of their design, when augmented to be hardwired, they won't require the use of a cover plate and fifth wall leg to supply the power (as the power will be supplied through one of the integrated 4 wall legs. This will lead to a much more visually balanced appearance after installation.
Other products to be onboarded in 2021 include several outdoor products like new self-regulating roof and gutter deicing kits, a new WiFi-enabled zoning control for snow melting systems, and a line of GFEP breaker panels for outdoor heating projects. The new roof and gutter deicing kits will protect roofs from damage caused by ice dams while maintaining excellent energy efficiency unlike many constant wattage alternatives. The new zoning control option will represent an industry leading level of user-control and energy efficiency for electric snow melting systems as it will allow remote control of the heating system in "zones" instead of having to run the entire system at the same time. And finally, the GFEP breaker panels will allow for ground fault equipment protection of larger snow melting systems which can be of crucial importance and convenience. 
Sources:
---
Tell us About your Project
Our team of Radiant Experts is ready to help! Just tell us a little about yourself and your project to get started.
---
Did you find this post helpful?
Let us know by giving it some applause.
---
---