During the second quarter of 2023, WarmlyYours saw radiant heating sales driven by significant growth in snow melting systems, particularly those for larger projects.
Electric snow melting systems, such as the ones used in heated driveways and heated patios, have been an extremely strong performer in terms of radiant heating sales. This was especially obvious in Q2 2023 when consolidated snow melting sales increased 8.8% over the prior year period.
This was all set against a national housing market that has continued to be throttled by high interest rates, high prices, and low supply levels, which have combined to keep many potential first time buyers out of the market.
In this report, we'll take a closer look at the performance of radiant heating product sales, with a specific focus on snow melting systems, and analyze the impact that the national housing and remodeling markets are expected to have on future sales.
WarmlyYours Product Sales in Q2 2023
For floor heating, the flagship product line for WarmlyYours, there were several sub-products that showed exceptional growth during the second quarter of this year.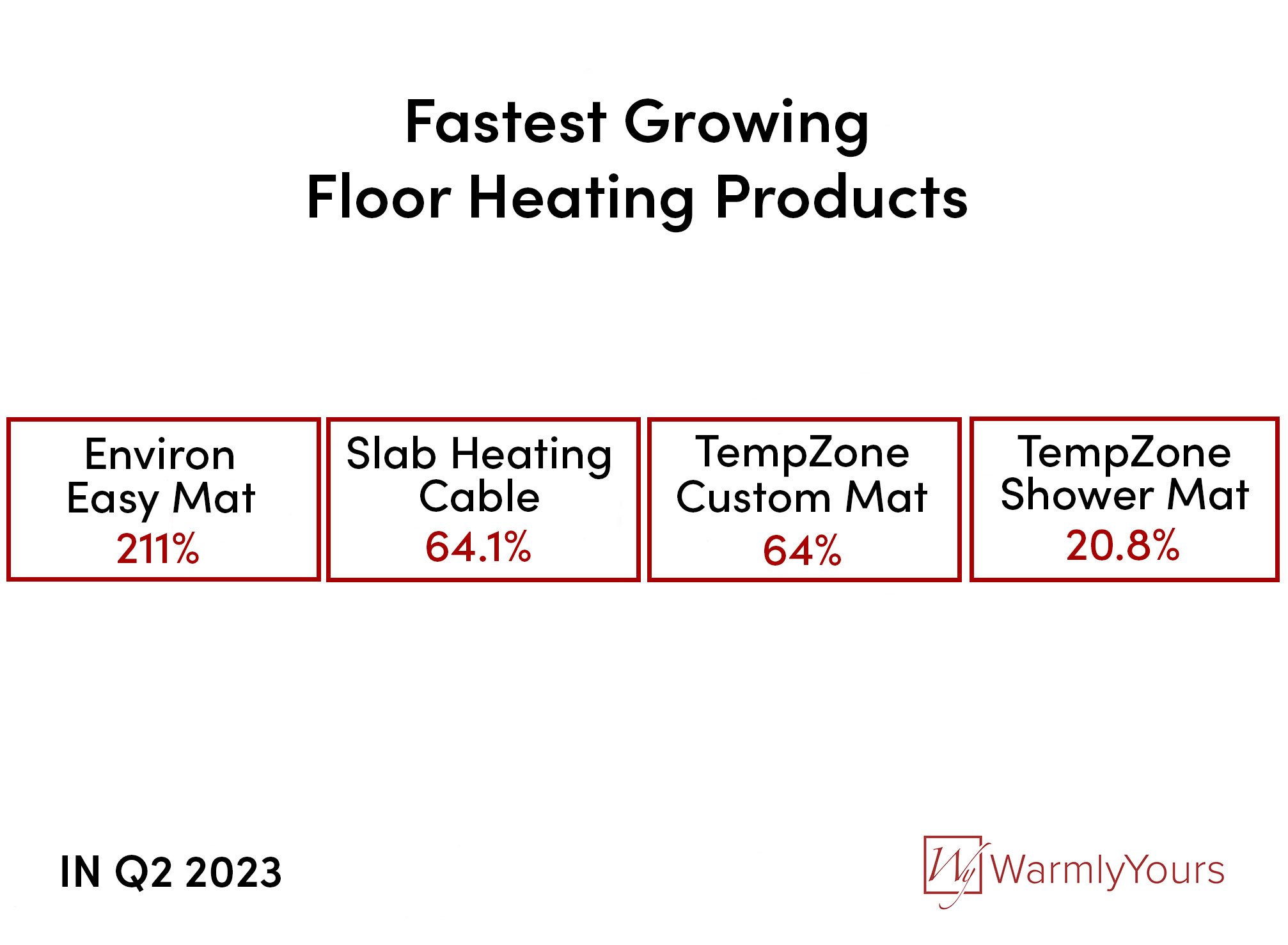 The fastest growing product was our Environ Easy Mat product, which posted 211% growth in consolidated sales compared to last year. This product is used for spot heating, which is a technique for floor heating where heating elements are only installed under the most used sections of a floor. Spot heating helps cut down on both material costs and operating costs without having to sacrifice the comfort that is expected from floor heating.
Additionally, our Environ products are designed to be used with floating floor coverings so the increase in sales for the Environ Easy Mat pairs nicely with the increases we saw for both floating laminate (up 3.4%) and carpet (up 8.2%).
The other fastest growing floor heating mats were our Slab Heating Cable (up 64.1%), TempZone Custom Mat (up 64%), and our TempZone Shower Mats (up 20.8%).
We also saw several product lines show rapid growth such as towel warmers (up 7.8%) and mirror defoggers (up 6.8%). These products are popular in both direct sales and third party ecommerce channels due to their relative ease of installation and are often installed in bathrooms. Similar projects like showers/saunas (up 46.6%) and powder rooms (up 25.8%) have seen a significant increase in Q2 2023, which has certainly contributed to popularity of towel warmers and mirror defoggers.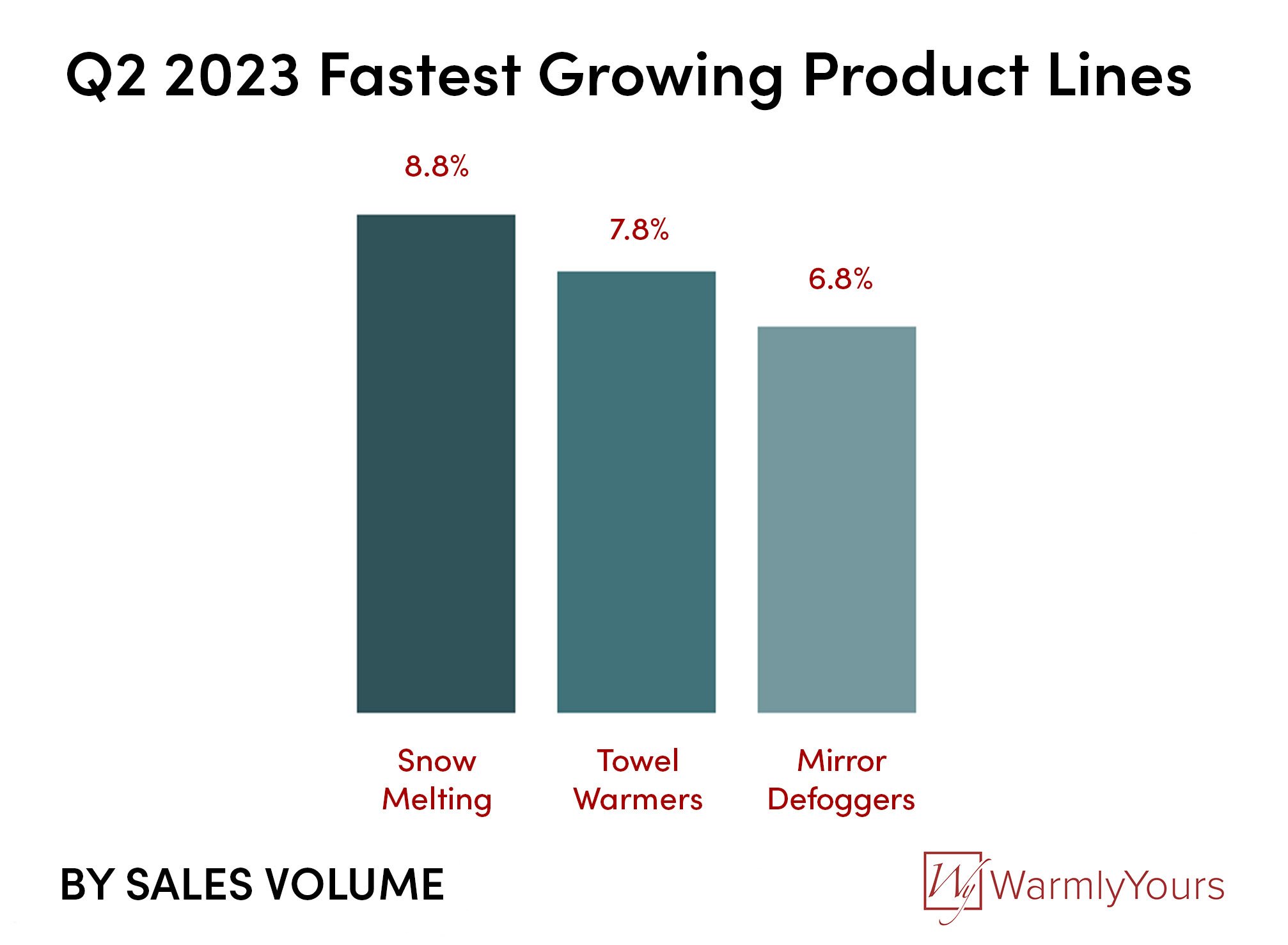 But the biggest volume increase by far came from snow melting. Snow melting has shown significant growth for several consecutive quarters, due to a number of factors such as increased public awareness of the product, successful WarmlyYours SEO efforts to occupy high positions for relevant search engine queries, and word of mouth testimonies from both professional installers and homeowners.
Snow Melting Product Sales in Q2 2023
As a whole, consolidated snow melting sales were up 8.8% in the second quarter of this year when compared to the same period in 2022. Within this product line, pipe freeze protection systems, which are used to protect non-flowing water pipes from freezing, had the highest product subcategory sales growth (up 307.8%) but snow melting itself was the core driver of sales volume growth.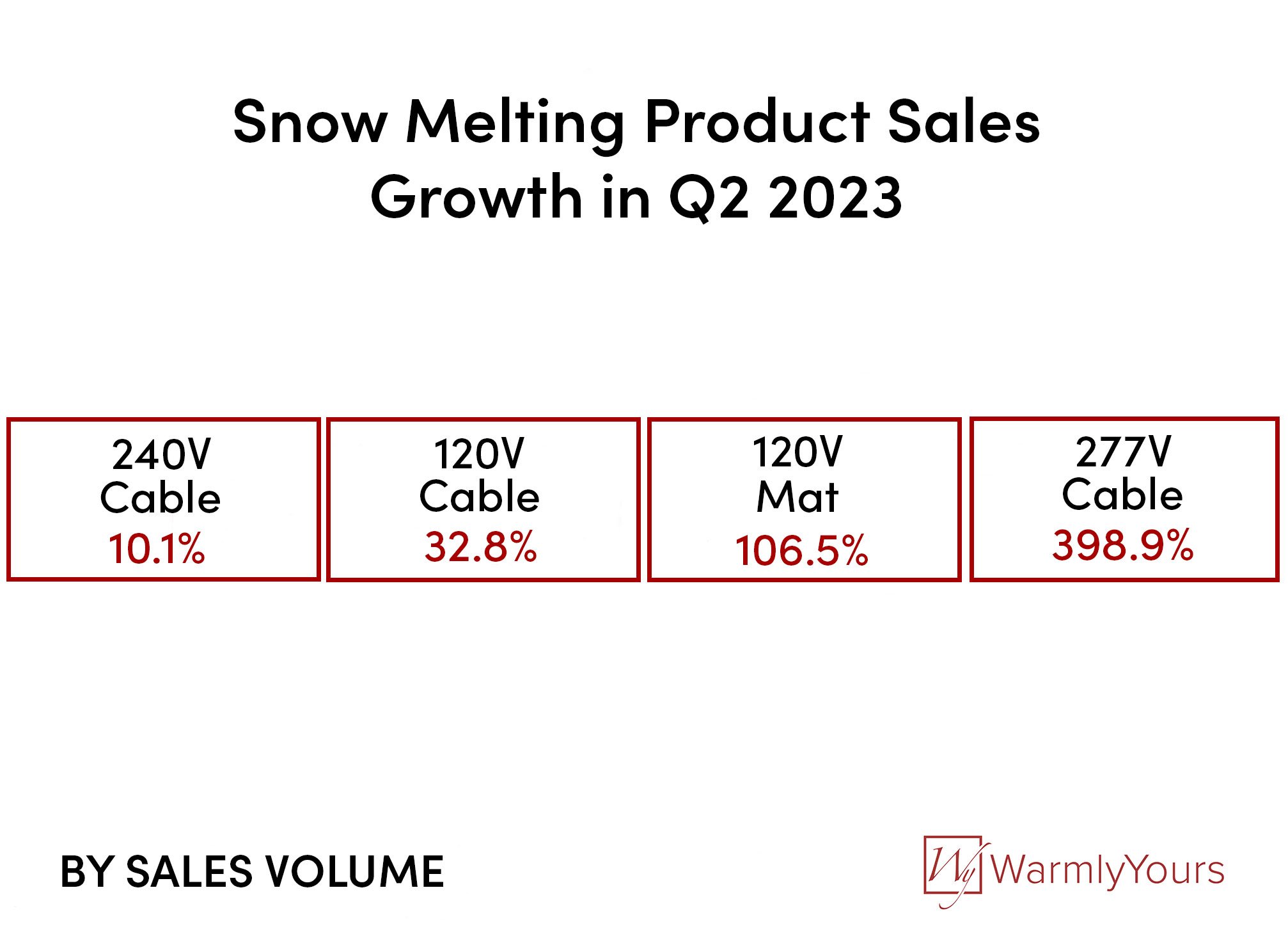 Snow melting sales saw some interesting products with rapid growth rates such as both 120V mats and 120V cables (up 106.5% and 32.8% respectively) but the fastest rate of change was an impressive 398.9% by our 277V cable.
However, the biggest sales volume growth driver, by a wide margin, was our 240V snow melting cable, which was up 10.1%. In the second quarter of this year, our 240V snow melting cable accounted for roughly 1/5th of all snow melting product line sales.
To understand the growth in 240V cable, it's important to consider the essential qualities of 240V radiant heating products. While both 120V and 240V heating products are commonly used in residential products (208V and 277V products, generally speaking, are used in commercial applications), their differing voltages have a crucial impact on their use in heating.
The controls for electric snow melting systems have a limit on the number of amps they can handle by themselves. And because 240V systems use less amperage then their 120V counterparts, this means that a single control can be used to operate more square footage of heating coverage. So 240V heating elements are often used for larger snow melting projects like driveways or walkways.
WarmlyYours did see an uptick in both heated driveways and walkways, which are among the larger project types for electric snow melting. Walkways were up 13.3% and went from 26% of all second quarter snow melting projects in 2022 to 30.6% in Q2 2023. Heated driveways, the most significant driver of sales growth for snow melting, were up nearly 2%. This translated to heated driveways going from 39% of all second quarter snow melting projects in 2022 to 43.5% in Q2 2023.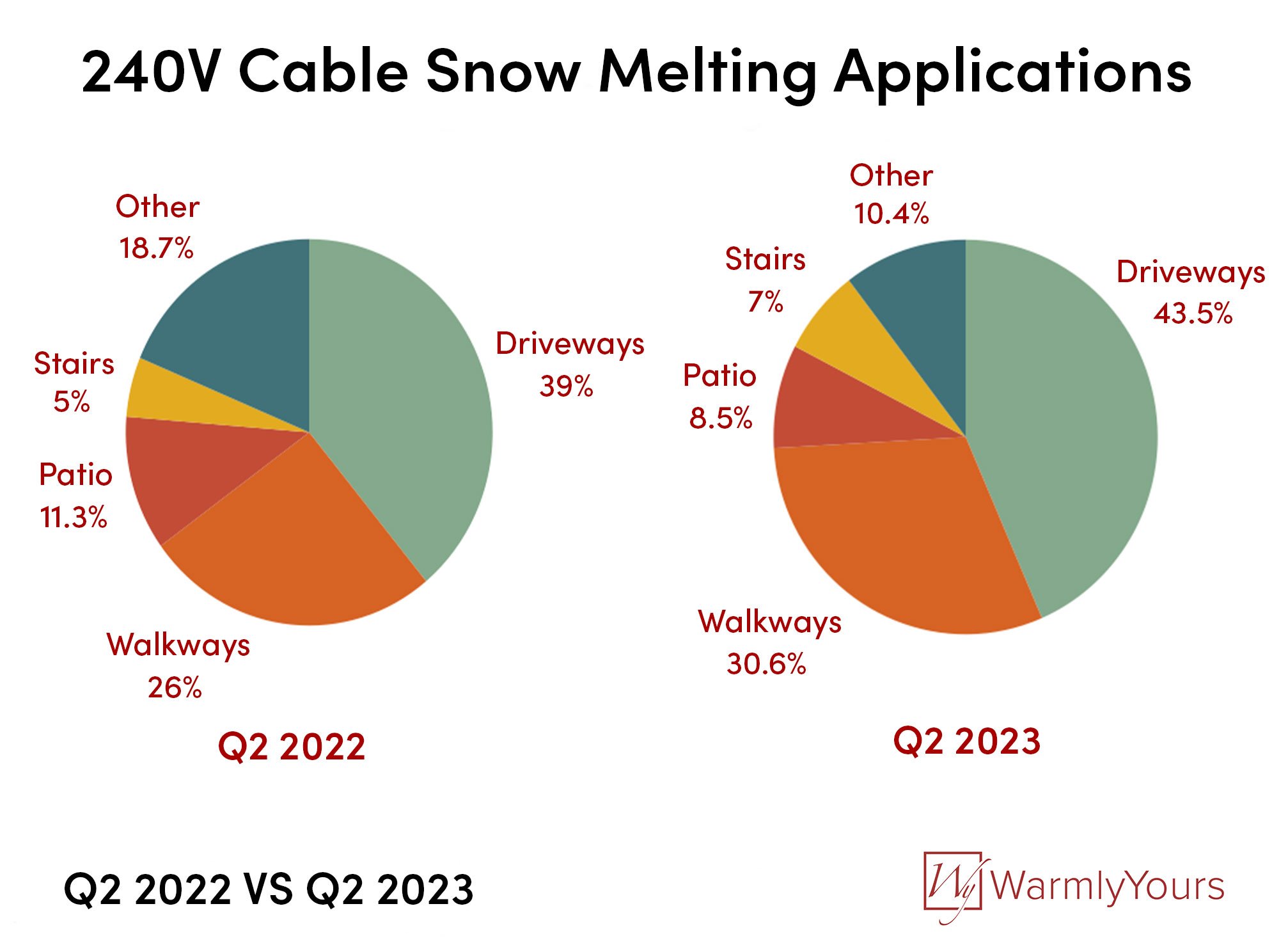 The increase in larger snow melting projects has been building ever since the pandemic, said Julia Billen, owner and president of WarmlyYours.
"We've seen a pretty steady increase in larger snow melting projects since 2020" said Billen. "I think a large part of the growth has been the result of the pandemic itself. When some of the dust settled after the start of the pandemic, a lot of consumer behavior that would have been directed into bathroom remodeling or additions, was instead used for outdoor projects where interactions between installers and homeowners could be more controlled and safer. And a lot of those outdoor projects have been large heated driveways or walkways."
Billen said this trend has helped to buoy snow melting sales continuously as many new trade professionals were introduced to snow melting systems.
"The hardest part is getting the professionals to give our products a shot in the first place. Their jobs are complicated enough as it is so they're not always looking to try something new. But after they install the systems, and realize how much help we can provide along the way, it's not long until they're placing another order for another project," said Billen. "It doesn't hurt that our installer certification program helps to connect qualified installers with potential homeowner customers in their areas."
WarmlyYours did see a significant improvement in sales for both the trade professional and the homeowner customer segments between the second quarters of 2022 and 2023. The fastest rate of change was for homeowners (up 42.1%). But the biggest volume increase came from the trade professional segment (up 6.1%). During that time period, sales for Amazon and other e-tailers were both up as well, at 19.1% and 50%, respectively.
We do expect to see continued growth for large snow melting projects in the next several quarters. During that time period, we also expect to see a similar upward trend for sales of 240V snow melting heating elements, with cable continuing to lead volume sales but with the mats having the greater rate of change.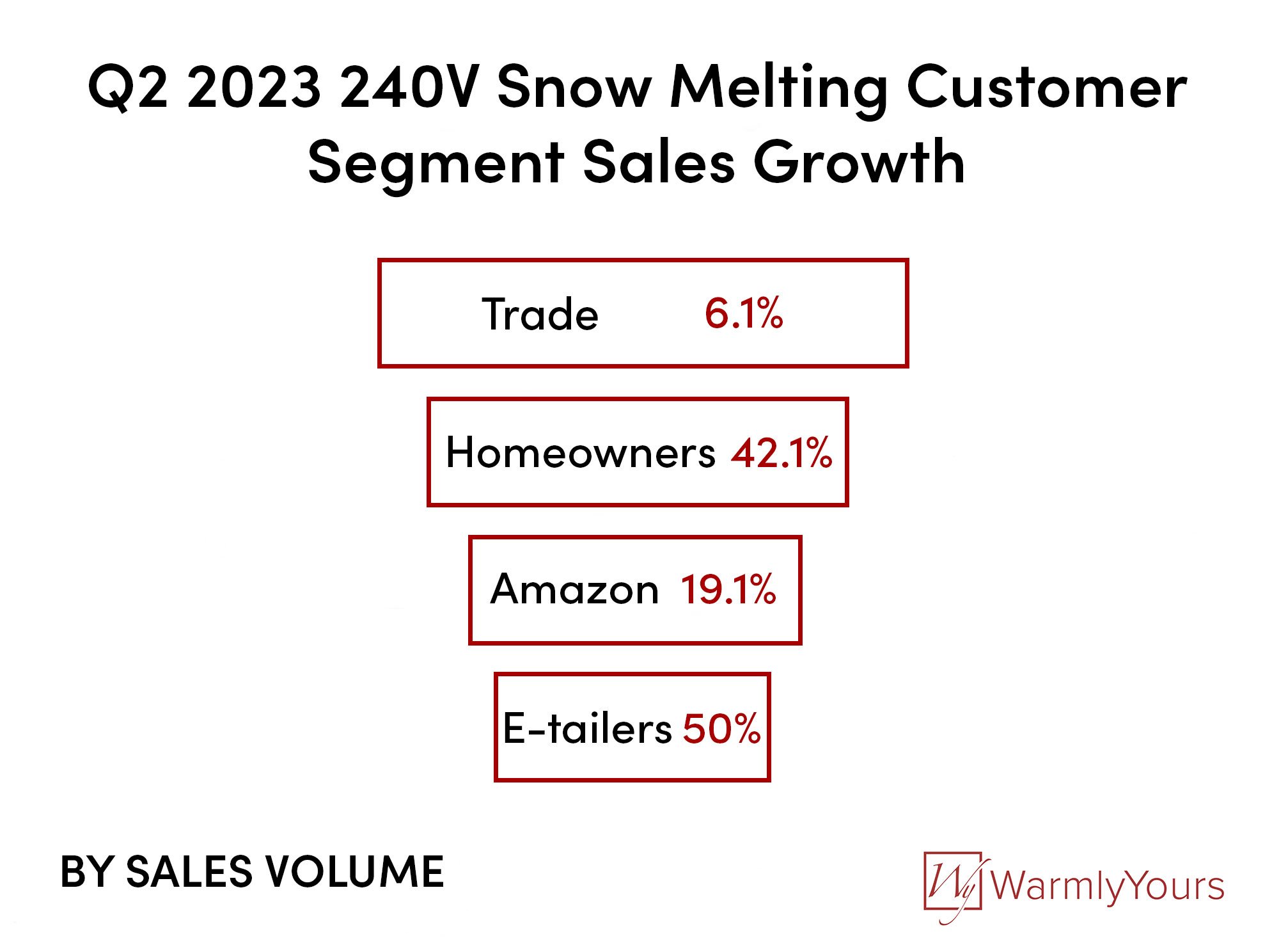 National Housing and Remodeling Markets in Q2 2023
Since the installation of a snow melting system requires either the installation of a new outdoor surface or the replacement of an existing one, we have found that sales for snow melting products are closely tied with growth trends relating to both home sales activity and consumer spending on remodeling and renovation.
So far in 2023, the North American housing market has continued to be hampered by a multitude of factors including limited supply, exorbitant unit pricing, and growing borrowing rates.
According to the National Association of Realtors (NAR), by the close of the second quarter in 2023, June sales of existing homes had fallen 3.3% from the previous month and 18.8% from June 2022. Lawrence Yun, the chief economist for NAR, said that the first two quarters of the year have been "downers" in regards to home sale activity.
"Fewer Americans were on the move despite the usual life-changing circumstances. The pent-up demand will surely be realized soon, especially if mortgage rates and inventory move favorably," said Yun.
One of the primary drivers of this decline in sales had to do with available inventory, which by June was down 13.6% year-over-year.
"There are simply not enough homes for sale," Yun added. "The market can easily absorb a doubling of inventory."
However, not all indicators are bleak. According to NAR, June pending home sales were up 0.3% over the previous month, which is the first increase since February of this year.
"The recovery has not taken place, but the housing recession is over," said Yun. "The presence of multiple offers implies that housing demand is not being satisfied due to lack of supply. Homebuilders are ramping up production and hiring workers."
A similar degree of cautious optimism is present regarding homeowner expenditures for remodeling. The most recent Leading Indicator of Remodeling Activity (LIRA), a quarterly assessment from the Joint Center for Housing Studies of Harvard University, which expects to see year-over-year expenditures for remodeling and renovations to see modest gains for 2023 but the rate of growth is expected to slow down from 16.3% in 2022 to 2.6% by the end of this year.
"Slowdowns in existing home sales, house price appreciation, and mortgage refinancing activity coupled with growing concerns for a broader economic recession will cool home remodeling activity this year," said Carlos Martín, project director of the Remodeling Futures Program at the Joint Center for Housing Studies of Harvard University. "Homeowners are likely to pull back on high-end discretionary projects and instead focus their spending on necessary replacements and smaller projects in the immediate future."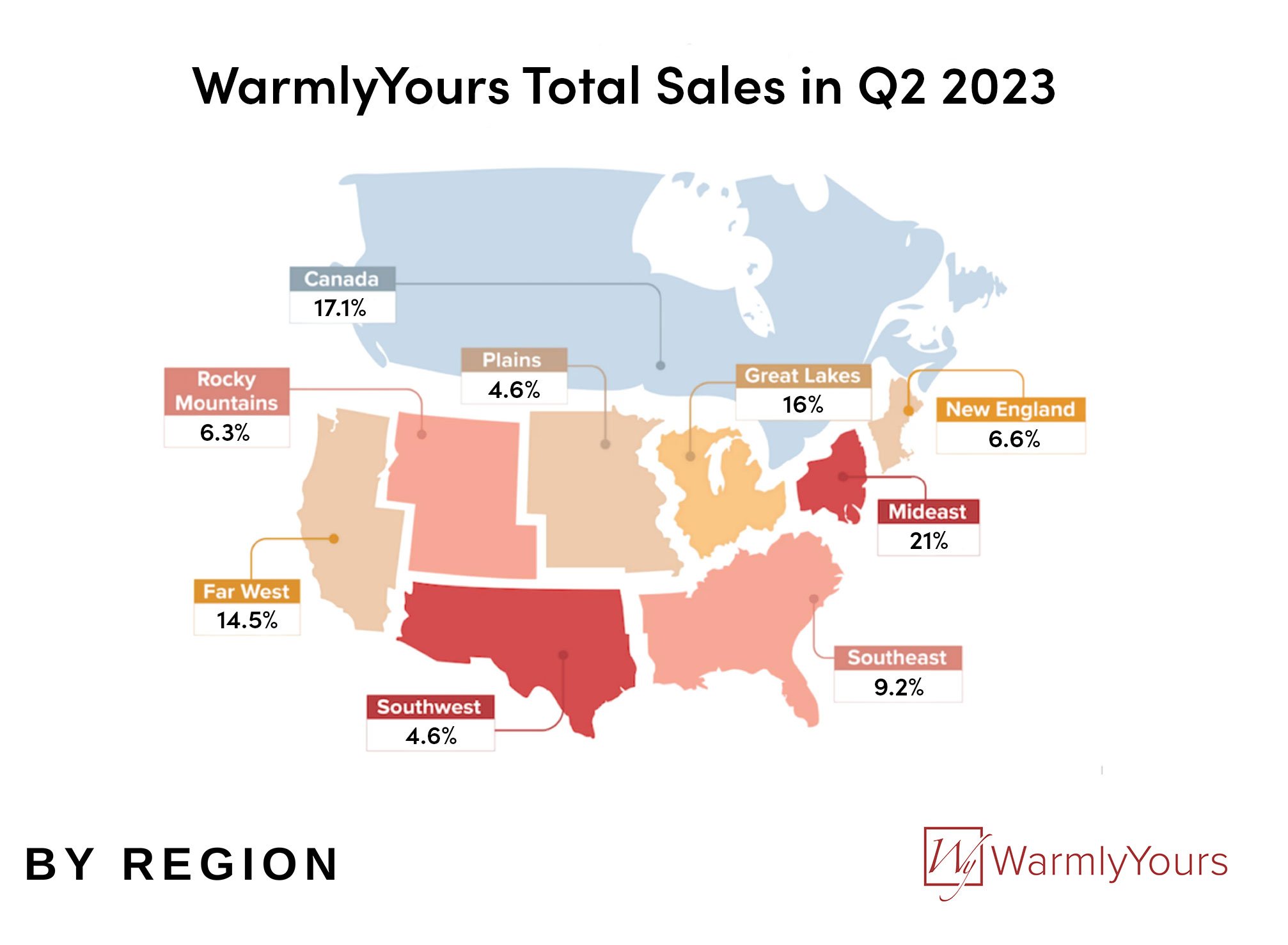 Despite this relative slowdown, the overall market size for home remodeling expenditures is expected to grow, said Abbe Will, associate project director of the Remodeling Futures Program.
"While the pace of expenditures is expected to slow substantially this year, we've raised our projection for the remodeling market size in 2023 by about $45 billion, or 10.2 percent, to $485 billion," said Will.
We, at WarmlyYours, expect to see continued growth for snow melting systems in Q3 (a historically strong quarter for sales of these products) along with an increase in sales of our TempZone floor heating products as we get closer to cooler temperatures in much of North America.
Additionally, our expansion into the European market will see a significant increase in overall towel warmer, roof and gutter deicing, and pipe freeze protection product sales.


Sources
---
Tell us About your Project
Our team of Radiant Experts is ready to help! Just tell us a little about yourself and your project to get started.
---
Did you find this post helpful?
Let us know by giving it some applause.
---
---