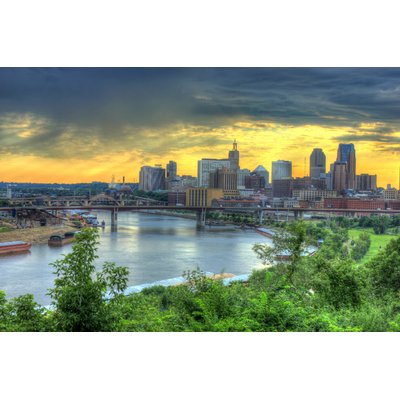 Saint Paul, the state capital of Minnesota, forms the "Twin Cities" with neighboring Minneapolis. The city lies mostly on the east bank of the Mississippi River in the area surrounding its point of confluence with the Minnesota River, and adjoins Minneapolis, the state's largest city.
Saint Paul winters are frigid and snowy. Due to its northerly location in the United States and lack of large bodies of water to moderate the air, Saint Paul is sometimes subjected to cold Arctic air masses, especially during late December, January, and February. The average annual temperature of 47.05 degrees Fahrenheit (8.36 degrees Celsius) gives the Minneapolis−Saint Paul metropolitan area the coldest annual mean temperature of any major metropolitan area in the continental U.S. The stress of dealing with those long, cold and snowy winters can be minimized by installing a snow melting system.
Driveway Heating Minimizes Wintry Conditions in Saint Paul
These St. Paul homeowners had heard some rave reviews about snow melting systems from both family and friends, so they decided to include one when they had to replace their driveway recently. They chose WarmlyYours snow melting mats to heat the 20 by 50-foot driveway area as outlined in the installation plan below: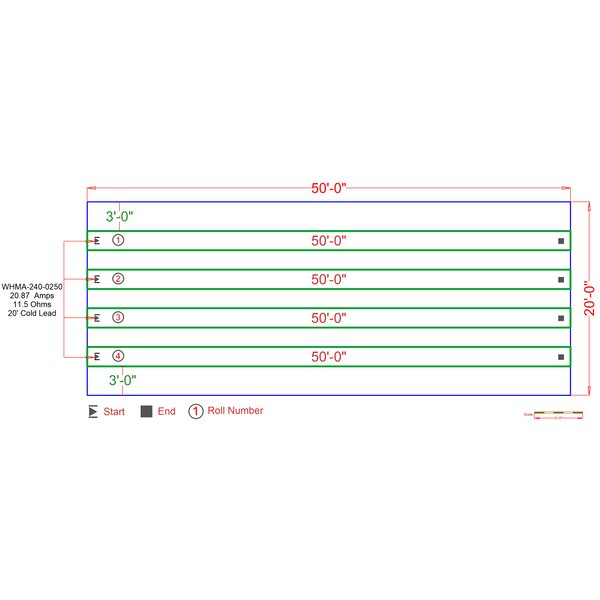 The cost was $3560.00 for the tire tracks snow melting mat option to heat 400 square feet of driveway equivalent to about $9.00 per square foot. The operating costs were very low at $2.36 per KWh based on the 11.81 cent KWh cost in St. Paul. To run the system for 6 hours (typical snow event time frame) it would only cost $14.16. Now they needed to choose a control from the broad collection of snow melting control options to operate the system. 
Choosing the Right Control for Your Driveway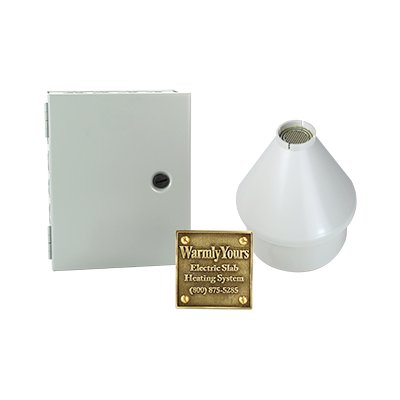 An advanced snow melt control that minimizes operating costs was chosen for this project.  It provides automatic operation including an adjustable hold-on timer to continue heater operation up to 8 hours after snow and ice accumulation stop to ensure complete melting.
WarmlyYours offers a variety of snow melting controls to satisfy any project and budget needs; from a manual option with a timer that will only activate when you turn it on/off, to an automatic option that will turn on when it senses snow is falling. To review all the available snow melting controls, click here. 
Instant Quote and Installation Plan are Free and Easy to Use
If you're wondering about the cost to add a heated driveway (or walkway, patio, landing) to your home you can find out quickly with the WarmlyYours Instant Quote tool. Simply enter some basic project information and the tool will provide a quote with the recommended products and their respective costs. Once you have your quote, we recommend that you get a free custom installation plan to insure a worry-free snow melting installation.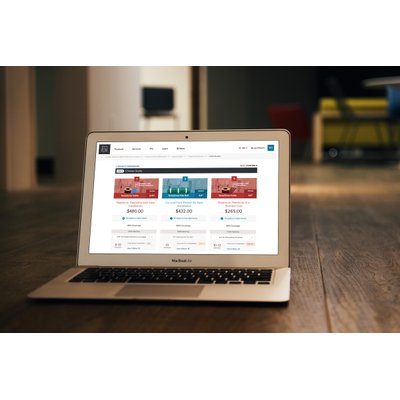 Every WarmlyYours SmartPlan™ includes an itemized product quote with the exact pricing for your project, an electrical plan that explains what you need to ensure optimal functionality of your system, and an installation plan with detailed information to make installing easier. To receive your custom installation plan, you can submit a floor plan online, contact a WarmlyYours sales representative at sales@warmlyyours.com or simply call 800-875-5285.
All WarmlyYours snow melting systems are backed by our unbeatable 10-year warranty. Plus, whenever you need assistance 24/7 you can call upon our technical support experts at 800-875-5285 for the answers to your installation questions. For more information on outdoor heating or any of our radiant heating solutions, visit us at www.WarmlyYours.com. 
Have you already installed a snow melting system under your walkway, driveway, or patio? Tell us about it by sharing your story on the WarmlyYours Facebook page or tweeting us @WarmlyYours.
Skyline photo via: https://www.goodfreephotos.com
---
Tell us About your Project
Our team of Radiant Experts is ready to help! Just tell us a little about yourself and your project to get started.
---
Did you find this post helpful?
Let us know by giving it some applause.
---
---