It's the second largest city in the United States, is known as the entertainment capital of the world and as one place on the planet where people come exclusively to dream and create. Yes, we're talking about the city of Los Angeles (LA)! The city's ethnic diversity adds richness to the society while its sprawling metropolis and urban architecture continue to attract tourists and visitors. Los Angeles is the place to be, because who minds living in a city that's also the center of the entertainment industry – with the majority of film and television production companies calling it home?
It comes as no surprise that Los Angeles spans a widely diverse geographic area. Lying in a large coastal basin, Los Angeles is surrounded on three sides by mountains reaching up to and over 10,000 feet (3,000 m). The median home value in Los Angeles is $470,000 and that's more than the national average. Although this doesn't come with a low cost, the upscale regions' residents enjoy valuable upgrades for comfort and luxury. Angelenos experience an average temperature of 45 degrees Fahrenheit during January, the coldest month of the year. With temperatures remaining moderate all year-round and typically dropping at night, in-floor radiant heating is an ideal upgrade for people are used to warmer temperatures and for people who like to stay fully pampered. By warming up bathroom and kitchen floors during the night and early mornings, electric floor heating becomes the best way to indulge with comfort.
Here's How Adding Radiant Heating Is The Ultimate Solution to Cold Kitchen Floors In Los Angeles:
In this new homeowner's case, adding radiant electric heat to a large Los Angeles kitchen was very affordable and a great way for the them to bring floor heating's welcoming warmth and comfort to their morning routine. To incorporate floor warming, this Los Angeles homeowner installed a 1.5-by 25-foot Environ™ Flex Roll under their laminate-floored, 88-square-foot kitchen for $356.00 at a cost of just $9.49 per square foot (see floor plan).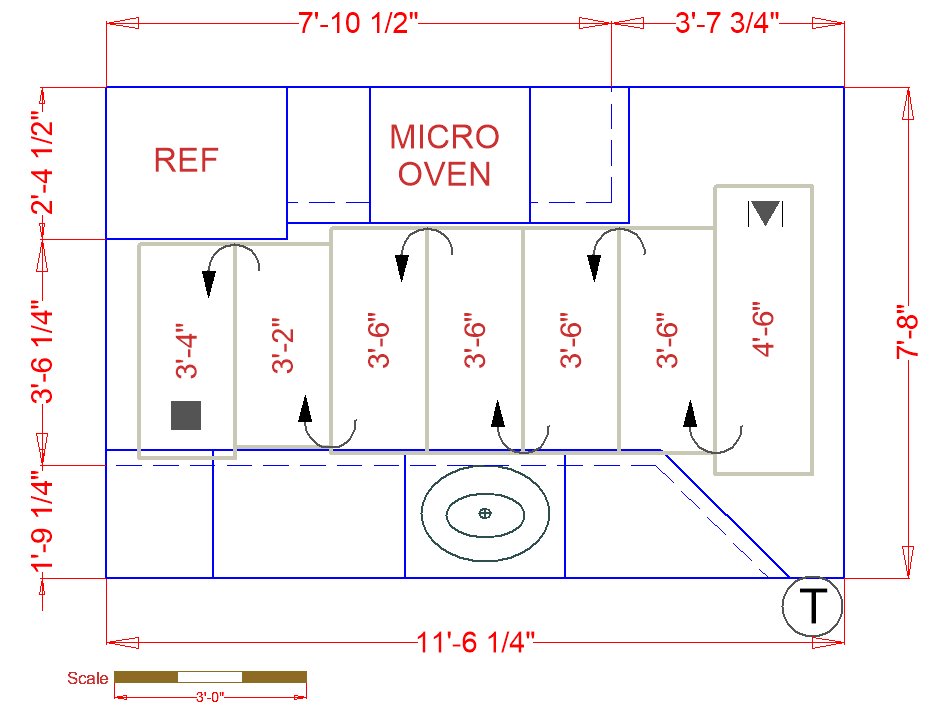 Now that you've learned the reasonable cost of materials, we figured you'd be interested in knowing the operating cost as well. WarmlyYours' Energy Use Calculator shows it only costs 25 cents per day to heat this kitchen for four hours a day and according to our Heat Loss Calculations, it only costs $4.96 to heat the kitchen during January, the coldest month of the year. Best of all, the annual operating cost for the heated floor is just $25.30 — a small price to pay for the comfort and luxury of a radiantly warm kitchen with soothing warm floors. An added benefit in this case is that radiant heating system can be the primary heat source for the room so there's no need for additional heating.
Don't Miss Out On Your Free Instant Quote For Your Kitchen!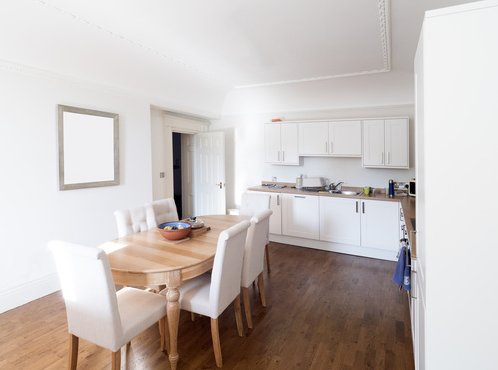 You can get an instant quote for your kitchen with our online Instant Quote tool. Simply enter your project information and you will receive the recommended products along with their cost. You can also obtain all the relevant information you need to get your project under way by getting a SmartPlan™ installation plan. To obtain a custom installation plan for your room, submit a floor plan online or send it to your account manager via email (sales@warmlyyours.com) or fax at (800) 408-1100.
Creating means living! If you are a DIYer and prefer installing the system yourself, we've got you covered too! We offer 24/7 installation support to guide you through each step of the process. Our technical experts are available day and night for your convenience at (800) 875-5285. WarmlyYours is there for you whenever you need us.
Articles you may be interested in:
Five Ways to Add Value to Kitchens and Bathrooms
Low Cost of Adding Radiant Heating to a Minneapolis Kitchen
Cost for Adding Radiant Heat to these Cold Toronto Kitchen Floors

Sources:
wikipedia.org
areavibes.com
---
Tell us About your Project
Our team of Radiant Experts is ready to help! Just tell us a little about yourself and your project to get started.
---
Did you find this post helpful?
Let us know by giving it some applause.
---
---