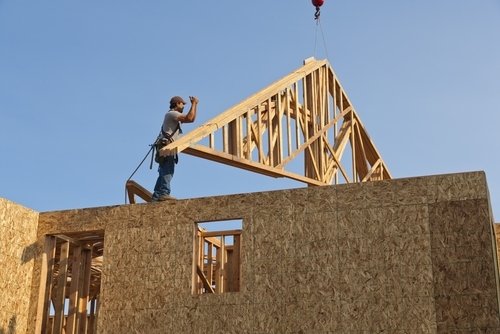 New government data reveals that the housing market is improving and may be set for a rebound in 2013. According to recent statistics released by the U.S. Census Bureau, construction on both single-family homes and apartments increased 12 percent in December, compared to November. The number of new permits requested marked a high that has not been reached in more than four years.
Additionally, new construction increased 28 percent in 2012, compared to 2011. In total, builders started work on more than 780,000 homes last year. Many say this data may indicate that the U.S. economy is finally on its way to recovery.
"We think the recovery is real this time," economist Scott Anderson recently told The Washington Post. "One of the bright spots in our forecast is the housing market. These are very strong numbers."
Experts predict the rebound in construction will continue throughout 2013, mostly due to factors including low mortgage rates, strong housing affordability, rising household formations and the fact that two-thirds of U.S. housing markets can now be considered improving. 
"Nearly every measure of housing market strength - sales, starts, prices, permits and builder confidence - has been trending upward in recent months and we expect to see gradual but steady growth along these lines in 2013," said David Crowe, chief economist for the National Association of Home Builders.
While builders continue to break ground on new homes, many heating experts say they should consider radiant heating to maximize comfort as well as provide a green alternative to traditional heating systems. These infloor heating options provide an even heat source that is not drafty or dusty, unlike some ventilated heating units.
Radiant heat is commonly added during home renovations, but is simplified when a home is being constructed. According to The Chicago Tribune, it is most commonly used in kitchens, bathrooms, mud rooms and garages. It works with any type of flooring system, but delivers superior results when installed under slate, tile or marble, as these materials offer great heat conduction. Those who prefer carpet should ensure they choose the right type of pad to avoid trapping the heat.
These heating systems are also popular in outdoor areas, especially in areas that experience extremely cold and snowy winters. Installation under a driveway or walkway can guarantee a safe, dry surface all year long. No more shoveling! 
Like this post? Subscribe for regular updates
Make sure you don't miss out on the latest news in radiant heating by subscribing to our blog. We'll send you an email with links to the newest posts from WarmlyYours.
We won't share your information and you can unsubscribe at any time with a single click.
---
Did you find this post helpful?
Let us know by giving it some applause.
---
---