Radiant heat has been around for centuries, but many people are still unfamiliar with it. While the ancient Romans were the first to use radiant floor heat, modern electric floor heating systems are much easier to install and operate. You may already know that radiant heat can serve as an energy-efficient, primary or supplemental heat source, but you may be unfamiliar with just how many different ways it can be used in your home.
From keeping the tile warm under your feet as you step out of the shower on a frosty morning to taking the chill off stone countertops as the family gathers in the kitchen to eat, visit, or do homework, radiant heat brings comfort to your home in more ways than you might imagine
And, the options don't stop at the front door. Snow melting systems for walkways and driveways and roof and gutter deicing systems add convenience and safety outdoors as well.
Take a tour of the range of heating solutions available throughout the home in our new infographic. "An Inside Look at Modern Home Heating Solutions" provides a room-by-room look at ideas that illustrate how radiant heat can add luxury, comfort and convenience to your home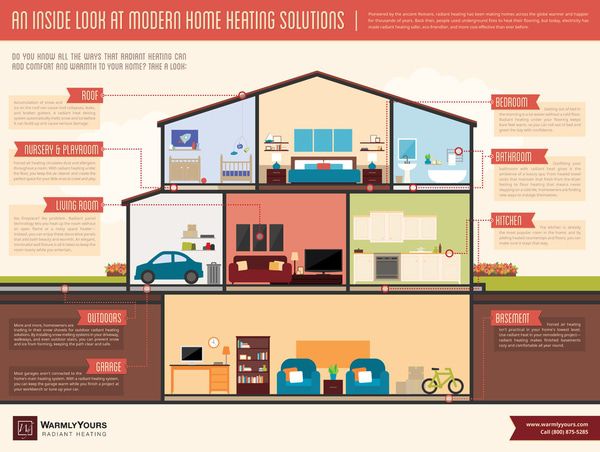 Click here to view larger image.
Call (800) 875-5285 or check out WarmlyYours.com to learn more about all the exciting radiant heating options available for your home!
Like this post? Subscribe for regular updates
Make sure you don't miss out on the latest news in radiant heating by subscribing to our blog. We'll send you an email with links to the newest posts from WarmlyYours.
We won't share your information and you can unsubscribe at any time with a single click.
---
Did you find this post helpful?
Let us know by giving it some applause.
---
---