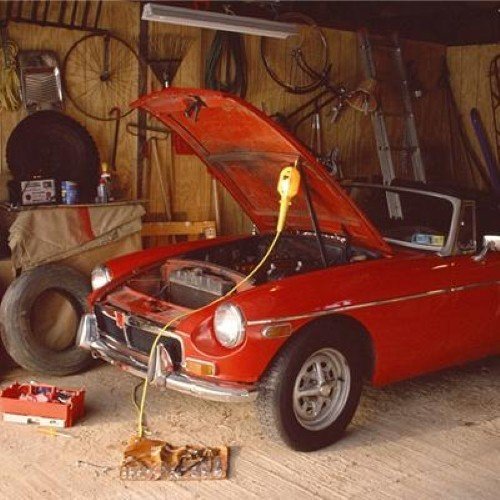 Just because it's winter doesn't mean that cars don't need to be service and appliances tinkered with. If you're the kind of gearhead or home mechanic who needs his or her garage at a comfortable temperature all year long, then you've probably considered ways to make your workshop space more inviting, especially during the cold months of the year.
The best way to stay warm in inclement weather may be through radiant heat. These energy-efficient systems can fit right under the concrete and radiate heat upward, using convection to keep the rest of the room at an easily moderated temperature. Since you won't want to be sweating through your labor, smart controls will be essential for regulating your warmth.
The first thing you'll want to do before installing radiant heat is insulate your space. Even if your garage has been drywalled as long as you've lived in your home, it may not have been properly insulated already. Check for signs of insulation, or drill a small hole through the drywall and check with a flashlight. Also don't forget to secure your garage doors against drafts, as they can be a major culprit of escaping heat.
Once your new radiant heat is installed, you may want to consider taking a few more steps toward a more comfortable garage. If you've got a three car garage housing only two automobiles, maybe you'll want to devote that extra corner to any handy hobbies you have, from furniture repair to woodworking. Now that your garage is heated, it's more an indoor environment than ever before. Even better, radiant heat doesn't rely on ventilation and dusty hot air, so your garage won't suffer from poor air quality or aggravate allergies or asthma.
And if you're particularly taken with radiant heat, consider a driveway snow melting system like the ones offered by WarmlyYours. These allow your pavement to radiate heat and melt accumulated snow and ice, saving you the labor of plowing or shoveling your driveway. Considering the number of general health but especially back-related injuries each winter due to snow shoveling, it's not a bad idea to let the pavement itself to the work for you. More time to tinker with the car!
---
Tell us About your Project
Our team of Radiant Experts is ready to help! Just tell us a little about yourself and your project to get started.
---
Did you find this post helpful?
Let us know by giving it some applause.
---
---