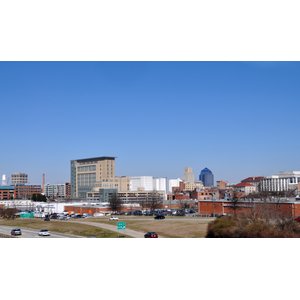 Durham is the 4th most populous city in North Carolina and the county seat of Durham County. The Eno River, a tributary of the Neuse River, passes through the northern part of Durham, along with several other small creeks. The center or heart of Durham is on a ridge that forms the divide between the Neuse River watershed, that flows east to Pamlico Sound, and the Cape Fear River watershed, that flows south to the Atlantic near Wilmington. 
Durham is classified as a humid subtropical climate with cool winters. The region sees an average of 6.8 inches of snow annually which usually melts within days. Regardless of the severity of winter in any locale, certain flooring types are very cold underfoot. For instance, tile, marble or concrete floors can be uncomfortable no matter the season. When installing a new floor in any room, adding floor heating will warm those cold surfaces with healthy radiant heat. 
Electric Radiant Heating = Cozy Concrete Kitchen Floors
Recently these Durham homeowners decided on an addition to their home that would encompass a new kitchen. Since they were undertaking this new construction, it made sense to include underfloor heating in the project to bring their home up to date and appeal to potential homebuyers. Floor heating has frequently been cited as one of the top amenities homeowners wished they had included when installing a new floor. Not only will these homeowners be able to showcase their home with their new contemporary kitchen, but the added feature of a warm floor should help seal the deal.

After carefully considering their options, they purchased a WarmlyYours slab heating cable system to add warmth beneath their stamped concrete flooring. The slab heating cable was configured to cover approximately 101 square feet of floor space costing a total of $800.00, which amounts to just under $8.00 per square foot. The cable floor heating option also allowed the installer flexibility to effectively fill the floor space with warm radiant heat. (see floor plan)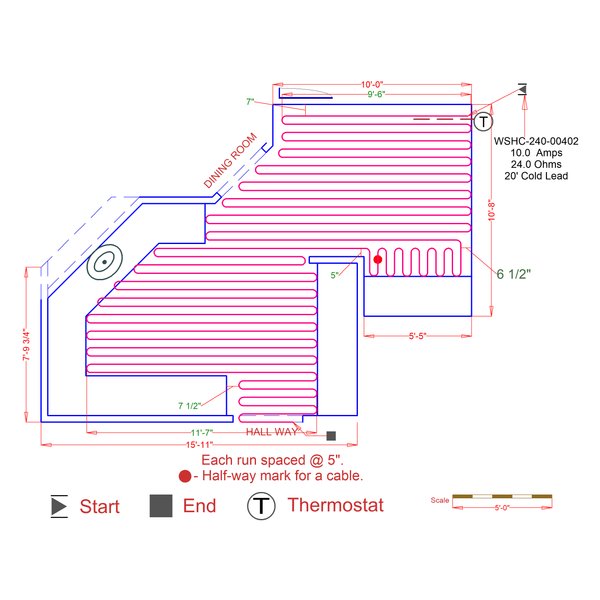 In addition to the low cost of the materials, the operating cost should also be evaluated. According to WarmlyYours' Operating Cost Calculator, which factors in the average kWh cost in Durham, it only costs 26 cents an hour to run the system. Using WarmlyYours' Heat Loss Calculator, heating this room during the coldest month of the year would cost only $28.66, a small price to pay for the additional luxury it brings to one of the most used rooms in the home. 
Choosing a Floor Heating Control is Easy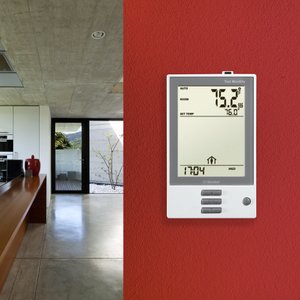 Selecting the right control to complement your floor heating is simple too as WarmlyYours nSpiration Series of thermostats has something for everyone. The nHance Programmable thermostat is a popular choice, because its intuitive user interface allows you to quickly set up your schedule according to your needs. The large backlit display can be read in low light and the price is right. This programmable thermostat will deliver a maximum level of comfort when you need it most, like during your morning routine, while keeping your overall energy use to a minimum. Along with the nHance thermostat there are several controls to suit a wide variety of requirements. 
If you aren't sure which thermostat would work best for your room, just call us at (800) 875-5285 and we'll be glad to evaluate your situation and advise the best solution to meet your needs. Even cold floors in warm climates need warming up and heated floors can make your day to day living much more comfortable. 
Free Quote and Install Plan Get Your Project Off to a Quick Start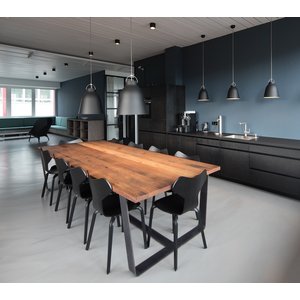 To find out how much it would cost to install electric floor heating in your kitchen or any room in your home, visit www.warmlyyours.com and check out the Instant Quote tool. After entering some preliminary information about your project, the tool will provide a quote that shows the recommended products along with each cost.
Once you have your quote, we also suggest that you get a free custom installation plan. This plan will detail how the product should be installed, including an electrical plan for your room. To get a custom installation plan, you can submit a floor plan online or contact a WarmlyYours sales representative at sales@warmlyyours.com or 800-875-5285.
If you have any questions once you begin to install your radiant heating system, you can feel free to contact our technical support team at 800-875-5285. Our team is available 24/7 to help you with any installation questions you may have whenever you need assistance. To explore the wide range of radiant heating solutions available, please visit us at www.WarmlyYours.com.
Skyline photo credit:
By James Willamor - Own work, CC BY-SA 3.0, https://commons.wikimedia.org/w/index.php?curid=31388014
---
Tell us About your Project
Our team of Radiant Experts is ready to help! Just tell us a little about yourself and your project to get started.
---
Did you find this post helpful?
Let us know by giving it some applause.
---
---