Situated where the Hudson River meets the Atlantic Ocean, lie New York City's five boroughs. Manhattan is at the heart of these, a densely-populated borough that's among the world's major commercial, financial and cultural centers. Well known Manhattan landmarks include skyscrapers such as the Empire State and Chrysler Buildings, along with Times Square and sprawling Central Park.
Although the city offers many cultural advantages, the winters can be a challenge. Based on data from currentresults.com, temperatures that drop below freezing are common in New York throughout winter. NYC has a few nights a year when the thermometer sinks to 10 degrees Fahrenheit or lower usually in January and February. For an average of 18 days a year, the city's highest temperature doesn't get above freezing. And that winter chill can extend to your home with uncomfortable cold surfaces. There's a simple solution to help you combat the chill of cold flooring in your home with the addition of radiant floor heating.
Adding Radiant Floor Heating to a Big Apple Bathroom Remodel is Easy
When these NYC homeowners chose to upgrade their bathroom with luxurious new flooring they knew it was important to include underfloor heating in the remodeling project to modernize their home and appeal to potential homebuyers should they decide to sell. As a result, they will be able to enjoy the benefits of their newly remodeled warm bathroom with the knowledge that it will also help boost their home's resale value. 
They chose WarmlyYours's TempZone cable system for its affordable price and ease of installation flexibility. The cable is installed with 3" spacing of cable strips that provide 83% coverage and deliver nearly 15 watts per sq. ft. of warmth. Just $225.00 brought the affordable warmth and comfort of heated floors to 36 sq. ft. of space. (see floorplan below).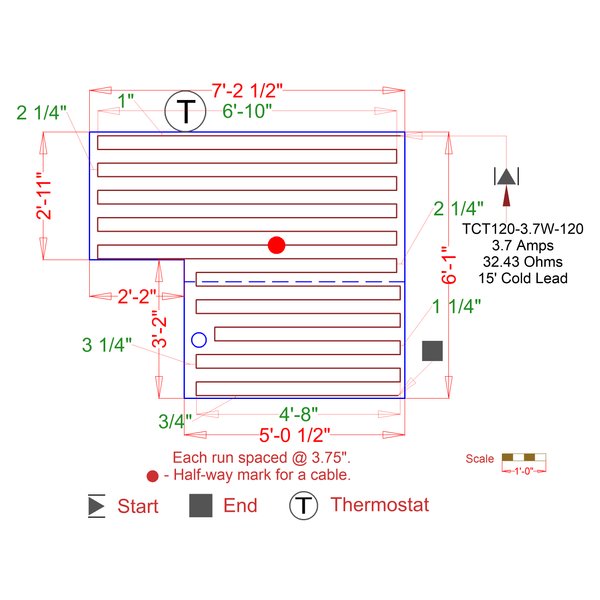 In addition to the material cost, it's also a good idea to evaluate the operating cost when preparing the budget for your project. WarmlyYours's Operating Cost Calculator factors in the average kWh cost in NYC of just under 19 cents resulting in a hourly operating cost of only 6 cents to heat this bathroom, a very reasonable price to pay for the comfort of a soothing warm bathroom floor. An added benefit is that it costs just under $26.00 to heat the bathroom during the coldest month of the year, based on WarmlyYours's heat loss calculations. Another bonus is that radiant heat can be the primary heat source, so you save even more.

Find Out if Radiant Heat Can be the Primary Heat Source for Your Room
WarmlyYours's Heat Loss Calculator will ask about your desired room temperature, how well your room is sealed, and other details to see how much heat is being lost. After some quick calculations, you'll find out if underfloor heat can be your primary heat source.

Based on WarmlyYours's Heat Loss Calculator, a floor-heating system can be the primary heat source for this NYC bathroom so no additional heating will be necessary which is a considerable cost and energy savings. Find out for yourself whether radiant heat can be your room's primary heat source by checking out WarmlyYours' Heat Loss Calculator.
Project Planning Made Simple with Online Tools
Getting the cost to add in-floor heating to any room in your home is easy with WarmlyYours's Instant Quote Tool. Simply fill in some information about your project, the tool will provide a side-by-side comparison of the recommended products for your room with the cost of each.
You can also upload a floor plan of your room to get a custom installation plan. This gives you more in-depth detail than an instant quote because it shows exactly how the floor-heating system should be laid out including the electrical plan. This custom plan makes installation easier by helping our expert technical staff guide you through the complete installation process. 
Questions? There are a few easy ways for you to reach us. 1) Simply call us at 800-875-5285, 2) live chat us at www.warmlyyours.com, or 3) email us sales@warmlyyours.com.

Lastly, but most importantly, when you are ready to install your product, our 24/7 technical support experts will be available to guide you every step of the way, whenever you need assistance. For more information, visit us at www.warmlyyours.com.  When it comes to warming spaces, WarmlyYours has your radiant solution.

Skyline image: Fotolia
---
Tell us About your Project
Our team of Radiant Experts is ready to help! Just tell us a little about yourself and your project to get started.
---
Did you find this post helpful?
Let us know by giving it some applause.
---
---