WarmlyYours has always believed that once someone experienced the luxury and comfort provided by our products, they would become lifetime advocates for radiant heating. That's part of why we developed our "Share Your Story" program in the first place—to provide a space for customers to share their experiences. And that certainly seems to be the case for our customer, David from New Jersey, who submitted his first "Share Your Story" last year. David has won his second "Share Your Story" prize (and, as you'll see later, he has plans to submit a third). 
 
And here's his most recent submission (he also submitted the with photos that are featured in this blog): 

Our basement always had a heat source, but the way the forced air system was initially installed, it didn't really push the proper amount of heat needed to our basement room. It was always cold, and several layers were needed in the winter months! We decided to remodel it, and use heated floors! The room needed an overhaul, and the heated floors would be a great way to keep the area warm in the winter months! Installation was simple, and tech support was on point! We installed the system in May, so we haven't turned it on yet, besides just to do a basic diagnostic check. We can't wait to have guests over in our basement room, so they can enjoy the toasty floors on a cold winter day!
 
-       David
 
To gain more information about David's project, WarmlyYours followed up with a few questions:
 
 
Can you tell us a little more about how you use the basement (is it a hangout spot) and why it was important to incorporate radiant heating in the remodel? 
 
The basement is an extra room in our house that is only accessible by going outside, down a set of steps and then into a separate door. We use it as a place that guests can stay in. It's fine for short stays, but ideal for long stays, as they have their own entrance and bathroom. This keeps people (e.g. my parents) from being all up in my business!  ;). The room has forced air, but for some reason, this room gets very little effect from it compared to the rest of the house. So, we needed another solution and [floor heating] was it.
 
 
While you haven't used this system yet this year, can you tell us a little bit about how you've enjoyed your other experiences with radiant heating? 
 
We love the system in our master bedroom. The vaulted ceilings take a bit of the forced air, so the warm floors help balance that out. Waking up in the middle of the night to use the bathroom, especially in the winter, becomes 10x easier with toasty feet :)
 
 
Did you do this installation yourself? If so, how did this installation differ from your previous floor heating project that used Environ Flex Rolls (the silver foil heating rolls)? 
 
I did this installation with a friend who is a great tiler, as I am not a very good tiler.  But all of the electric and other portions I did, same as last job. [This project] was much different than the [previous one], but that was a much easier project because the floors were snap-ins!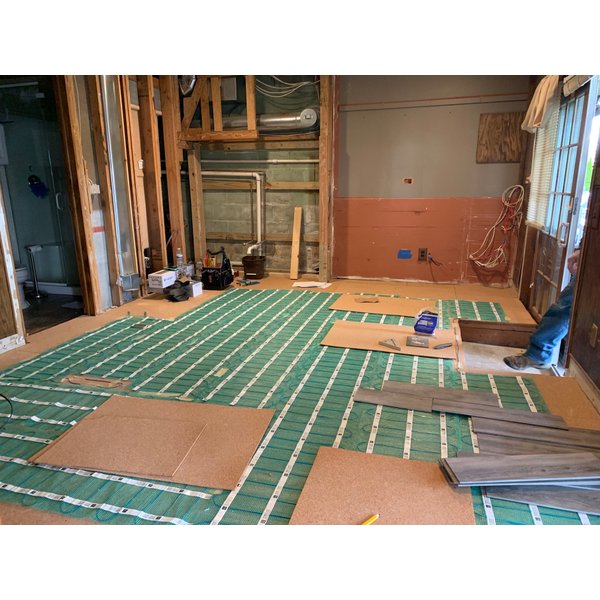 Did you feel that you learned anything new or surprising from this project? If so, what was it? 
 
My friend, who helped me tile, learned how to maneuver the tiles with the heated coils on top. It can be a little tricky at first, but he got into a groove and learned little tricks as he went on. Unfortunately, he never shared them with me!
 
 
Did you call in to our technical support team during installation and if so, how was that experience? 
 
The tech support before and after the installation was perfect, as always.
 However, during the installation, I don't think I had any issues.  Your staff helped prepare me for what to expect!
 
Anything else you'd like to add?
 
I am currently doing another project with your heated floors. I will be sure to submit another story.  Ben Kane (a WarmlyYours customer service representative) is my go to guy, and I feel after a few go arounds we are more than business acquaintances. I know a little bit about him as a person, and his family. In fact, he offered some great advice to me when I went to Chicago with my wife!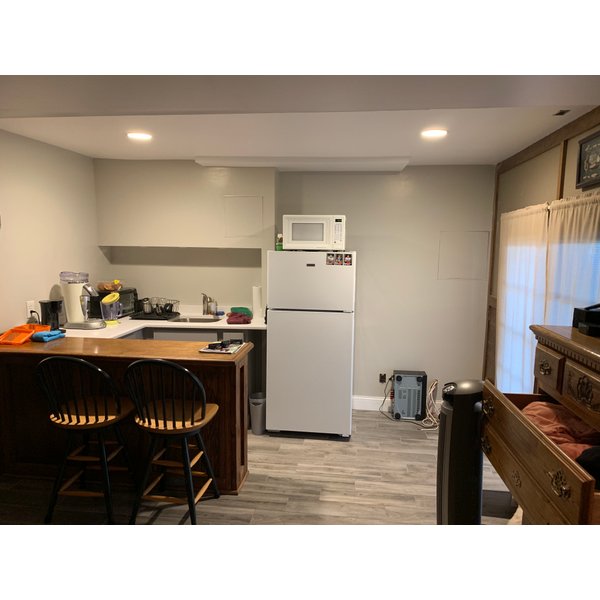 Are you considering incorporating a floor heating system in your next remodel? To find out what system suits your flooring type and how much it costs, be sure to check out the free and easy Radiant Floor Heating Quote Builder.
 
Already have experience with a WarmlyYours floor-heating system? We'd love to hear your story! Click here for details on how to share your story and get entered for a chance to win $100!
---
Tell us About your Project
Our team of Radiant Experts is ready to help! Just tell us a little about yourself and your project to get started.
---
Did you find this post helpful?
Let us know by giving it some applause.
---
---