We developed our Share Your Story program so that our customers would have a venue to communicate their experiences with each other. We've been very fortunate to have several different customers share their stories but this is the first time we've had someone share not just one or two stories, but three!
David and Jess from New Jersey had previously shared with us a master bedroom project which was followed by a basement remodel. Now they've shared their most recent project, a mudroom renovation.
Here's the original submission that David and Jess sent along (including all of the photos in this blog):
"Nesting" is a fact of life for most pregnant women, but apparently "male nesting" is also real thing. Dave and I are expecting our first child in December, and dad-to-be needed to get one more WarmlyYours project out of the way this fall before our bundle of joy arrives. (His third one!) Sadly, it's not the baby's nursery that will be featuring radiant heated floors, but rather the laundry/pantry room. Priorities.
Originally a mudroom closed off from our kitchen by a heavy duty exterior door, the room was home to my cats' litter box (we added a pet door) and an extra refrigerator when I moved in with Dave in 2015. A year or two later when we converted our laundry room into a half bath, we moved our washer and dryer into the mudroom as well. Since the mudroom was poorly insulated and not truly connected to the forced air heating system of the house, it was always a challenge during the New Jersey winters to keep that room warm enough so as not to destroy our appliances. For a time we tried running an electric heater in there during the winter months, but we ultimately settled on keeping the door between the mudroom and kitchen open at all times, which not only sucked a lot of the heat out of our kitchen, but also tempted our new pup, Winnie, with the cats' litter box. We trained Winnie not to go into the laundry room, and eventually both cats passed away, but the heating issue remained.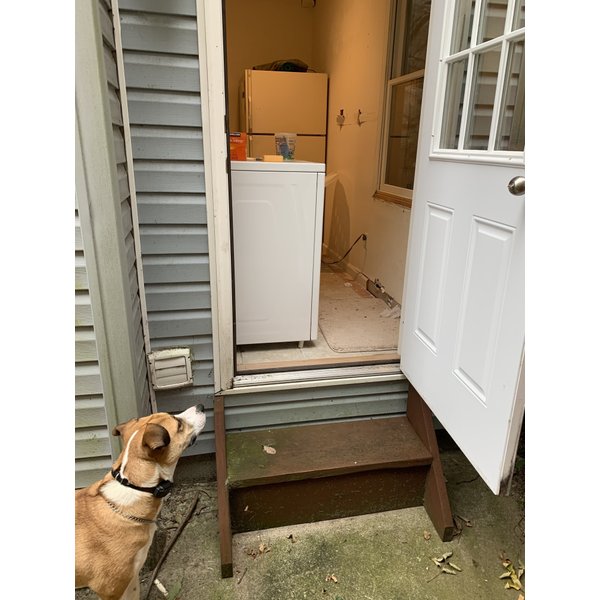 So there we were, mere months from bringing a tiny human into this world, and now it was time to address the mudroom fiasco. Being a radiant floor expert at this point, Dave convinced me it would take no more than 10 days to fully renovate the 11ft x 5ft room (or, from my perspective, 10 days without the ability to do laundry). With a fairly quick turnaround and the promise of adding in some pantry functionality, I was on board with the remodel. Since our mudroom is an addition to the house with nothing but ground underneath, I remember Dave was super excited about the high quality underlayment the Warmly Yours sales rep hooked him up with. Dave removed the bulky door, ran the electric and installed the underlayment/heating rolls by himself, but hired some help to install the large format tiles. The entire project was finished within 9 days.
The new mudroom is much more accessible and functional now, which will be a big help once we have a newborn on our hands. And now that colder temps are upon us, we've got the system set up on a regular schedule, and it's always a treat stepping onto the toasty floors to do laundry or grab something from the pantry. We even let Winnie try it out – and she approves!
After the initial submission, we did a brief Q&A with the couple:
1. In the submission, it was mentioned that David was excited about the insulating CeraZorb underlayment. What is it about CeraZorb that led to it being selected for the project?
This room had no basement below, just a small crawl space...maybe a foot deep. So, I knew it was going to get colder there than most other spots. Also, this room has zero heat other than the flooring I was installing. So, I wanted to get every bit out of the heated floor that I could, and I knew that the CeraZorb was the best way to accomplish that!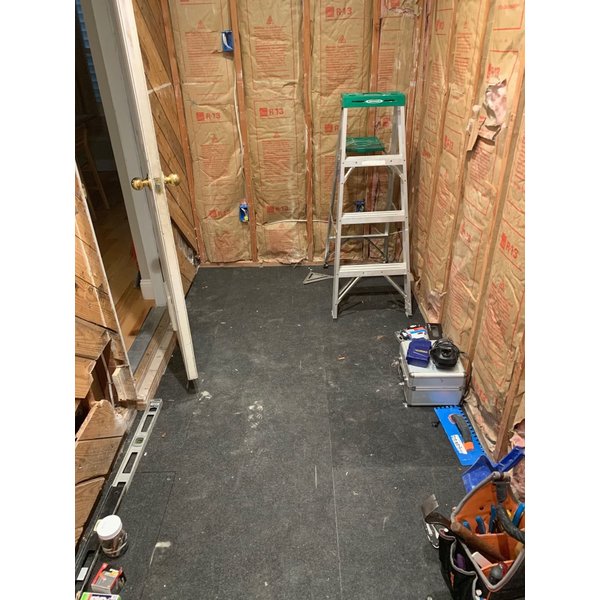 2. How has the installation process changed for you now that this is your third project? Did you learn anything new or surprising?
I did learn that to keep the mats down, staples are the way to go, 100%! I tried glue and tape in the past, and they all kinda sorta work, but staples are by far the best way to keep the mats in place during installations. Won't do it any other way ever again, and would highly recommend that anyone installing over a floor where staples will work to use them!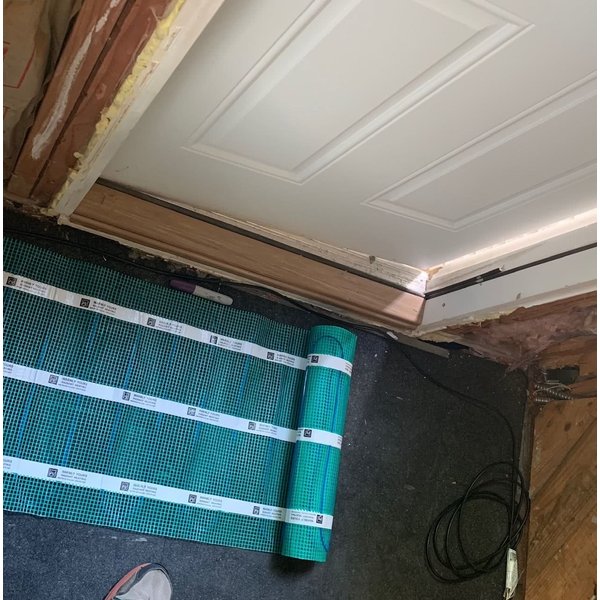 3. Have you had a chance to use the system (or any of your radiant heating systems) so far this year?
Yes!!! OMG it's so nice.  At times when I am in the kitchen, I will purposely walk into our laundry room just to get that toasty feeling.
4. What has motivated you guys to have 3 separate radiant heating systems installed?

We like the heated floors for the obvious reasons, but a couple of the rooms didn't get the heat as well as others, and this room had no heat at all.  So this was one motivator.  Another is for resale value.  We may buy another house in the near future, and may want to sell or rent this one out.  Having heated floors is a nice selling point!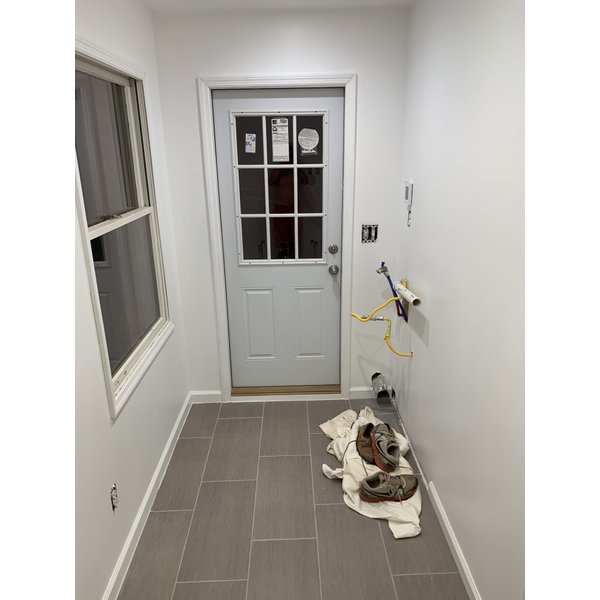 5. Anything that you'd like to add?
The customer service was spot on as usual. My buddy, Ben Kane, helped me along every step.  This room was tight, and since it was a laundry room/pantry, it had some big appliances.  So, I had a lot of questions about running the mat too close to these appliances, and Ben was always there to answer those questions.  Also, since the room was an add-on to the original house, the interior wall I was going to run all the wiring in, used to be an exterior wall!  This caused me to rework the wiring setup in a way that's not typical, which made me question how I was going about my installation. But after showing Ben my setup, he said it was a "textbook installation".  This gave me a warm and fuzzy feeling that once I was done, I was going to have warm and fuzzy feet!  In the end, Ben is my go-to guy. He knows the business inside and out, from sales, setup and technical support! 
Are you considering incorporating a floor heating system in your next remodel? To find out what system suits your flooring type and how much it costs, be sure to check out the free and easy Radiant Floor Heating Quote Builder.
Already have experience with a WarmlyYours floor-heating system? We'd love to hear your story! Click here for details on how to share your story and get entered for a chance to win $100!
---
Tell us About your Project
Our team of Radiant Experts is ready to help! Just tell us a little about yourself and your project to get started.
---
Did you find this post helpful?
Let us know by giving it some applause.
---
---