Are you interested in renovating your kitchen but have no idea where to start? The process of remodeling any room can seem overwhelming, particularly for an area like the kitchen. After all, your kitchen is the heart of your home and you will be using it almost every single day. This is why it's a good idea to take the time to throughly research all of the options you have available before you jump into renovating. To get started, let's take a step back and look at the main elements that will impact a traditional kitchen's overall look: the cabinets, the countertops, and the floor. 
Cabinets - Styles and Finishes 
When selecting cabinets for your home, the challenge is making sure to select a style that not only matches your overall design theme, but also one that will be functional in daily use. While there are many different types of cabinets available, they can be separated into two main categories: modern frameless cabinets and traditional framed cabinets.  
The frameless cabinet, which is catered to a modern style, creates a very fashionable and minimalist interior which is often used in luxury buildings in cities like New York. For frameless cabinets, the finish you select takes on an added significance because the doors and drawer fronts will be the only visible components of the cabinets. There are several finishes that can be applied but some of the most common options are high gloss or matte versions of white, slate, or ebony colors. A gloss finish has the added benefit of creating the illusion of an illuminated kitchen interior, whereas a matte finish will show less wear.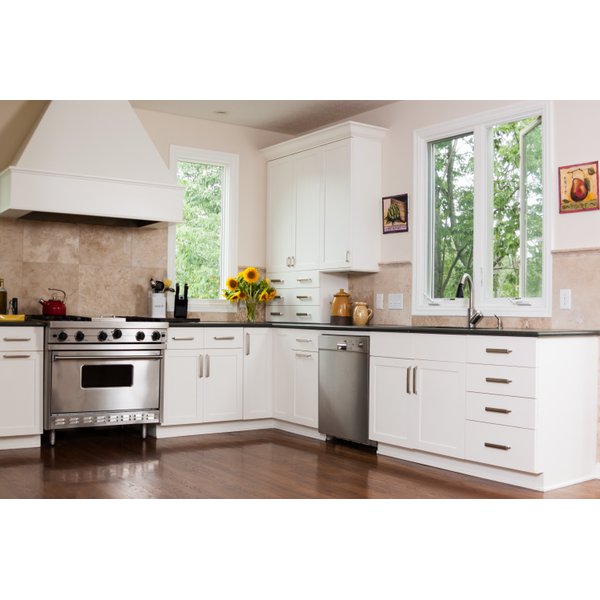 Framed cabinets offer a traditional alternative to frameless ones. Essentially, a framed cabinet will have a small portion of a front frame visible around the doors and drawer fronts. A wide variety of different colors and finishes are also available for framed cabinets but our recommendation is to stick with lighter colors with a medium or matte finish. Ivory colored cabinets often look great with a nice framework all around the drawers and doors. 
One of the most important things to keep in mind when selecting cabinets for your project is that these cabinets will need to be both attractive and functional storage places. When selecting pre-built cabinets, make sure to get models with predrilled peg-holes that will allow you to customize the height, location, and number of the shelves within the cabinets. Another tip is that each corner cabinet (upper and lower) should have a rotating  "Lazy Susan" installed in them. This small detail can greatly increase the amount of space that is actually usable in these large cabinets.
Solid Surface Countertops
Countertops are a huge element in kitchen design and, accordingly, there are many choices for you to choose from when remodeling. Some of the most popular options include marble, granite, quartz, quartzite, slate, gemstone, and onyx.
Granite is one of the best options for countertop material because it is very hard and is a natural stone. The great thing about granite countertops is that there are many different colors and patterns because of the way it's formed. It is created when molten materials within the earth cool and solidify. This is why it's nearly impossible to find two pieces of granite countertop with the same design patterns. The unique patterns allow the homeowner a degree of personal expression through the selection of their countertop. However, one of the primary problems with using granite is its weight. Also, because granite is extremely hard, it is also relatively brittle and there is always a possibility that it will break while carrying into the house to install. If this happens, you will not be able to find another countertop like the previous one. Another concern is that you have to be careful of staining the countertop if spilled liquids are left sitting on the surface.
Countertops made of quartz differ from granite in many ways and are a popular alternative. Quartz countertops have become one of the most common types of countertop to buy these days due to their appearance. Quartz can have the same look of stone without visually overpowering the other elements in the room. Additionally, quartz countertops are typically more affordable and environmentally friendly than granite ones. Quartz is also much easier to clean than granite; you can remove any spills easily with soap and water. Another great thing about quartz countertops is its durability, which is due to quartz being less fragile than granite because it is less porous. The downside of quartz is that it can be easily damaged from too much heat, like from long exposure to an extremely hot pan. Another difference is that the texture of a quartz countertop typically has a more matte (and less glossy) finish than granite ones. 
But no matter which natural stone countertop type you choose, you should consider heating it with a countertop heater. This gentle heating system will help take the chill off of these luxuriant surfaces so that they feel as good as they look. 
Selecting Flooring Options
Finally, one of the hardest parts in designing kitchens is picking from the many types of flooring. When you're picking a floor covering, you'll want to keep in mind the square footage of your home, as this will impact your total costs. For kitchens, a homeowner will typically end up choosing between a wood floor or porcelain tiles, although Luxury Vinyl Tile/Plank is growing in popularity. In most situations, designers tend to choose tiles, which can even include textured wood-like options, because they are relatively easy to maintain (which is important for a kitchen) and they provide a lot of design options.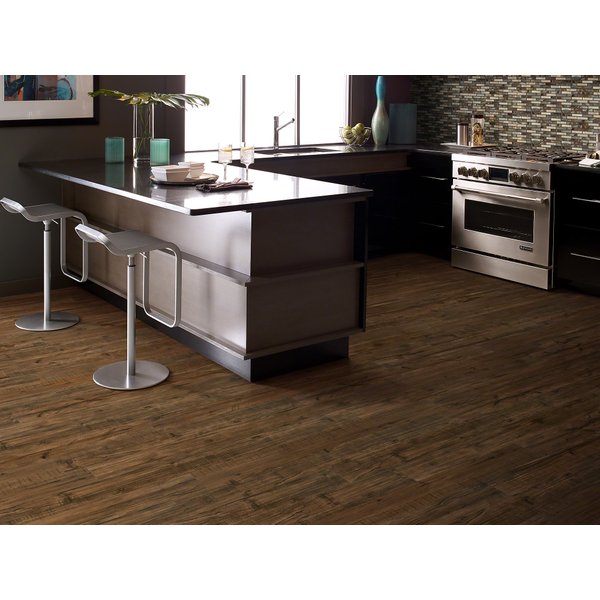 While less popular, wood floors are an effective alternative to tile for kitchen installations. If homeowners do select to go with a wood product, many of them will go with an engineered wood such as a laminate when designing or renovating a home instead of solid hardwood. It is a cheaper material and easier to work with at the job site. The downside of having laminate floors compared to hardwood is that they are relatively easy to damage and you can't typically re-stain them. 
No matter what flooring material you use for your renovation, WarmlyYours has a floor heating system that can provide energy efficient heat to the room. Find out how much a system would cost for your project by using our Radiant Floor Heating Quote Builder! 
---
Tell us About your Project
Our team of Radiant Experts is ready to help! Just tell us a little about yourself and your project to get started.
---
Did you find this post helpful?
Let us know by giving it some applause.
---
---