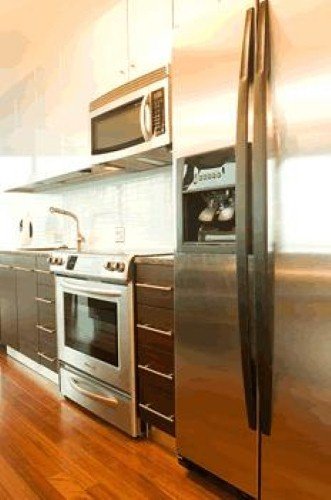 If you've recently embarked upon a kitchen remodeling project, you may have chosen to opt for hardwood flooring outfitted with radiant heating to help cut your energy costs and provide comfort underfoot. However, while wood floors have an impressive lifespan, they are not exactly the most durable floor covering and can be susceptible to damage from scuffs and scratches, moisture and the wearing of the wood's finish. Thankfully, Consumer Reports has a few ways that you can prolong the time period between each refinishing and help your hardwood floors look great for years to come.
1. Area rugs. Placing a few area rugs in front of high-risk areas in your kitchen is a great way to maintain your floor's attractiveness. For instance, placing a rug in front of your kitchen and your stove can help protect the floor from any splatter, which can leave unsightly watermarks if left unchecked. This is also an area that receives heavy foot traffic, so it's best to put rugs down to minimize regular wear and tear.
2. Felt furniture protectors. If you have an island in your kitchen, chances are you have a few stools to go along with it. These stools will be constantly shifting back and forth when they're in use, so adding a few felt furniture protectors is the best choice to protect your floors. These products have an adhesive backing that will keep them attached for the foreseeable future, and it may actually help the stools slide much more easily. Lastly, when you're moving furniture, always be sure to lift it up instead of sliding it across the floor to prevent any form of damage.
3.Daily sweeping. Small bits of sand, dirt and grime can do irreparable damage to your hardwood floors if you're not careful, so you should make a few changes to your regimen, recommends PioneerThinking.com. First, you should enforce a no-shoes policy in the kitchen, to prevent dirt from being tracked in and shoes scuffing up your floors. Additionally, you should get in the habit of sweeping your floors daily or giving them a quick mop with a wood-cleaning solution. This will help to protect your investment for the long haul and help maintain the beautiful shine that makes it a focal point in your kitchen.
---
Tell us About your Project
Our team of Radiant Experts is ready to help! Just tell us a little about yourself and your project to get started.
---
Did you find this post helpful?
Let us know by giving it some applause.
---
---