FOR IMMEDIATE RELEASE 
LAKE ZURICH, Ill., Aug. 15, 2017 — WarmlyYours Radiant Heating has recently expanded its product portfolio to now include a line of hardwired LED mirrors.
WarmlyYours, a company that specializes in radiant heating products like floor heating and snow melting systems, has added the Marquee Series of LED Mirrors to an already extensive offering of electric furnishings that emphasize both form and function, such as towel warmers and infrared radiant heating panels. The Marquee Series features four unique models, each named after famous actresses from Hollywood's Golden Era.
"At WarmlyYours, we care about the customer's experience. We don't just sell floor heating; we sell comfort and luxury. With the Marquee Series, we're not just selling mirrors, we're selling the experience of seeing glamour and elegance in your reflection," said Julia Billen, the president and owner of WarmlyYours.
The models from the Marquee Series of LED Mirrors differ in their shape and the orientation of the lights, which shine through frosted glass. The Marilyn is a circular model with a 2" inner-frame of lights. The Audrey is rectangular with a 1.5" interior lighted frame. The rectangular Grace features a 3" lighted perimeter frame. The Ingrid is also rectangular and features two vertical lighted bars. Despite these differences, the models in the Marquee Series share many commonalities.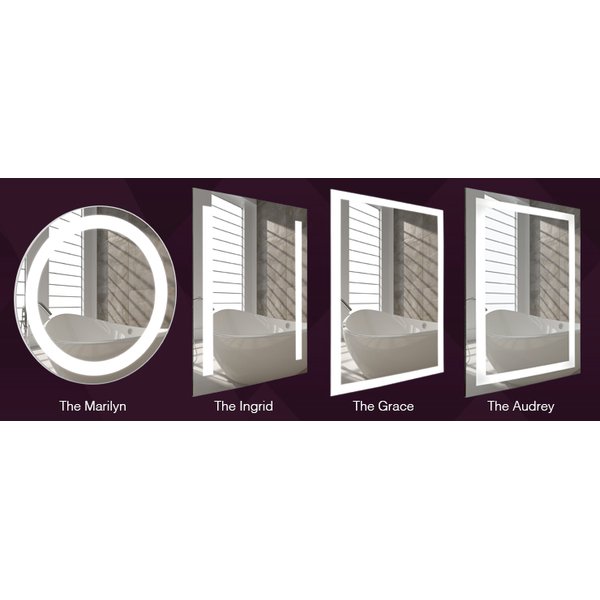 The LED Bulbs used in each model has a projected lifetime of 50,000 hours and the color temperature of the light they emit (5,000 K) is the same as daylight, which means the light has a rich, natural hue. Additionally, each of the models comes with a stainless-steel backing and easy-to-install hanging system that features invisible, waterproofing rubber trim, which makes these mirrors perfect for the bathroom. The hardwired installation required for these models ensures that there will be no visible wires or plugs.
WarmlyYours, with nearly 20 years of floor heating experience, has always felt a close association with remodeling and remodelers, said Billen.
"Most of our customers are in some stage of a remodel," she said. "We want to be able to provide these customers with everything they need to make sure their remodel is special and unique. The Marquee Series will help to do just that. Imagine stepping into a newly renovated bathroom that radiates heat from the floor and light from the mirror. That's an experience that we knew we had to be able to offer to our customers."
###
For more information, visit www.WarmlyYours.com. Hi-res images are available upon request.
About WarmlyYours Radiant Heating:

For nearly 20 years, WarmlyYours Radiant Heating has offered the industry's
most innovative solutions in radiant heating technology, from our flagship floor-
heating systems and radiant wall panels to snow-melting systems, as well as comfort
products, including towel warmers, mirror defoggers, shower floor and bench
heating, and countertop heaters. With locations in the United States and Canada,
WarmlyYours provides unrivaled personalized customer support from start to finish,
featuring measuring and design services, 24/7 technical support, and our No
Nonsense™ Warranty. For more information, visit www.WarmlyYours.com.
Media Contact:
Cameron Witbeck
Marketing Communications Manager
WarmlyYours Radiant Heating
P: 847-550- 2478 ext. 878
cwitbeck@warmlyyours.com
---
Tell us About your Project
Our team of Radiant Experts is ready to help! Just tell us a little about yourself and your project to get started.
---
Did you find this post helpful?
Let us know by giving it some applause.
---
---