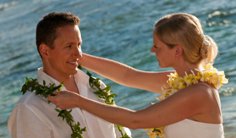 Recently our Supply Chain Manager, Maciek, took a trip to Hawaii with his fiancée, Joanna, to get married! They had a beautiful, private ceremony on the beach. You know…the kind of romantic wedding that movies are made of!

Because their wedding took place on Kauai, one of the least populated Hawaiian Islands, getting a marriage license proved to be an adventure for the couple. They were, however, finally able to get their license. Picture this – they got it at an ice cream shop, of all places. The locals go there for coffee and ice cream, and of course, to get that occasional marriage license.

So the next afternoon there they were, Joanna in her beautiful white dress and traditional Hawaiian lei, and Maciek speeding to get to the ceremony on time in their rented Jeep Wrangler. To get there, they had to drive through the mud, sand, and the red dirt that the island is known for. Why is the dirt red, you ask? Basically, this substance is rusted volcano rock, turned into dirt over millions of years. Because Kauai is the oldest of the Hawaiian Islands, there is more erosion there and therefore, lots of rusty red dirt. The soil's red color is due to the fact that it contains a large amount of iron oxide.

So, there you have it, but let us get back to the story. It took them about an hour of driving on a gorgeous, winding coastal highway to get to their destination, the Ke'e Beach State Park which is situated at the very end of the Kuhio highway. After all that, the ceremony took less than an hour and all the locals greeted them with big smiles and many "congratulations" while an unforgettable sunset finished the day.

Sounds like a dream! And that Joanna, she's a keeper if ever there was one. It takes a good woman to sit back and let her husband-to-be drive her through red dirt while wearing a white wedding dress. The red dirt stain will be a reminder of this wondrous occasion for years to come.

Congratulations to both of you and we wish you a happy life together!
---
Tell us About your Project
Our team of Radiant Experts is ready to help! Just tell us a little about yourself and your project to get started.
---
Did you find this post helpful?
Let us know by giving it some applause.
---
---