Have you ever looked at a photo of a bathroom and had your jaw drop at its brilliance?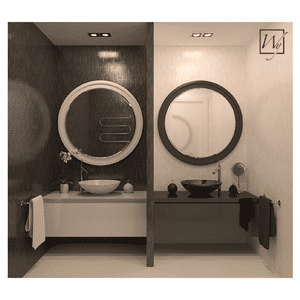 But no matter how stunning and opulent the final look may be, since you spend a considerable amount of time in the bathroom it also should be functional and comfortable! So how do you combine them all without feeling like a shower-capped, bathrobe-wearing juggler? The good news for everyone is that a beautiful bathroom rests on common design principles we can all tap into, and by combining those solid design choices with multi-functional fixtures you can successfully merge function, beauty, and comfort to create a bathroom retreat in your home.
Layout Choices
To achieve an oasis rather than a simple utility room, the bones of the room — its layout — will impact how creative you can be and how functional it feels. Make this choice based on your budget and your needs.
Bathroom floor plans generally fall into one-, two- or three-wet-wall layouts. (A wet wall is a structural wall designed to house plumbing pipes for fixtures like sinks, toilets, tubs, and showers.) According to Better Homes and Gardens' Bathroom Ultimate Planning Guide (available for download here), more walls with plumbing pipes means a steeper final price tag. "If budget is a concern, limit plumbing fixtures to one wall; for the greatest design flexibility, opt for a three-wall layout," the guide advises.
A one-wall layout lines up the sink, toilet, and shower along one wall as in this bathroom. It's the most cost-effective design, but it's also the most limiting. A two-wall layout gives you more flexibility. The sink and toilet can be plumbed on one wall and the tub and shower on the other. While the three-wall layout is the most versatile, it is also the most complicated and expensive, according to the Better Homes and Gardens Guide.
Choosing Fixtures
Once you've selected the layout, you'll know the parameters you have to choose your bathroom's features.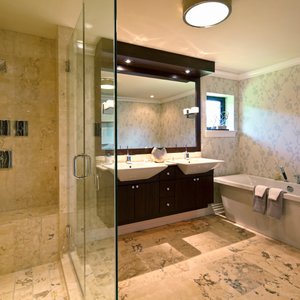 The measurements of your features and layout will have the biggest impact of how functional your bathroom feels. You'll absolutely notice the difference between a 30-inch vanity and a 34-inch vanity. And, trust us, it may not seem like much, but allowing at least 18 inches from the center of the toilet to any obstruction on any side will change your bathroom from feeling cramped to spacious with that one simple measurement. The National Kitchen & Bath Association (NKBA) has measurement guidelines for bathrooms. Visit nkba.org for more guidelines or to find a certified bath designer.
The Tub: Choose a tub that not only looks great but is also functional. To find your most functional tub consider factors such as how big you are and how big you want the tub, where the drain needs to be located and whether or not you will be installing glass doors, walls and surrounds, advises Robert Robillard in "You Guide to Choosing Bathroom Fixtures and Materials." Don't get backed into a corner where you can't pursue the design details that speak to you.
Mirrors: The bathroom mirror, which you look into almost every day, is often dismissed as a decorating detail, but should receive far more attention than it does, says Apartment Therapy, which points out that, the mirror "provides a critical function for daily grooming but is also a relatively easy way to inject a dose of personality and style into even the most clinically stark bathroom." Mirrors can add function as well. Consider the LAVA® Mirror electric radiant panel from WarmlyYours Radiant Heating, which not only can serve as a statement piece, but also functions to warm your bathroom with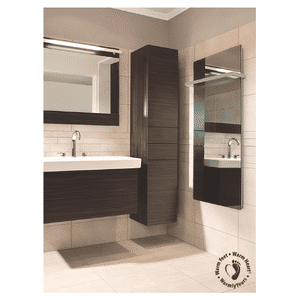 radiant heat. The LAVA® Mirror is offered in four different sizes to make it easier to fit your unique space, which is an important design consideration. Apartment Therapy advises that the mirror have enough length to allow decent reflections for everyone. No ducking down or stretching up on tip toes!
The mirror above a sink is typically not wider than the sink or vanity, and should be hung neither conspicuously far above the sink nor too close to the sink. However, mirrors such as the LAVA® Mirror can be added in other areas, breaking the invisible tether that often limits mirrors to positioning just above the sink.
Another feature that will make your bathroom more comfortable is to make sure that you have good lighting. You can change the entire feel of the room with the right lighting. While you can choose any type of light that you want, one design tip is to make sure that you have enough light to ensure functionality, particularly around the mirror.
Lighting does not have to be purely functional; it can be used for creating ambience as well. You can combine a LAVA® Mirror with LED lights in unique designs to add additional lighting. RGB LED lights for your LAVA® Mirror can change color and create a beautiful accent for the space. Used in the bathrooms, they can create wonderful mood lighting, add visual interest to the panel, and give you additional light without hanging another fixture on the wall.
Sinks: There are multiple styles of sinks to choose from, and each style will shift the feel and function of your bathroom. For descriptions of common bathroom sink styles from American Standard, click "here. Two things to consider: first, how big is your space? Pedestal sinks help visually enlarge a room, while also enhancing its appearance. Secondly, how much storage space do you need? Choosing a wall-mounted or pedestal sink without a surrounding countertop does not offer additional storage like a vanity/ countertop does.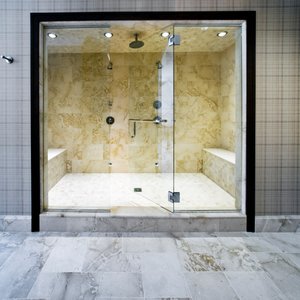 Showers: While tubs may be optional based on space and the budget, showers are not. Despite being a highly used, functional requirement, showers can add comforting features to enhance the warmth and experience. Handheld, steam, and rainfall showerheads are just a few of the many options available. A showerhead is an easily changed feature that can make a huge difference. Also, built-in benches within showers create a spa-like vibe and add comfort and function when heated. WarmlyYours offers safe heating for wet locations, including your shower bench and walk-in shower, eliminating cold in your bathroom completely.
Towel Racks: The right towel racks can enhance function and comfort simultaneously. Attaching multiple towel racks to the inside of a bathroom door will functionally save space, while choosing heated towel racks will add comfort. Nothing says "Comfort" like a warm towel when you step out of the shower. Plus, electric towel warmers from WarmlyYours have such a sleek design that they can also enhance a variety of home decor styles.
Flooring: Tile floors are highly functional (think easy-to-clean and durable), but they are not generally comforting, especially during cold winters. Combat that by adding warmth with electric heated floors from WarmlyYours. Radiant floor heating will let you have the best of both worlds. For inspiration on the highly functioning, yet comfortable spaces that are possible with heated floors, read "https://www.warmlyyours.com/en-US/posts/bathroom-remodeling--Asian-inspired-Bathroom-Design-Radiates-Warmth-Individuality--1030>Asian-inspired Bathroom Design Radiates Warmth, Individuality" on the WarmlyYours blog. The right features and planning can warm up any space into a cozy, modern sanctuary.
These are a few design tips to consider. Bathrooms are necessary, and inherently must be functional, but with some research, initiative and creativity—and limited juggling—they can be beautiful and welcoming as well.
Have you already created the perfect blend of function and comfort in a beautiful bathroom? Share your story, send us photos on the WarmlyYours Facebook page, or tweet us at @WarmlyYours.
---
Tell us About your Project
Our team of Radiant Experts is ready to help! Just tell us a little about yourself and your project to get started.
---
Did you find this post helpful?
Let us know by giving it some applause.
---
---