As November approaches, the leaves have changed here in the Midwest and, the weather in many regions of North America has become increasingly more brisk while the temperatures continue to drop. Those of us who live in areas where colder weather and seasonal temperature change is a norm are accustomed to bearing down for the cold winter months.
Though cold weather is a normal occurrence for many in North America, forecasters are projecting a potentially record-breaking US winter for 2011-2012, with extraordinary levels of snow and extremely cold temperatures expected. According to Exacta Weather, large parts of Central and North America, namely the Eastern and Western regions, will experience longer periods of below average temperatures with above average snowfall.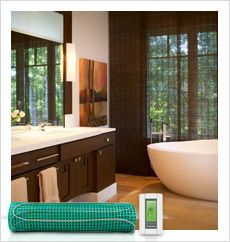 You may remember the extreme weather of 2010-2011 in the Midwest and Northeast regions of the US. New York City streets were buried underneath piles of snow too large to clear, and Chicagoans were stranded in a dangerous blizzard for hours on Chicago's main thoroughfare, Lake Shore Drive. And, although that is behind us, this latest forecast from Exacta has us dreading worse weather to come.
Based on these projections, now is the time to begin preparing for a harsh and cold winter! Stock up on salt or sand, pull out your insulated winter coat, gloves, and hat, and top off the anti-freeze in the car! And, while all of those are important and even imperative plans, it is also the ideal time to finally get around to adding radiant heat in your home.
Let's face it, the colder it gets, the more treacherous it is to get out of bed and step onto a cold tile or stone bathroom floor in the mornings. While none of us really like the cold, it's also what inspires us, here at WarmlyYours! Cold weather is the very thing that motivates our continual innovation in new radiant technology, ideas, and products so that you can stay warm and comfortable. The late fall is the perfect time to add radiant floor heating, so that you can begin to fall in love with your floor again once the extreme weather sets in.
Like this post? Subscribe for regular updates
Make sure you don't miss out on the latest news in radiant heating by subscribing to our blog. We'll send you an email with links to the newest posts from WarmlyYours.
We won't share your information and you can unsubscribe at any time with a single click.
---
Did you find this post helpful?
Let us know by giving it some applause.
---
---