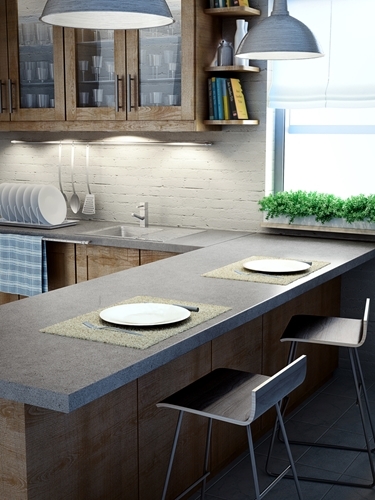 According to Remodeling Magazine's annual Cost Versus Value Report, a major kitchen remodel using midrange products and materials costs an average of nearly $54,000.
While these projects are pricey, many homeowners find them worth it. Not only do they help make their homes more comfortable and functional, but they also increase the overall value. In fact, the publication reports that individuals can expect to recoup about 70 percent of what they spend on a kitchen renovation project when they sell their homes.
Whether you're considering a kitchen renovation to prepare your home to sell, or you want to improve it for your personal use and satisfaction, there are a few things to keep in mind. 
A recent survey conducted by the National Association of Realtors found buyers prefer well-organized, eat-in kitchens. Other research reveals potential buyers are looking for high-end finishes such as granite countertops, radiant floor heating and professional-grade appliances. 
But experts say it's easy to make mistakes when redoing a kitchen. 
Inadequate planning
Whether it's inaccurate measuring or tackling the project in the wrong order, failure to properly plan your kitchen renovation can wreak havoc on your budget and your overall satisfaction. 
Because planning is so important, experts often encourage homeowners to work with a designer and contractor in order to create a vision for the space and execute it the right way.
Some things to keep in mind when mapping out your room include an efficient layout, adequate storage and proper placement of cabinets and appliances. For instance, a cabinet large enough to hold dishes and glasses should be located near the dishwasher, while a space for your trash should be next to the sink. 
Too much storage
Believe it or not, there is such a thing as too much storage. While there should be enough to keep the room organized, you should avoid overdoing it.
"There's rarely a need to completely fill a room with cabinets," designer Robert Bakes told House Beautiful. "A good layout is a balancing act between storage, function, and aesthetics."
Trying to do too much on their own
While many people want to do as much work as possible on their own, experienced pros say certain jobs should be left to professionals. 
Demolition, electrical work, plumbing and installing cabinetry are just a few of the tasks many recommend leaving to someone who is more experienced. 
Changing your mind
One of the most expensive mistakes homeowners can make is changing their minds on what they want after work has begun, according to a Consumer Reports survey of nearly 3,000 people.
"Our reader survey indicates that changing your mind adds about $1,500 to the cost of a kitchen remodel," said Consumer Reports' Mark Kotkin.
Experts suggest ordering and getting delivery on everything that's needed for the project before work begins, to avoid delays and to help deter design changes.
Like this post? Subscribe for regular updates
Make sure you don't miss out on the latest news in radiant heating by subscribing to our blog. We'll send you an email with links to the newest posts from WarmlyYours.
We won't share your information and you can unsubscribe at any time with a single click.
---
Did you find this post helpful?
Let us know by giving it some applause.
---
---