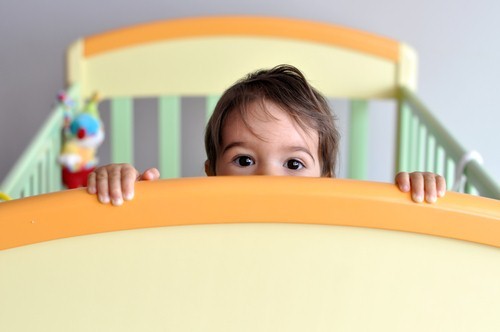 If you're getting ready to welcome a new member of the family into your life - especially if it's the first - you've got A LOT on your mind. Surprisingly, for all the planning and prepping that's probably giving you a headache, there's a lot to look forward to when it comes to putting together the nursery. Whether you've decided to know the baby's sex or plan on waiting, there's still plenty of designing to get underway. But don't worry - it's probably the most fun you'll have putting a room together.
No matter when you're expecting, why not get a headstart on your nursery project. Have a blast, enjoy yourself, remember to take it easy and consider a few of these tips!
1. Getting the essentials
Some of the essentials actually are important - others aren't so much. For instance, you'll want to put a good amount of your budget into your child's crib. This will be your newborn's bed for a while, and it's also bound to center the room's design - if only because your child is sure to be the focal point!
A changing table, on the other hand, is less essential. Why not invest in a stylish dresser instead. This is sure to get much more milage over the years, rather than being relegated to the basement once your child is properly potty trained. You can easily lay a padded mat and blanket over the top of the dresser to keep your newborn comfortable.
2. Designing for safety and comfort
You'll want to keep your child's safety and comfort in mind when designing the nursery, of course. For this reason, you may want to consider investing in radiant floor heating. If you plan on using your home's heat throughout the autumn or winter, relying on radiant heat isn't only cost effective, but sure to improve your nursery air quality. Central heat relies on dusty vents and ducts to push hot air throughout a house, leading to potential allergen problems. Keep your child cozy and healthy with radiant heat's entirely natural convection currents.
3. Designing to last
It's all but impossible to believe now, but before long that tiny baby is going to be a toddler, and then a kindergartener. It's not essential, but as you design the nursery, keep in mind the gradual changes you and your growing kid will want to make to its décor and design.
Like this post? Subscribe for regular updates
Make sure you don't miss out on the latest news in radiant heating by subscribing to our blog. We'll send you an email with links to the newest posts from WarmlyYours.
We won't share your information and you can unsubscribe at any time with a single click.
---
Did you find this post helpful?
Let us know by giving it some applause.
---
---