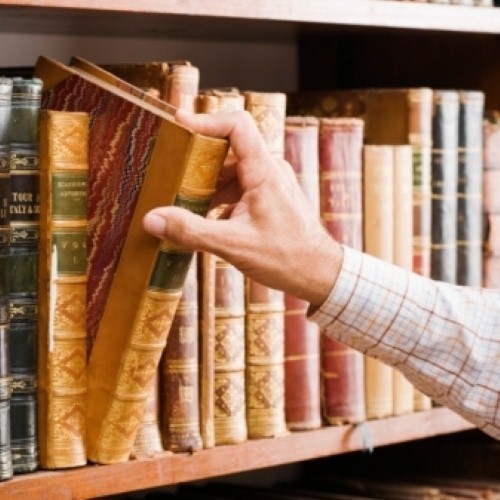 The author Anna Quindlen once wrote in the New York Times, "I would be most content if my children grew up to be the kind of people who think decorating consists mostly of building enough bookshelves."
It's an admirable statement, especially when most of us tend to toss our books to the side haphazardly once we finish them, or move them to some out-of-the-way shelf or cabinet, never to be seen again. Why not take Quindlen's words to heart and do some home remodeling and decorating of your own - centered around your books.
The ideal home library is quiet, meditative and has impeccable décor. After you've gathered your household's book collection, follow these four steps to get you on your way to designing what might become your new favorite room.
1. Pick a theme. Whether you're going for something casual, colorful, Victorian or thoroughly modern, there will be a design scheme to fit your bookish tastes. Will you lay out your books alphabetically or arrange them like an art store supply rack in eye-catching chromatic groups? Maybe your ideal library is outfitted with a roaring, crackling fire - or maybe a modern gas fireplace instead. Get your imagination going - consult a few books!
2. Get your shelving and cabinetry. Now that you've got your theme established, consider what kind of shelving you want. Should your shelves go flush to the ceiling? (You'll need a step ladder for that.) Will they wrap around corners? Do you want glass-fronted cabinets behind which you can store your most prized and expensive collections?
3. Make it comfy. Whatever your feelings about décor, this may be the most important part of your library planning. Pick sofas and armchairs of stylish comfort - suede and leather are almost always excellent choices, especially alongside wood-paneled shelving and cabinets. Also consider having radiant floor heating installed. Radiant heat systems fit comfortably under wooden floorboards and almost any other kind of flooring, are eco-friendly and will keep you from relying on gusts of hot air from vents.
4. Keep building your collection. Now that you've got the theme, shelving and luxurious furniture out of the way, it's time to move in the books. A key tenet of library planning should be to put in more shelving than you currently need, simply because your book collection isn't complete and will only grow larger.
Like this post? Subscribe for regular updates
Make sure you don't miss out on the latest news in radiant heating by subscribing to our blog. We'll send you an email with links to the newest posts from WarmlyYours.
We won't share your information and you can unsubscribe at any time with a single click.
---
Did you find this post helpful?
Let us know by giving it some applause.
---
---