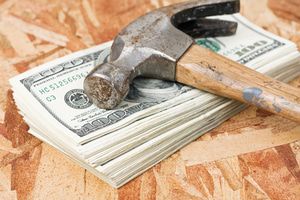 It is safe to say that when homeowners get hit with unexpected home repairs, they may feel that they can be ignored or put off to avoid the extra expense. That may be true for some repairs, but here you will find a checklist of some problems that cannot wait and/or should not be ignored.
Water infiltration: Leaking water can mean that there is a serious problem that can be expensive to take care of. Take some time to inspect your home before the rainy season; to make sure gutters, downspouts, and pipes work properly, draining water away from the house. If clogs, corrosion, and separation between connections, or where the gutters meet the fascia board exist, these should be a red flag that require immediate attention. As a preventative measure, gutter guards should help keep leaves and debris out.
Roof and Siding Damage: Roofs are most susceptible to leaks. During a sunny day, take some time to closely inspect the roof. Missing shingles and cracks could be a sign that it may be time for a new roof. Don't forget to check your siding along windows and doors for leaks also.
Pest Infections: Termites can get through the structure of a home within just a few years. To detect whether you have termites, check for rotted wood around the foundation of the home. To check for ants, take a look at your baseboards. For other termites look along the windowsill, walls, and other points of entry around the home because termites usually shed their wings along those areas. Most rodents gravitate towards debris, so in order to discourage them, plug up any holes in the siding and foundation walls with expandable foam.
Mold and Mildew: Musty odors can be a sign of mold or mildew, especially if family members are having chronic runny noses. Check under carpets and around windows for visible mold or mildew. If the indoor mold is more than about 10 square feet, a professional may be needed.
Foundation Cracks: Use a no. 2 pencil and walk around the home to check for cracks. If the pencil can go into the crack up to the yellow part of the pencil, this may be a sign of a major problem. Most hairline cracks are the result of minor settling. Those hairline cracks can easily be filled with an epoxy-injection system.
These are just a few of the unexpected home repairs and problems that should not be ignored or put off. Taking the time to check your home for these problems can help you avoid further damage and save you money in the long run.
Like this post? Subscribe for regular updates
Make sure you don't miss out on the latest news in radiant heating by subscribing to our blog. We'll send you an email with links to the newest posts from WarmlyYours.
We won't share your information and you can unsubscribe at any time with a single click.
---
Did you find this post helpful?
Let us know by giving it some applause.
---
---