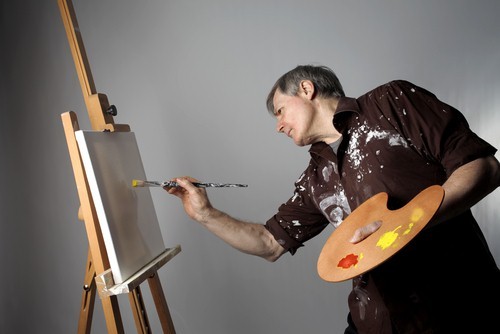 Whether your kids have flown the nest for college and it reminds you of your days as an art history minor, or you've had a spare room for a while and have always wanted to try something new, your home's extra bedroom could make an excellent painting studio.
Painting has always been regarded as one of the premier fine arts, a form of self expression, devotion and fascination with the visual world as old as our cave-dwelling ancestors. But it's also a miraculously accessible hobby - one that takes limited materials, some imagination and from those two weaves wonderful and striking symbols, designs, portraits and worlds. There's no reason not to take it up at any age, and with an entire room devoted to the art, you can be sure you're doing your work justice.
But before you begin renovating your new art studio, keep a few of these tips in mind.
1. Be sure to have great lighting, both natural and artificial. Whether oils, watercolors or acrylics, your art will be dependent on excellent lighting, which is why it's such a popular outdoor activity. No lighting is more ideal than natural sunlight, as it best represents colors in full spectrum from infrared to ultraviolet. For this reason, you'll want your studio full of it. Consider expanding windows to help with this. Another option, for cloudy days or evening painting, is to buy a full-spectrum lamp and bulbs. These imitate sunlight and are a good proxy.
2. Excellent and handy storage. From your box of oils down to the drawers or closet where you keep your canvases, make sure your storage is effective, spacious and protects your work.
3. Lots of inspiration. No man is an island and no painter produces in a bubble. Purchase prints of your favorite classic works online and hang them in your studio. A great alternative would be art print postcards. Many museums carry their premier pieces on 50-cent or dollar postcards. Arrange these on a wall for a micro gallery you can browse when you're in need of a muse.
4. Infinite comfort. Summer or winter, make sure you're not suffering more than you need to for your art. Radiant floor heating can help keep you warm during the winter without disturbing the quality of your paintings with stuffy, hot, dry air. Be sure to invest in a comfortable stool as well as a cushy armchair - you'll need to rest those creative muscles sometime.