Radiant heating comes in many different forms, ranging from floor heating and towel warmers to radiant panel heaters and snow melting systems. Despite this wide range of available options, one of the biggest challenges that radiant heating manufacturers like WarmlyYours face is consumer awareness of these products. After all, everyone wants to be comfortable in their own homes — the problem is that sometimes people don't realize how easy that goal is to achieve.
This is why WarmlyYours launched our Share Your Story program many years ago — to help our customers communicate directly with other potential customers to talk about their experiences with radiant heating from start to finish. One of our customers, David from New Jersey, has taken this mission to heart and has submitted his fourth project for our Share Your Story program!
David's first project was a master bathroom remodel where he worked closely with our 24/7 technical support team to help him through his first radiant heating installation. Next, David worked on a basement remodel and then a mudroom/laundry revamp. It's been awesome for us working with David and helping to spread his experiences with others with these blog posts!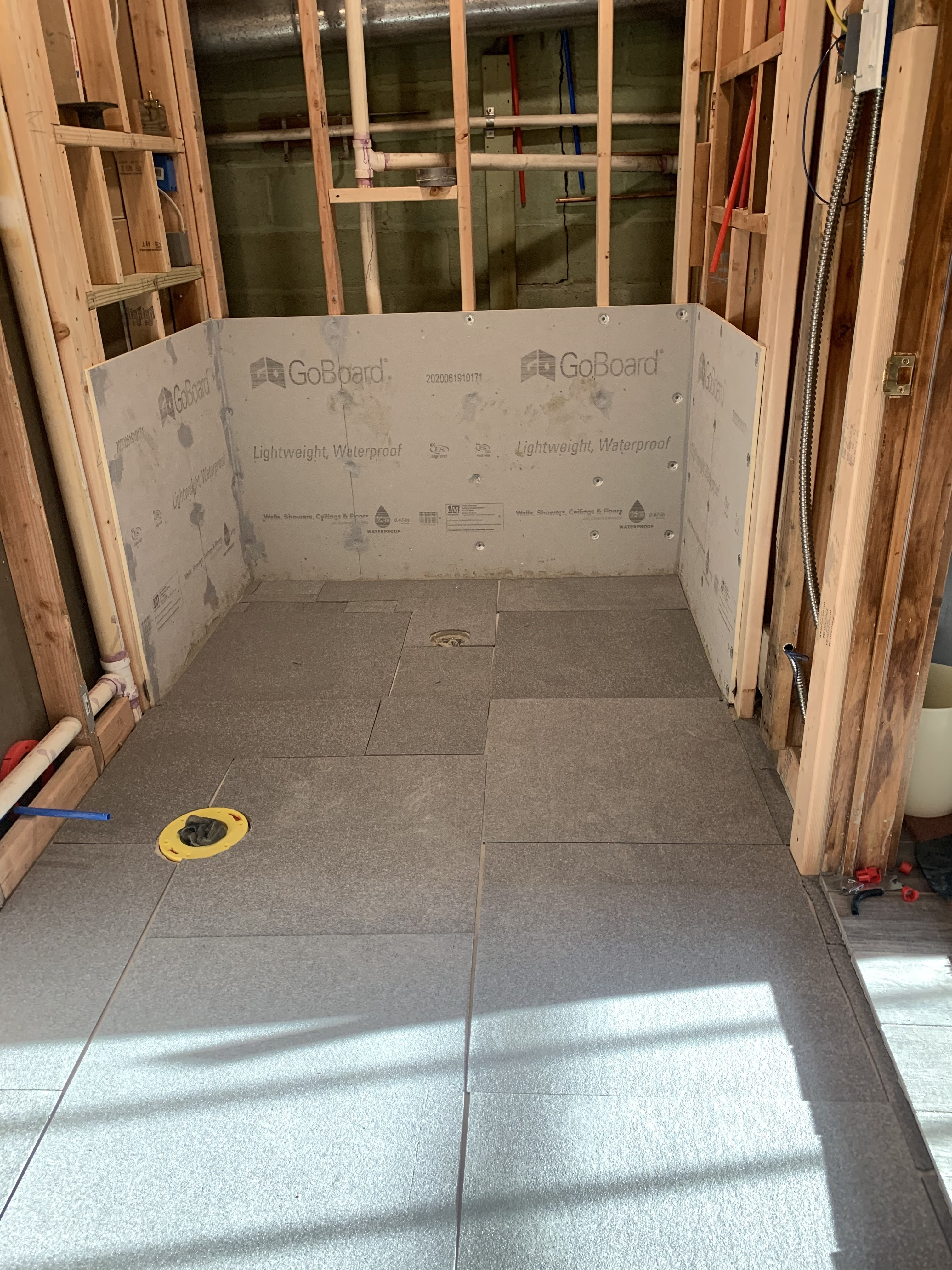 To bring things almost full circle, this most recent project was for another bathroom remodel, but this time it was in the basement. Here's David's original submission for this project:
In a previous story, I was renovating my basement efficiency, which was more like a dungeon. It was very dark and gloomy, but after brightening up the main living space, it became much more warm and welcoming. The bathroom was next on the list, and unfortunately the bathroom had no heat source. Heated flooring was the way to go!
This was my 4th time using Warmly Yours, and had another successful install with their product. Heated floors came out perfect, and now our remodeled basement bathroom has a heat source. This will be great when grandma and grandpa are staying in the efficiency apartment when visiting their grandson, as their Floridian blood is thin and can't handle the cold!
Looking for example bathroom floor plans that incorporate floor heating? We even have some floor plans for basements too! 

David said that part of why he's pursued so many floor heating projects is that radiant heat has a unique ability to make you feel warmer than the temperature setting you put into the thermostat due to the nature of how the heat is transferred. An aspect that was particularly important for this basement bathroom.
"I personally feel that if the floor is a comfortable temperature, it radiates through you as a person and helps mitigate colder temperatures in the winter. In other words, the room might not be very warm, but just having warm feet will give you a warm feeling. At least that's how I feel," said David.
This effect, of floor heating making you feel warmer than you'd think you would from the temperature you set the system at, is achieved because radiant heating doesn't rely on heated air to transfer heat (because of its lack of mass, air is very inefficient at transferring heat to other objects) but instead it radiates heat directly from the heat source (the heated floor) to the solid objects in the room where it is absorbed. This is very similar to how you can feel the difference when you're outside on a sunny day and a cloud blocks the sun momentarily.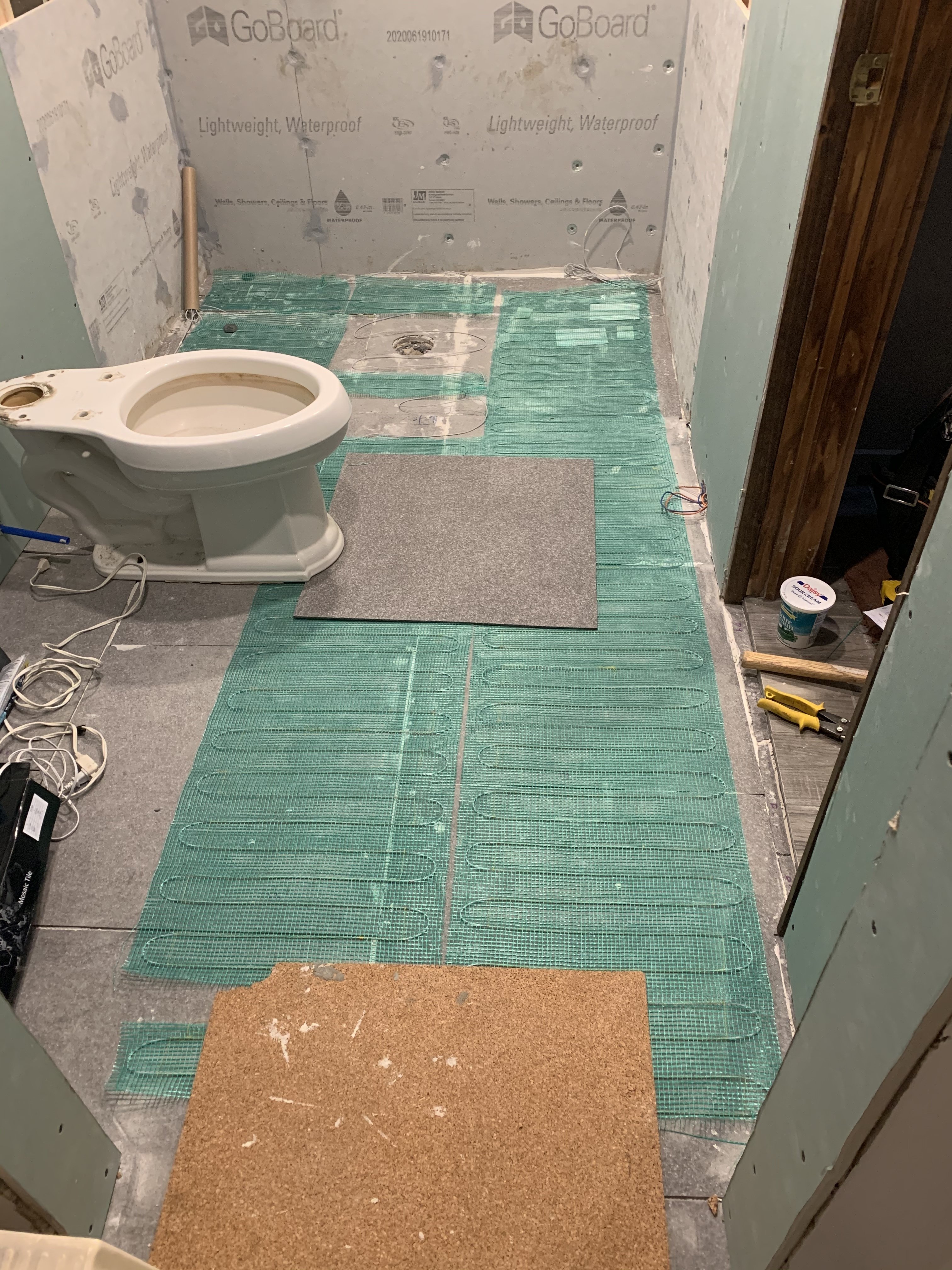 The efficiency of radiant heating is particularly useful for rooms that are often not easily heated by central air, which is certainly true of most basement bathrooms and basements in general. Installing an electric floor heating system in your basement is a great and relatively unobtrusive way to incorporate extra heat as long as you're already considering replacing the floor as a part of the renovation process. 
David did say that this basement bathroom was another great learning experience where he could practice even more DIY skills.
"In all of my previous installations, I was more of a helper. I would cut tiles, clean them off as they were laid, mix more thinset, and things like that, while my friends were the actual tile layers. This time my wife and I did everything, including laying the tiles, so there was definitely a learning curve there. But with the heating portion, I had no issues," David said.
One of the new elements that David changed during this project was that he elected to go with a WiFi-enabled floor heating thermostat to control the bathroom's floor heating system.
"If it works out as intended, I may replace the one in the adjacent room. Then the entire efficiency would have WiFi thermostats, which means when my parents are staying for a few days, I can adjust it for them without having to leave my couch!" said David.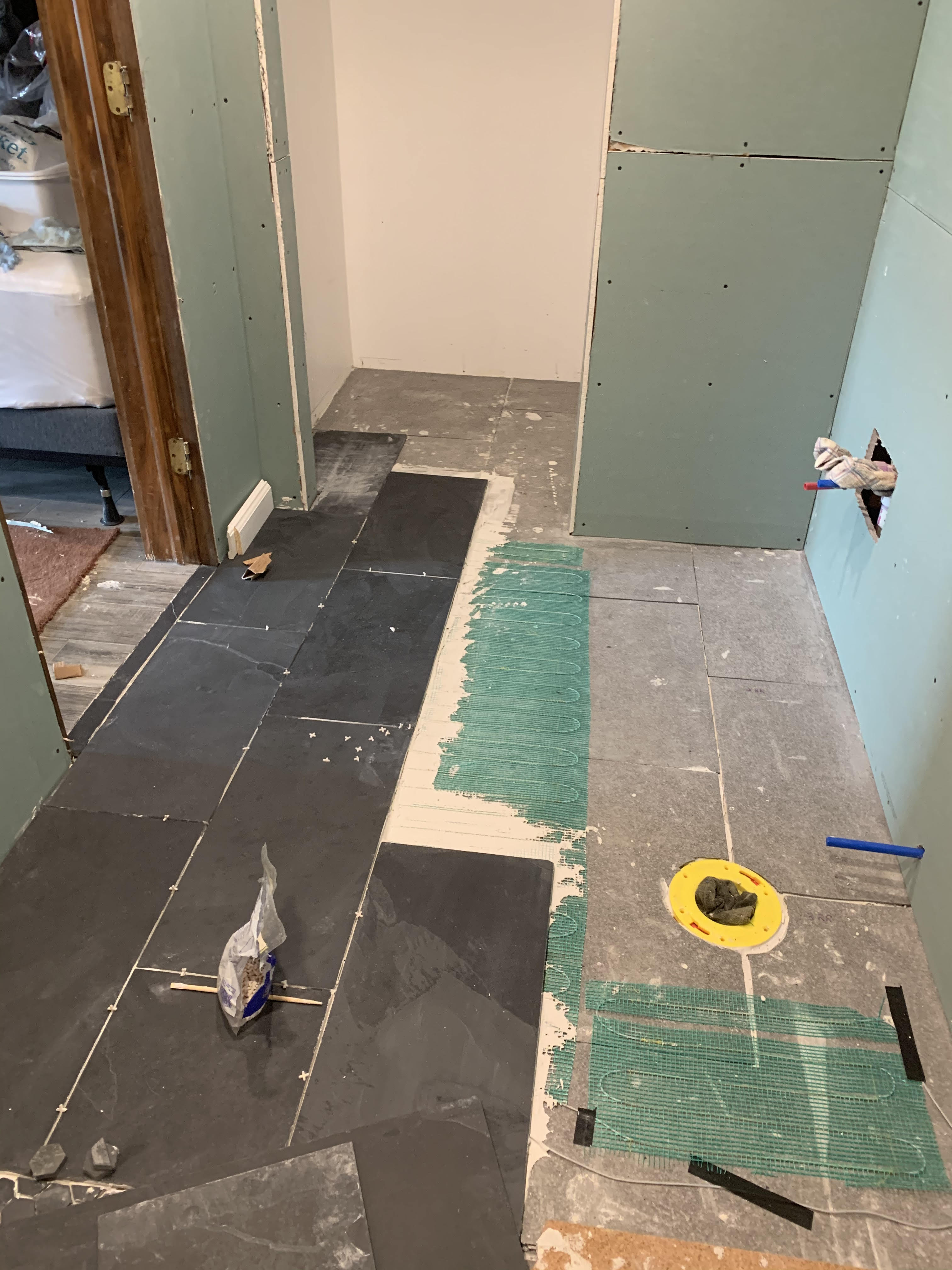 While he's already quite experienced in radiant heating installation, David did say that he still has plans for future floor heating projects. But one thing is for sure for us here at WarmlyYours, there's no better ambassador for DIY floor heating installations than David!
Are you considering incorporating a floor heating system in your next remodel? To find out what system suits your flooring type and how much it costs, be sure to check out the free and easy Radiant Floor Heating Quote Builder. 
Already have experience with a WarmlyYours floor-heating system? We'd love to hear your story! Click here for details on how to share your story and get entered for a chance to win $100!
---
Tell us About your Project
Our team of Radiant Experts is ready to help! Just tell us a little about yourself and your project to get started.
---
Did you find this post helpful?
Let us know by giving it some applause.
---
---