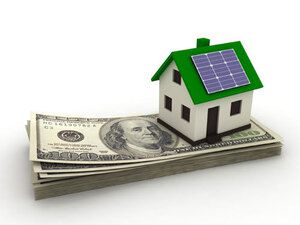 It's tax season, so instead of waiting until the last-minute, why not act early this year? Here are six of the most common energy-efficient upgrades that you may have already made, or plan to make this year, that are eligible for a federal tax credit.
The replacement of windows, doors, new roofs, along with updates to new heating and ventilation systems can qualify for a tax credit up to $500. According to Energy Star the improvements must be made to your existing home and principle residence. New homes cannot qualify.
Here are More Details:
1. Windows, Skylights, and Doors
Any windows, skylights, or doors either replaced or installed that meet the Energy Star standards are eligible for a tax credit. The replacement of all windows and doors are not necessary to qualify, but a homeowner can claim credit if there was a new installment of a window or door that wasn't previously there before.
2. Roofs (Metal or Asphalt)
There are Energy Star Requirements for roofing material. One such requirement is that the roofing materials used must reflect more of the sun's rays, lowering the roof's surface temperature by up to 100° F.
3. Insulation
According to Energy Star, typical bulk insulation products such as; batts, rolls, blow-in fibers, rigid boards, expanding spray, and pour-in place can qualify for a tax credit. Products that reduce air leaks can also qualify, but they must have a Manufacturer's Certification Statement.
4. Non-Solar Water Heaters
It has been estimated that up to 25 percent of the energy used in homes is the direct result of a water heater. Some qualifying water heaters are gas, oil or propane units with an Energy Factor of 0.82 or more or a thermal efficiency of at least 90 percent.
5. Advanced Main Air Circulating Fans
Using an efficient fan or blower motor that blows heated air from the furnace through to the duct system can qualify, but it cannot use more than 2 percent of the furnace's total energy.
6. Central Air Conditioning
A central air conditioning system must meet the efficiency performance requirements according to the Energy Star website.
Homeowners can claim these tax credits by filing IRS form 5695 with your 2012 or 2013 taxes. It is important to keep a copy of the Manufacturer's Certification Statement, any receipts, and itemized bills. Incorporating energy-efficient products into the home can be beneficial all year around and especially during tax season. It pays to be green.
Like this post? Subscribe for regular updates
Make sure you don't miss out on the latest news in radiant heating by subscribing to our blog. We'll send you an email with links to the newest posts from WarmlyYours.
We won't share your information and you can unsubscribe at any time with a single click.
---
Did you find this post helpful?
Let us know by giving it some applause.
---
---