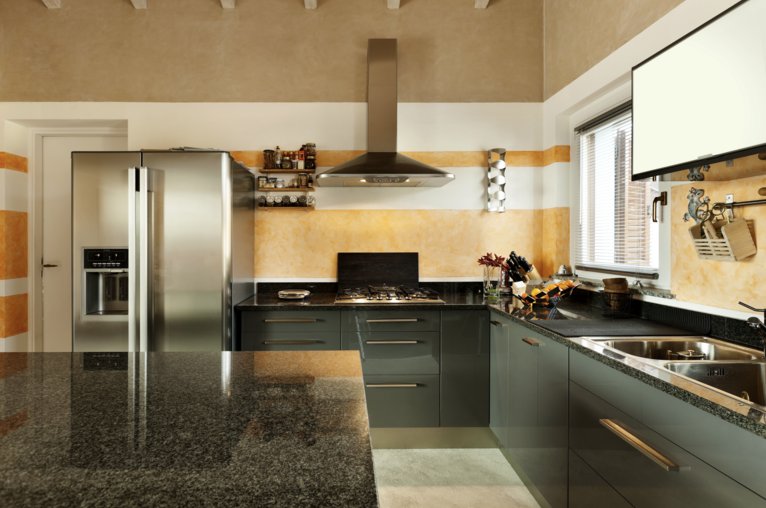 Typically, the kitchen has been considered the nexus of communication and gathering in the home while the bathroom serves as one of the most important rooms of the house. Consequently, homeowners have to consider myriad criteria when making over a kitchen or bath. What's more, staying up-to-date with remodeling trends will help you to plan your designs more intelligently - discerning passing fads from more permanent shifts in taste, for example - and work from a wider range of possible sources for inspiration. To help you do that, here are some remodeling tips to keep in mind during project planning:
Consider both beauty and function
Many homeowners are uneasy with the idea that beauty and utility are two opposed design criteria between which they must choose. But Houzz, an online forum where homeowners undertaking remodeling projects share ideas and inspiration, recently polled more than 7,000 of the site's users to ask what motivated them to launch their kitchen redesigns. The survey's results showed that 79 percent of participants reported they wanted to improve the look and feel of their homes; nearly 60 percent cited the desire for increased functionality as a driving force behind their design plans, and 52 percent said they wanted to upgrade their appliances.
You might find it natural, then, to pick out the perfect type of stone for your counters, or decide between dark wood and painted cabinets, and at the same time consider the added luxury and savings of kitchen floor heating. Adding electric floor heating to your kitchen floors will not only provide comfort, but will also make the room warmer and more inviting. Just imagine – no more standing barefoot on the cold, chilly floors while preparing Sunday's breakfast. Instead you can walk barefoot in complete comfort during your morning kitchen routine.
Use space effectively
An uncluttered layout has always been a virtue – but if you're among the 49 percent of homeowners who told Houzz they preferred the contemporary look, then efficient use of space may prove key in your remodeling plans, as this principle helps provide the streamlined look; a characteristic of modern design.
Openness is a guiding principle for many homeowners' renovation plans, even if they prefer more of a traditional feel. Houzz found that 77 percent of kitchen renovations planned to leave the space open to the rooms around it and 61 percent incorporated a kitchen island to enhance the effect.
Moreover, the benefits of spatial efficiency extend beyond the kitchen to bathroom remodeling projects as well. For instance, Woodworking Network predicted that stand-alone tubs would become the preferred option for bathing, as the overall effect they produce appears less crowded.
Don't overwhelm with color
Whether positively or negatively, colors can actually have an impact on the final outcome of your remodeled bath or kitchen. So make sure to carefully consider the colors and tones as you move toward the goal of a harmonious design, as recent research suggests that loud colors might turn out to be off-putting. Let's take the Houzz survey as an example, whose results depicted only 14 percent of respondents opted for a consistently bright palate, while the majority of 75 percent chose soft and neutral colors.
Not all tastes are the same, of course, but intelligent design is key when incorporating vibrant colors. While Woodworking Network predicted that bright hues like cobalt blue would be all the rage next year, consider implementing those brilliant shades in small doses so as not to overwhelm the senses. This strategy may make the renovated space more attractive to a greater range of future buyers.
Think from the bottom up
Don't be afraid to be radical in your renovations: Houzz found that nearly half of its users' kitchen projects planned to gut the original space and begin from scratch. But more importantly, 49 percent of respondents reported that eco-friendly kitchen appliances were a key concern to them. So don't worry, if you want green appliances, you won't have to choose between comfort and utility. For example, radiant heating, reduces energy usage and simultaneously provides the luxury of a heated floor.Here are some benefits of radiant heating that you shouldn't overlook:
• Energy-efficiency
• Allergy-friendly
• No ducts to clean
• Requires minimal maintenance
• Heats everyone and everything in the space
Visit our website to learn more about radiant heating for your kitchen or bath, or give us a call at 800-875-5285.
---
Tell us About your Project
Our team of Radiant Experts is ready to help! Just tell us a little about yourself and your project to get started.
---
Did you find this post helpful?
Let us know by giving it some applause.
---
---