When the world looks to identify new fashion trends, it turns to cities like Paris, Madrid and New York. Likewise, when America wants some insight into housing trends, it looks to the cities with the fastest-growing housing markets. Los Angeles, Minneapolis, Chicago and Seattle all saw median home values increase by nearly 10 percent between June 2016 and June 2017, according to WarmlyYours Radiant Heating's second-quarter industry report. As home values continue to grow in these markets, the industry expects remodeling projects — such as radiant heating — to grow as well.
In Los Angeles, luxury home sales are lending credence to electric floor heating sales. WarmlyYours sales grew 19.1 percent in this area during the second quarter and expects to see a 5 percent increase in sales in this market next quarter. In Minneapolis, chilly temperatures combined with new construction projects for the next Super Bowl led to 20 percent growth in radiant heating projects in the second quarter. Floor heating sales are expected to grow 7 percent in this area next quarter. Chicago experienced 12.7 percent growth in the radiant heating segment, leading WarmlyYours to project a 5 percent increase in sales in this area next quarter. Finally, the Seattle market shows the highest projections for increased median home values, which led to 66.8 percent growth in radiant heating sales during the second quarter. WarmlyYours expects radiant heating sales to grow nearly 10 percent in this market next quarter.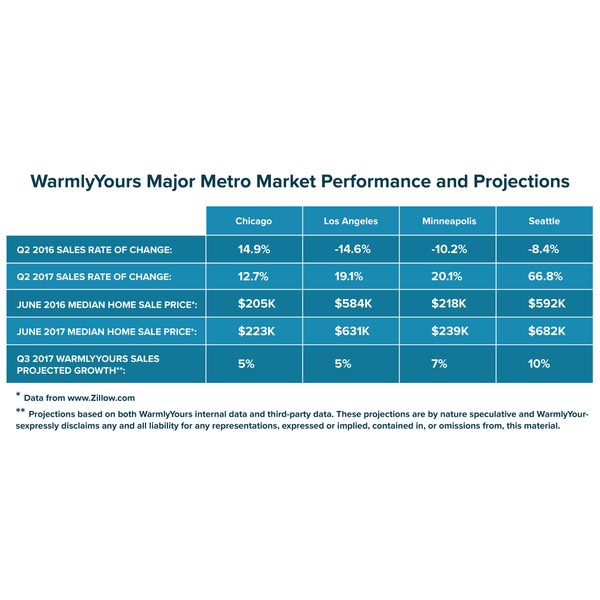 The growth in these key markets is indicative of housing trends across the country. According to the most recent Leading Indicator of Remodeling Activity (LIRA) from the Joint Center for Housing Studies of Harvard University, the U.S. remodeling market is on track for above-average growth. In fact, over the next 12 months, national spending on home improvements and repairs is projected to reach $324 billion, said Abbe Will, research associate in the Remodeling Futures Program at the Joint Center.
However, remodeling activity may be impacted by a lull in housing inventory, which is driving home prices up.
"The remodeling market continues to benefit from a stronger housing market and, in particular, solid gains in house prices, which are encouraging owners to make larger investments in their homes," said Chris Herbert, managing director of the Joint Center. "Yet, weak gains in home sales activity due to tight inventories in many parts of the country is constraining opportunities for more robust remodeling growth given that significant investments often occur around the time of a sale."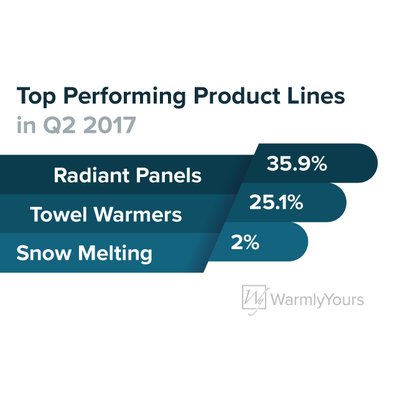 That may be why many homeowners are investing in lower-priced radiant heating products, such as radiant panels and towel warmers. WarmlyYours reported a 35.9 percent increase in radiant panel sales and a 25.1 percent increase in towel warmer sales for the second quarter.
Radiant panels are available in Ember or LAVA product lines, which start at $599 and easily mount to any wall in the home to deliver clean, allergen-free heat with a stylish appearance. Towel warmers start at $149 and are available in seven different styles. During the second quarter, the fastest-growing models were the Sierra (with 85.4 percent growth) and Metropolitan (with 72.3 percent growth), which both feature square bars. This styling reflects the linear design aesthetic that is gaining popularity in bathrooms.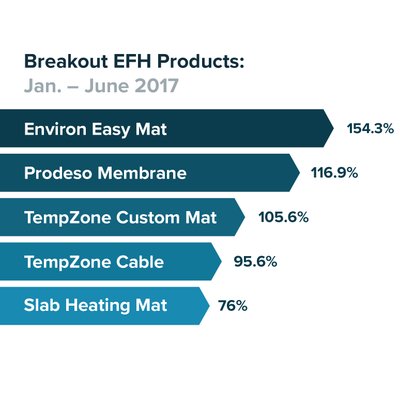 WarmlyYours's electric floor-heating products also experienced significant growth during the first half of the year. In particular, Environ™ Easy Mats grew 155 percent thanks to growing interest in laminate flooring; the Prodeso Installation Membrane increased 117 percent due to its ability to speed up and simplify the installation process; TempZone™ Custom Mats gained 105 percent, as luxury and new-construction homes grew in prominence; TempZone™ Cable grew 95 percent, complementing the growth of the Prodeso Installation Membrane; and Slab Heating Mats increased 76 percent, along with the growth of new-construction projects.
For more information about WarmlyYours's second-quarter performance, read the entire industry report here or check out a video summary below.
---
Tell us About your Project
Our team of Radiant Experts is ready to help! Just tell us a little about yourself and your project to get started.
---
Did you find this post helpful?
Let us know by giving it some applause.
---
---