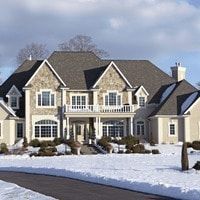 Even though summer is here, it's actually the perfect time to start thinking about how you can save money on your heating. It is estimated that the average U.S. family spends $1,900 annually on their utility bills; gas and electric bills take up most of that expense.
Did you know you can save money while keeping your loved ones warm by creating a comfortable home for them in the winter? Here are tips on how you can do just that.
Household Heating: Consider Your Options
Investing in an energy efficient heat system can repay its value over time. An added bonus is that the environment as a whole benefits from energy efficient technology. Before you start it is important to take into consideration all heating options, long-term savings, and your budget. Then you can better determine which heating option works best for your home and family.
Typically, there are two types of household heating systems: conventional heating systems (forced hair) and radiant heating systems. Recent studies have shown that radiant heat systems are more energy efficient than a conventional heat system. Radiant heat radiates up from the floor warming the people and objects not just the air in the room allowing homeowners to turn down the thermostats.
Home Insulation: Useful In Winter Months
Home insulation is often referred to as cavity insulation; it regulates the flow of heat from a warm area to a cold area. Home insulation can be a huge money saver during the winter months. 
WarmlyYours offers radiant electric indoor and outdoor heating systems. We provide a wide variety of heating systems depending on the type of application, room size, and flooring material.  99 percent of WarmlyYours customers report complete satisfaction with our product. 
If you decide to choose radiant heating for your home, summer is the best time to do it. Especially if you are considering adding outdoor radiant heating, such as snow melting, or roof and gutter deicing systems.
Like this post? Subscribe for regular updates
Make sure you don't miss out on the latest news in radiant heating by subscribing to our blog. We'll send you an email with links to the newest posts from WarmlyYours.
We won't share your information and you can unsubscribe at any time with a single click.
---
Did you find this post helpful?
Let us know by giving it some applause.
---
---